Floor saws, also known as road saws, are an essential group of construction equipment in addition to handheld power cutters. They are mainly used for making expansion grooves and cutting concrete surfaces to prevent them from breaking. For cutting in fresh concrete, the Soft-Cut series cutters that have been adapted to the most challenging tasks are perfect. We once wrote about these machines on our blog. Click to view. Turning saws are also used in road engineering where they are used during road repair and maintenance.
Husqvarna
Husqvarna currently offers over ten models of diesel and petrol drove floor saws. The most potent cutter available is the Husqvarna FS 7000D/DL is a 55.4 kW unit with its drive, the appropriate cover allows you to install discs with a diameter of up to 1500 mm, with a maximum cutting depth of 625 mm. The smallest cutter is the Husqvarna FS 305. It is a model without a drive, adapted to work with a disc with a diameter of 350 mm, which enables cutting to a depth of 125 mm.

Most of the new Husqvarna saw cutters have the IntelliSeal system, which eliminates the need for lubricating the bearings of the blade shaft, which reduces the service intervals. In turn, the drive transmission system with an angle gear guarantees high efficiency. This design allows the transmission of power to the disc shaft with optimum torque.
It is also worth noting that the new Husqvarna FS 7000 D and 5000 D are much faster and more eco-friendly thanks to power diesel engines meeting Tier 4 / Stage IIIB emission standards. The advantage of these devices is also an easy-to-use control panel including a digital monitor that thanks to motion control facilitates cutting in a straight line.
iSprzęt.pl recommends the Husqvarna FS 400 LV cutter as a device that can cope with cutting to a depth of 162 mm (blade size 450 mm). An air-cooled gasoline engine provides the optimal power (8.7 kW), and the perfectly balanced design allows precise cutting. Husqvarna is a brand that cares about ergonomics. In all models, there is a possibility of individual settings of the handles, while the control elements are arranged in a very intuitive way, which translates into easy work.
Wacker Neuson
The manufacturer's offer consists of several models of surface cutters. The largest of them is the Wacker Neuson BFS1350, which works with a dial with a diameter of up to 500 mm, and the smallest one is the BFS735 that supports a disc up to 350 mm. The entire BFS series is characterised by easy control while maintaining cutting stability. It is also worth paying attention to the dual irrigation system that extends its life. Wacker Neuson pays special attention to the quality of construction materials. Thanks to permanently lubricated bearings, maintenance is limited to the necessary minimum.
On Wacker Neuson devices, vibrations are less than 5 m/s2, which, according to EU Directive 2002/44 / EC, means that they can be used continuously for eight business hours. Additional advantages of the machines of this brand are, among other things: a construction that promotes lifting on belts, thanks to which the rear wheels always touch the ground first; large water tanks; additional handle for easy carrying; wide wheelbase and reliable service for precise cutting.

iSprzet.pl recommends the Wacker Neuson BSF1345. It is a floor saw, which is distinguished by high cutting quality. It is powered by an 8.6 kW Honda GX 390 petrol engine. This model is compatible with a blade with a diameter of 450 mm.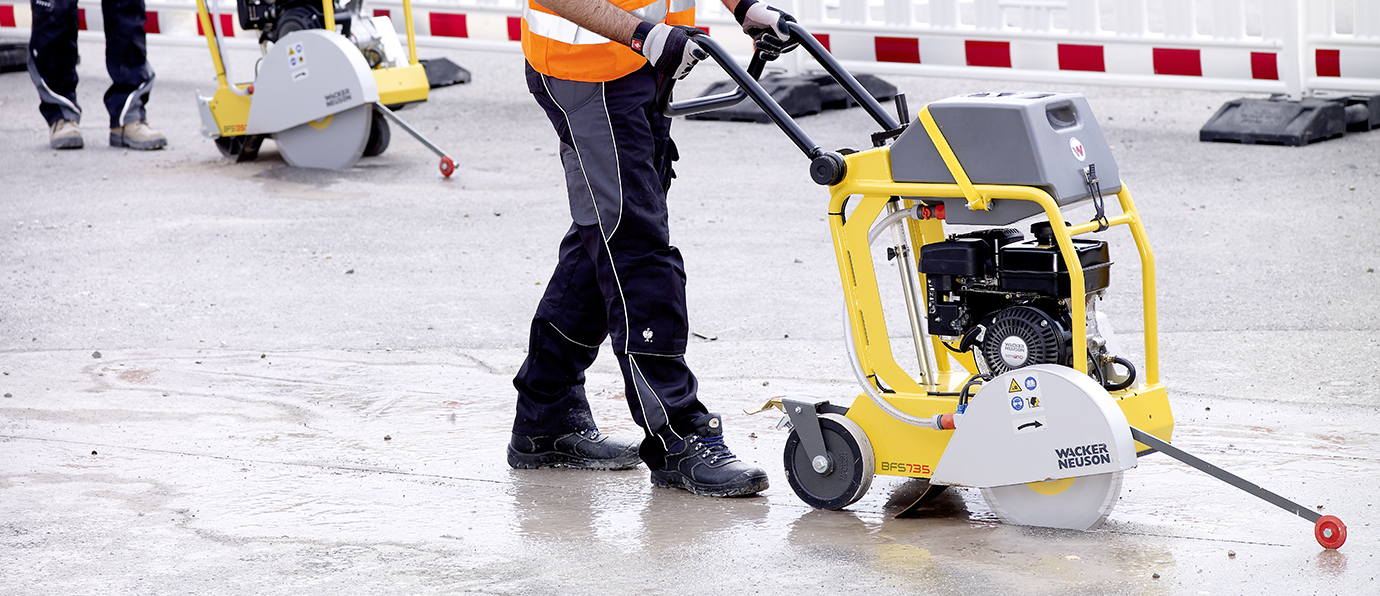 Tyrolit
Another product worthy of interest is the Tyrolit FSE811 cutter. It has been designed to work in hard-to-reach places. Switching the cutting side - from left to right is very easy and quick to implement. If you are talking about construction, it is worth noting that the cutter was built of modules. Such a solution allows for quick disassembly of the machine into individual elements. The cutting depth is infinitely adjustable, the drive in the form of a belt transmission (V-belt), provides optimal cutting speeds and does not require continuous maintenance. The heart of the device is a 7.5 kW electric motor. It is quite a large device with a weight exceeding 150 kg. It allows cutting to a depth of 320 mm.
Dr. schulze
Dr. Schulze FS 350 TORNADO 2 is another model of a road cutter that is worth presenting. It is powered by a 6.6 KW gasoline Honda engine and gives the possibility of cutting up to 125 mm. You can also choose a smaller variant - Dr. Schulze FS 350 TORNADO 1 with a capacity of 4.0 KW, which cuts to a depth of 105 mm.

It should be remembered that the work efficiency depends not only on the type of machine selected but also on the appropriately selected disc. At iSprzęt.pl you will find a wide range of diamond blades for various applications. If you have not yet used the floor saws, it is worth asking our specialists about the command of ready sets.