Cordless construction equipment is becoming more and more popular among entrepreneurs around the world, also in Poland. The reason is simple: such devices guarantee very high comfort of work. Add to this great performance and versatility of use, we will get equipment that can easily be an alternative to network or combustion devices. We have prepared a list of the most interesting models of rammers and battery compactors from Wacker Neuson, which are particularly recommendable.
No exhaust, no restrictions
For a long time, Wacker Neuson has been strongly focusing on the development of the zero-emission range (Zero emission). This is a global trend, but the German manufacturer is clearly ahead of the competition in terms of performance and functionality of the devices.

The Wacker Neuson range of zero-emission equipment includes:
Electric wheel loaders

Dual power mini excavator


Electric tracked dumper
Electric drive technology has the same advantages - both for the contractor and the natural environment. Equipment powered by energy stored in the battery does not require connection to the electricity grid. It does not emit exhaust gases, so it can work in closed rooms (schools, hospitals, public buildings) as well as in city parks or areas subject to restrictive environmental regulations.

For the comfort and safety of operators, the battery devices must be virtually silent, light and easy to transport.
Low labor costs

Wacker Neuson battery-powered equipment is unrivalled in terms of cost of ownership. The drive itself does not require advanced service. The simple design ensures a low failure rate. Investment in battery devices is very profitable and begins to pay off from day one, especially given the significant fluctuations in diesel and gasoline prices.
What about performance?
Many entrepreneurs are wondering if battery compactors and rammers will give them the same operational efficiency as conventional equipment. These doubts are completely unnecessary. Wacker Neuson reports that the drives used in its devices offer efficiency in the range of 94 to 97% with minimal loss of hydraulic power. Their efficiency is therefore at least the same as compactors and rammers.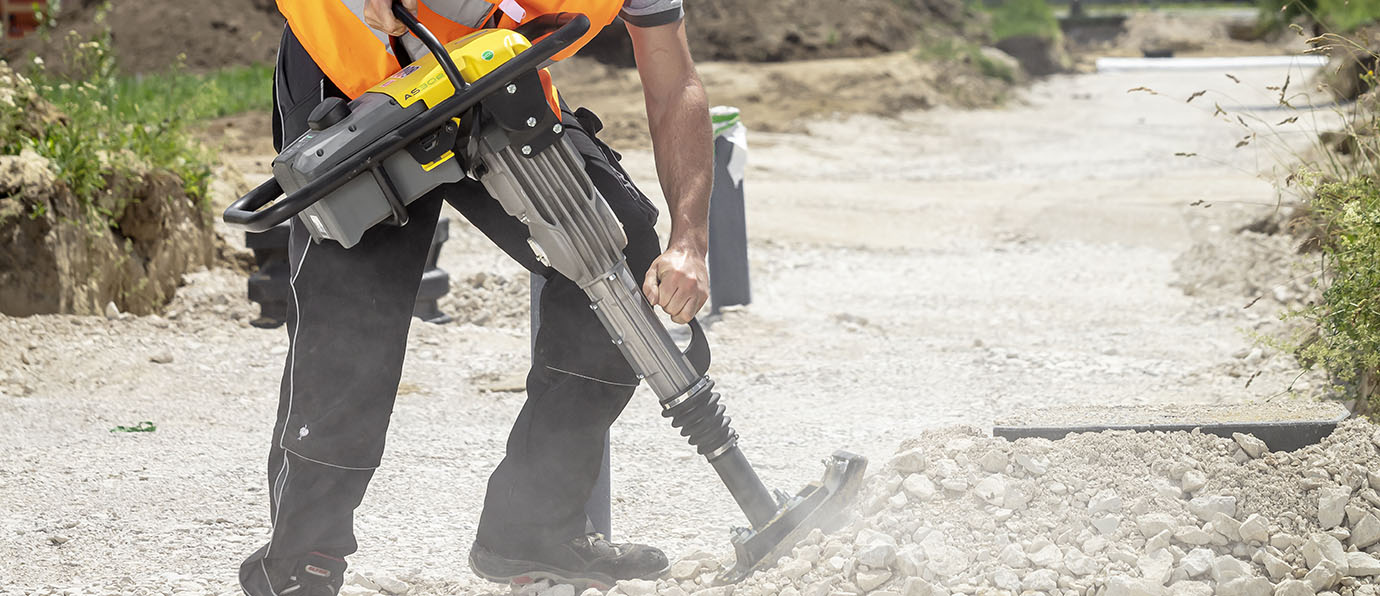 Wacker Neuson

Battery

rammers

We will start the review of the German manufacturer's offer with electric rammers Wacker Neuson AS30e and Wacker Neuson AS50e. They are even created for work in deep excavations, indoors, but also in areas where the use of conventional equipment is prohibited. All because they are zero-emission and noiseless.

According to Wacker Neuson estimates, thanks to the battery drive you can save up to about 55% of operating costs. This is due to the reduction in fuel and service expenses and the reduction of work cycles.

The presented electric rammers allow continuous operation for about 20-30 minutes. Charging time is about an hour (using the so-called quick charger) or about 4 hours (using a standard charger).

The electric motor used is maintenance-free and is started by pressing a button. The battery has a high resistance to harsh operating conditions and can also be replaced without any tools at any time. The operator has a clear battery charge indicator at his disposal.

Wacker Neuson AS30e and AS50e models and optional equipment are available at isprzet.pl. Rammers in the set do not have a battery and charger - these accessories must be purchased separately.
Wacker Neuson is the manufacturer of the world's first AP1850 E reversible battery vibratory plate, also available with the Wacker Neuson AP1850 WE water tank. This device does not require a permanent connection to a power source, thus guaranteeing incredible versatility of use.

In the presented model you will find a foot width of 500 mm. The operating speed of the equipment is 27 m/min (depending on the type of soil), and the maximum surface capacity is 810 m2/h.

The Wacker Neuson AP1850 E unidirectional vibratory plate is driven by an electric motor without a V-belt - this unit requires no maintenance. This translates into very low operating costs of the device. Wacker Neuson estimates that using this compactor is up to 70% cheaper than machines with conventional drive.

Electricity is stored in a battery that allows uninterrupted work for over 60 minutes. Charging time is 80 minutes (quick charger) or 4 hours (standard charger). The battery and chargers are modular, which means they can also be used in Wacker Neuson electric rammers. We would like to emphasize that the battery and chargers are not included and must be purchased separately.

In the iSprzęt.pl offer you will find all Wacker Neuson battery compactors and rammers.