Specialists from iSprzęt.pl, know about compactors like few people, what you could already see in previous articles. In today's entry, we will tell you what reversible vibratory plates up to 200 KG worth choosing. In the beginning, let's remind what the compactors are and what they are used for and what distinguishes reversible vibrators.
Compactors are popular construction machines used, as the name suggests, for compaction of the soil. The principle of their operation consists of generating vibrations on the central metal plate adjacent to the substrate. This is possible due to the work of the motor, which transfers energy through the centrifugal clutch to the vibrator, and then vibrates the mentioned main board. The weight of the device and the vibrations make the ground beneath the machine harder, more uniform and smooth. Compactors can also be used for levelling asphalt, pressing freshly laid cobblestones, or ballasting under the driveway. There are undoubtedly many applications.
Reversible compactors are a group of such devices that, thanks to the appropriate mechanics, allow the machine to move forward or backwards. This is done by the same vibrations that are transferred to the motherboard. Such compactors are great for working in more difficult, uneven terrain because they do not require a lot of energy from the operator. Also, remember about BPH regulations at work to prevent damage to health and unpleasant injuries.
All compactors recommended by our specialists meet the safety requirements and enable easy and efficient work. Typing a list of top reversible vibratory plates up to 200 kg, we used the websites www.szukamzageszczarki.pl and www.zageszczarka.pl. This allowed us to quickly generate a list of brand compaction machines that meet these criteria.
AMMANN APR 2620 D (135 KG)
APR 2620 D is the lightest reversing plate (135 kg) in our combination driven by a 3.1 kW diesel engine. Ammann is one of the leaders in the production of this type of machines, so choosing this model, we can be sure that it is refined in every respect. In addition to moving forward and backwards, he can work "in place", so that he can cope with persistent materials. Another advantage is the cushioning, folding handle. It improves the comfort of work, but also facilitates transport. The base plate is resistant to abrasion and is also designed so that it can "shed" the applied dirt. It is also worth mentioning a solid construction and accessories that do not require frequent maintenance, including bi-directional exciter unit or well-protected centrifugal clutch. Optionally, the compactor can be equipped with a sprinkler system and an 8-litre water tank, thanks to which it can be used in road construction.
On the other hand, an optional elastomeric board will work for paving applications. For some, the useful additions may be transport wheels or hour meter. Remember also that the warranty can be extended up to 3 years.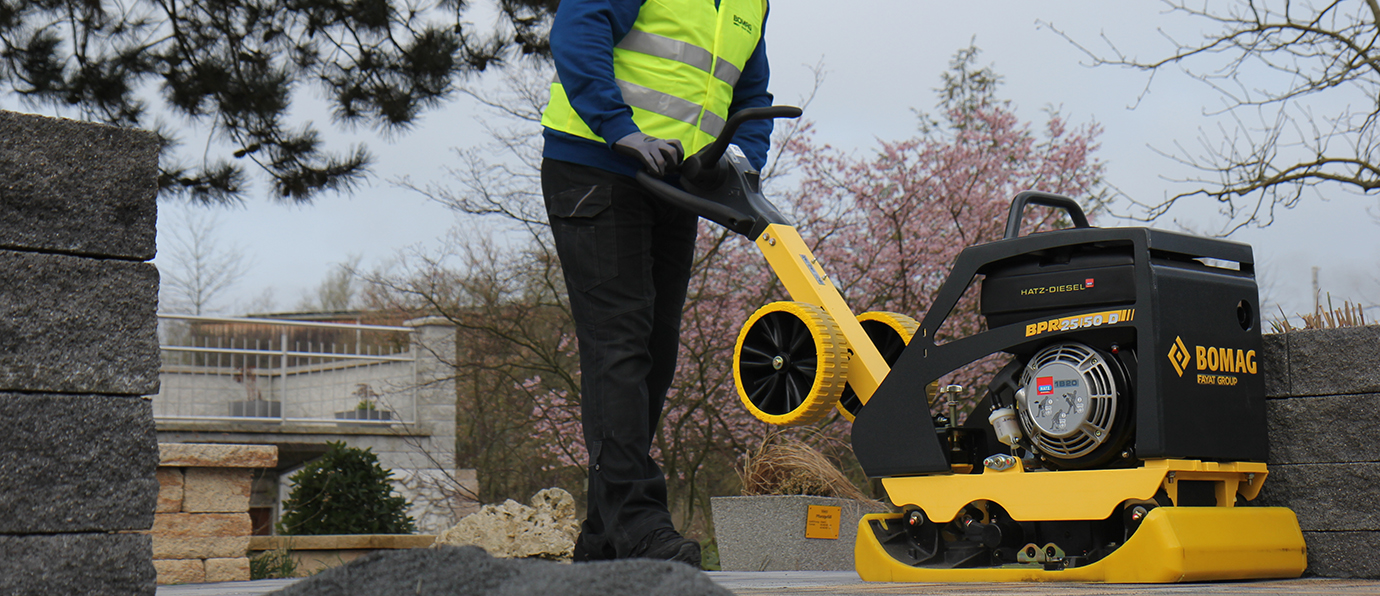 BOMAG BPR 25/50 (140 KG)
The Bomag brand offers a 5 kg heavier compactor. I am talking about the BPR 25/50 model, which, besides being more massive, is also stronger, which in many situations can be very useful. All this is due to the 3.6 kW Honda GX160 neutral motor. The significant advantage of this machine is the height adjustable headband and excellent vibration damping, which allows the operator to choose a comfortable position. The joystick can also be folded for transport. The compactor has a solid cover for the entire machine that is opened and provides maximum protection for the engine and other vital components and an oil level sensor that will automatically shut down the engine when the oil level is too low. Optionally, we can purchase a sprinkler system, a set of tools, a service kit, transport wheels, the option of an original painting and an elastomer. Also, the compactor is covered by a 3-2-1 warranty. It is enough that the user performs regular inspections and repairs at an authorised Bomag service. Then one year of warranty is standard for the whole, two years for the internal combustion engine, and three years for the vibrator transmission and the hydraulic setting of the driving lever.
WACKER NEUSON BPU 2540 A (145 KG)
When browsing the range of compactors, it is difficult not to mention the Wacker Neuson brand. In a similar weight range, we recommend the BPU 2540 A. It is a versatile machine that will work in gardening, in the care of green areas, as well as in the repair of roads, passageways, compaction of gravel, or when working on paving stones. Thanks to the lightweight and relatively stable, gasoline engine (4 kW) and the possibility of working in two directions it will be an excellent alternative for other brands in this class. The advantage of this model is the built-in transport wheels resistant to high temperatures and mechanical damage. The handle is standardly cushioned, and additionally has the possibility of lateral guidance, which puts on the convenience of work and reduces operator fatigue. The towing bar automatically locks during folding, which facilitates transport.
HUSQVARNA LG164 (157 KG)
In the range up to 200 kg, we can also distinguish LG164 compactor. It is a compact reversible plate compactor for demanding applications that has a Hardox 400 steel plate. This particular product has a working width of 450 mm, a weight of 157 kg and a 3.6 kW gasoline manual start-up engine. The forward/reverse lever and handle are locked in a given position, and the handle can also be lifted, allowing manoeuvring in tight spaces. It should also be noted that the level of vibration on the handle is shallow, thanks to the thoughtful design and high-quality components. Optionally, we can purchase an elastomeric plate and a set of transport wheels.
ALTRAD BELLE RPC 30/50 (161 KG)
RPC 30/50 is another recommendation worth recommending. It weighs 161 kg, the working width is 500 mm, and a 4 kW gasoline engine powers the whole. As for the advantages, by choosing this plate, we have the option of using two sizes of boards depending on your needs. It is also worth adding that the price of this model is beautiful.
PROJECT ZGS-25 R (185 KG)
ZGS-25 R is our cheapest offer, but it offers quite a lot. It is a reversible compactor weighing 185 kg, driven by a robust 2.8 kW Honda gasoline engine. The ZGS-25 R model is intended for works on the construction and repair of road surfaces, embankments, embankments, dams, canals, playing fields, streets and other surfaces. The device can be additionally equipped with an elastomeric board for levelling paving stones.

The choice of a suitable compactor is not apparent. A lot depends on individual needs. If you work mainly on cobblestones, you will not need investment in machines adapted for smoothing asphalt, and vice versa, if you are looking for something for clever work, then you need to look for a model that offers more options. We encourage you to use the same search engines as www.szukamzageszczarki.pl and ww.zageszczarka.pl, where we can specify precisely what you are looking for. Write and call us too. We will be happy to help.