The paving tools enjoy exceptional interest in our store; therefore in today's article, we would like to divide them according to their type and purpose. We encourage you to read the information below.
The leading producers of paving tools offered by iSprzet.pl are companies such as Probst, Mimal and Jazon. In our shop, you will also find a full range of Halder hammers, including hammers for paving. Both manufacturers from Germany (Probst, Halder) and Poland (Mimal, Jazon) provide reliable, high-class equipment that we recommend to our customers.
Clamps & handles
Clamps are hand devices for catching and transporting paving and concrete elements. The choice of the right tool depends on its application. The JAZON CHU clamp will be ideal for raising curbs up  to 100 kg. Its versatility also allows to transfer the openwork concrete slabs. Its small weight and simple service will speed up and make work easier. On the other hand, the Probst H-FVZ-UNI model is a much heavier clamp. It is galvanised and  designed for lifting and moving boulders of irregular shape up to 200 kg. Both devices require two people. Probst TSZ-UNI is also worth attention. This small tool, adapted to work with a small excavator or crane, can handle prefabricated concrete and natural stone elements weighing up to 600 KG. One person is enough to handle it. We can also use the Mimal RCW single-handedly. It will be perfect for pulling, moving and arranging single curb elements. Thanks to the comfortable, rotating handle, it ensures very high comfort of work. We still need to take into consideration basic principles of health and safety.
Paver cutters
Paver cutters are easy-to-use tools for precise cutting (splitting) of paving stones and more. We recommend the Mimal GS3 paver cutter, which is perfect for splitting materials such as concrete blocks or lime-sand bricks (SILKA, SUPOREX) or paving stones, mentioned above. The blade with increased durability and solid construction will allow for more extended use. On the other hand, we have Probst AL 33-V block cutter. Because of the perfect cut quality, it is an alternative to costly cutting with diamond discs. An additional advantage is the ability to tilt the support table, which allows for precise slitting without a "ragged line" effect. Finally, it is worth mentioning that the models mentioned above are of similar weight (about 40 kg) and they all have transport wheels.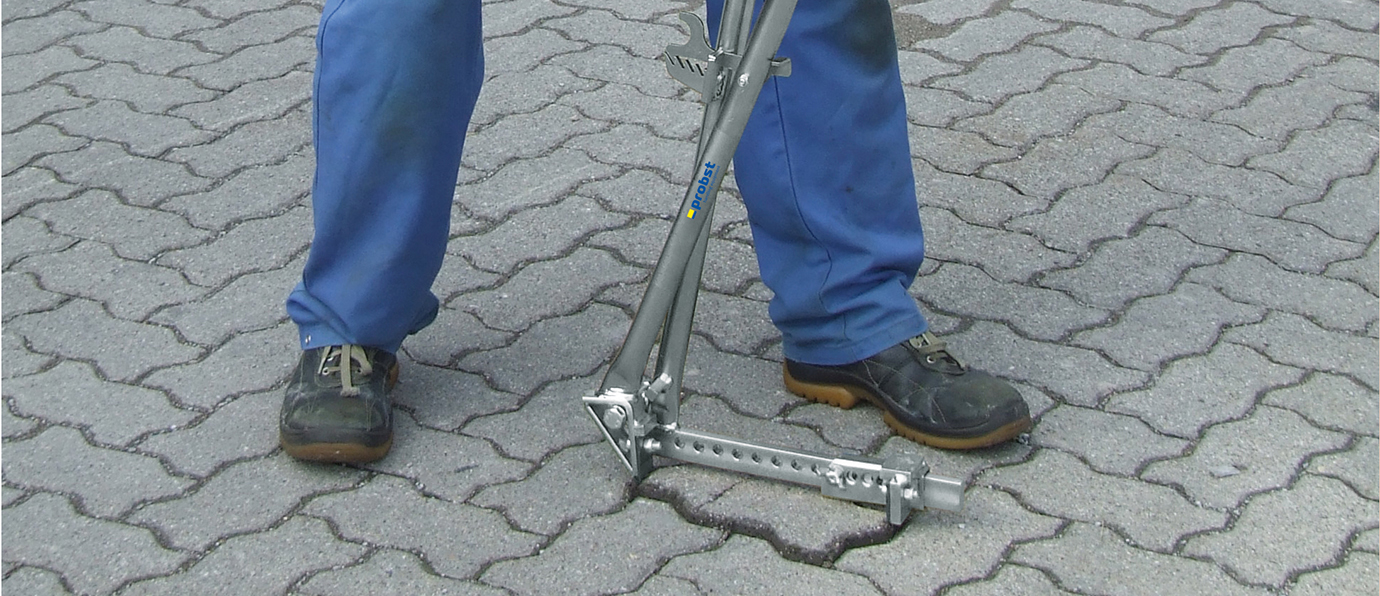 PAver lifters and block extractors
Paver lifters and block extractors are products used for removing already laid elements of paving stones. Perfect for repairs and renovations of paving. All three producers mentioned at the beginning have such tools in their offer. Paver lifter Probst SZ is an indispensable device for all those who deal with paving works daily. This paver lifter, as the only one on the market, is equipped with a locking mechanism with regulation. Thanks to this, you can use it at all types and sizes of the cube. Mimal IBR is also used to pull individual pavement elements. The advantage of this design, however, is that regardless of the width of the gripper, the axis of the pulled cube is always in the axis of the entire device, which greatly simplifies the work. Both Probst and Mimal allow you to replace the blades after they are worn. The most accessible tool is the balancer. As an example, we can use the Jazon WB model, which despite its light weight (3 KG) is very durable and performs well in positioning and undermining, among others cobblestones. It has replaceable steel blades 30 MM or 45 MM wide.
Paving hammers
The paving hammers are primarily characterised by a special rubber tip of varying hardness, shape and weight. They must be resistant to abrasion, and at the same time have a proper hardness, so as not to damage broken concrete and paving elements. One of the most popular hammers is the Jazon MGD, characterised by a square 60-millimetre side by side weight of 3.2 KG. The advantage is the length of the handle - 855 mm. We also recommend Halder Simplex EH3002 hammer with a diameter of 60 mm, half the size. Halder hammers can be freely personalised by choosing the right handle, housing or tips of the different hardness scale.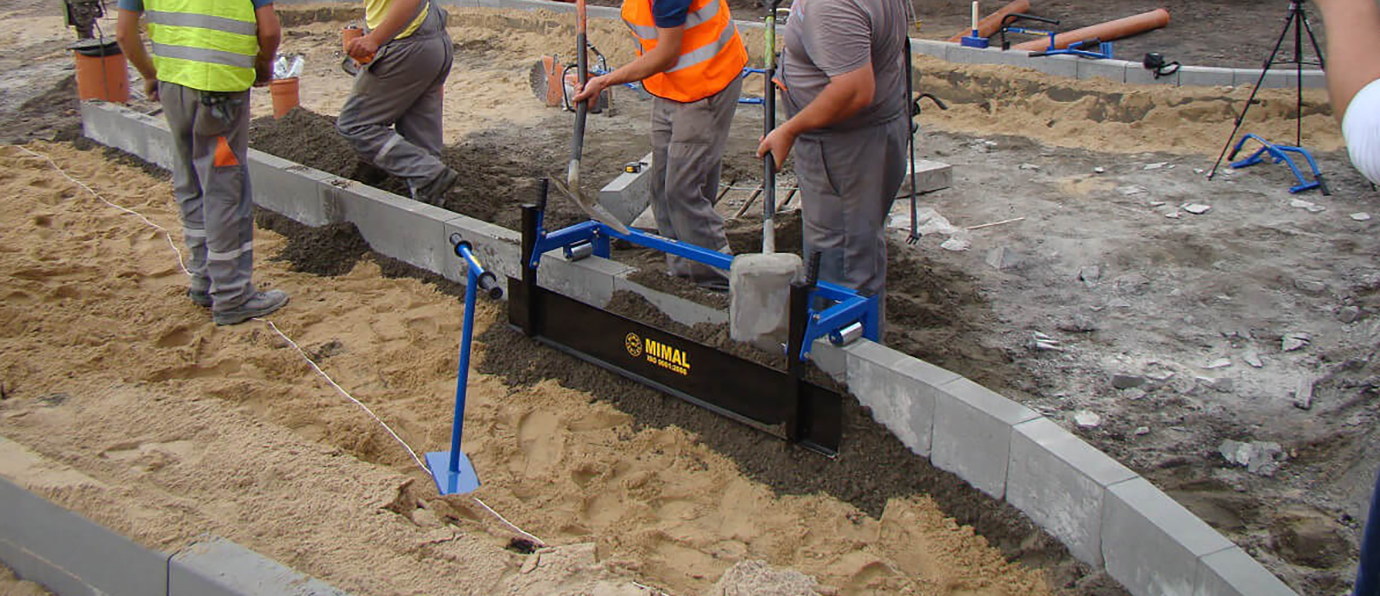 Slipforms for concrete backfill
Slipforms are used for shuttering a retaining wall made while laying curbs. They are an excellent investment because they greatly accelerate the work. Mimal SZL Sliding Scale is recommendable equipment that can be freely adjusted horizontally and vertically. The length of the working part is 1.5 m, the maximum permissible height of the retaining wall is 175 - 275 mm, and the supported width of the curb is 120 - 200 mm. Moreover, it is worth mentioning that the Mimal tools are powder coated with a characteristic blue varnish, making them durable and aesthetically pleasing. Jason SZS and Probst GR 150 have similar applications. Probst GR 150 is designed for all typical curbs. Two externally positioned levers lift the rear wall of the formwork and allow it to be quickly placed in a new position. Moving alone will not make it difficult due to the roller bearings. Also, Probst enables joining two or more formworks through KS-GR 150 connectors, which can be purchased independently.
Paver carts
Paver carts are specialised hand trucks for transporting more paving stones constructed in such a way that they can cooperate with goods previously arranged on pallets. iSprzęt.pl recommends the Probst VTK-V trolley, which will accelerate the transport of materials on the construction site. The device allows you to load the entire layer of the cube straight from the pallet. The trolley might be also equipped with a third supporting wheel, which significantly facilitates work.The advantages of this device are, among others, small weight (68 kg), large pneumatic tires, properly constructed clamps, so that the transported goods are well-held. The manufacturer ensures that we can load a total of up to 400 kg of material.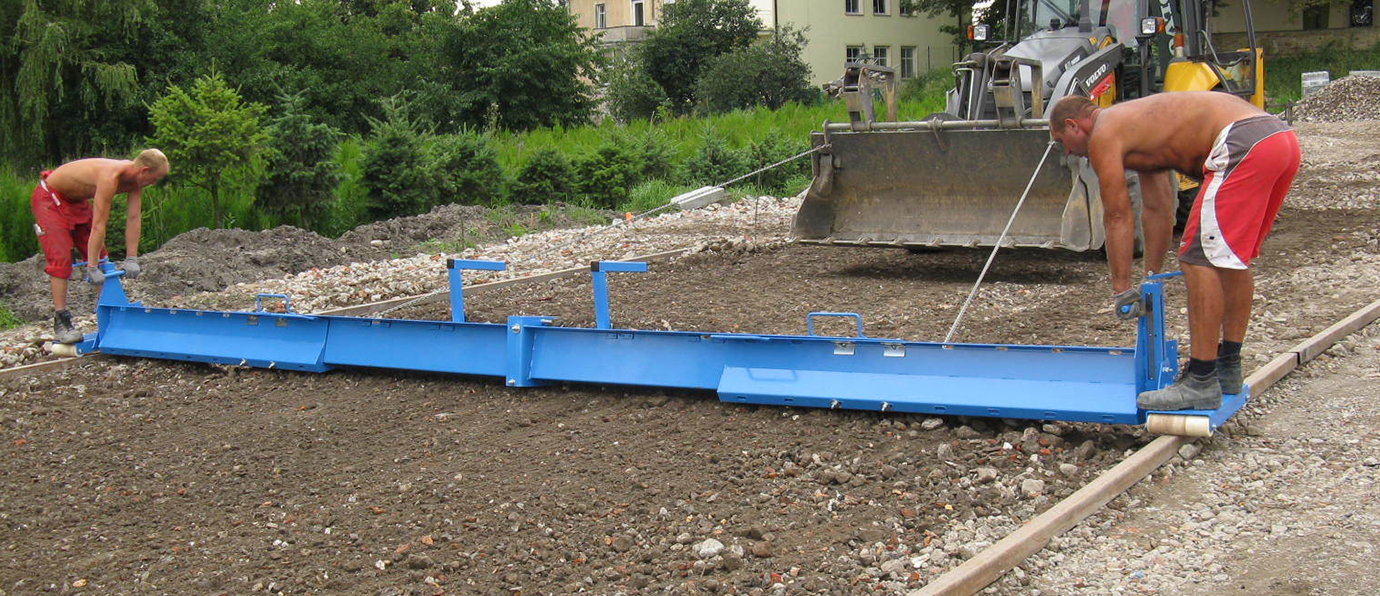 Surface preparation
In the category of "surface preparation " we find unique slats and patches for levelling the ground for paving stones, also those that allow sand to be levelled at the curbs. We offer a wide range of tools ranging from small laying course skimmer used  to level the ballast, like model Mimal ZDP2 to model Jazon LM7M for wide strikes moving on two ebonite rolls.
Stackers
Stackers are professional machines for laying massive concrete slabs and curbs. Currently, in our offer, you will find a mounted laying attachment Jazon JUZ 01 and laying machine Jazon JUG 02.
Vacuum devices
Vacuum devices are used for non-invasive gripping and handling of heavy concrete elements. We wrote about them in detail here.

Even if you already have all the tools you need, stay tuned to us regularly. We try to update our offer, present new products and show that new investments are the right choice. What is more, we are running promotional campaigns all the time.