Thanks to modern construction machines, working with them can be carried out efficiently, comfortably and safely. Depending on the purpose of the equipment, various types of drive are installed in them. Most often, however, internal combustion engines dominate, which are characterized by high power and full mobility. Users have the choice between light and simple gasoline engines, and durable and powerful diesel engines. Also, both engines are available in two- and four-stroke engines. What are the differences between them? All engines have a lot in stock, but so are the differences between them.
Petrol engine – simple and lightweight
The first spark-ignition engine - that's what you should say about a gasoline engine - was created in 1878-79. Its operating principle is straightforward. The fuel is burned using an electric spark, which is generated by a spark plug. For proper operation of the gasoline engine, therefore, electricity and a suitable type of flammable fuel are needed. Currently, by far the most common is unleaded gasoline.
The most significant advantage of a gasoline engine is its simple design and low weight. That is why this type of drive is mainly used in small and portable tools, such as power cutters. The operating costs of gasoline engines are relatively low, and the type of fuel used means that they also operate without problems at shallow temperatures. Also, they reach operating temperature much faster, so they are ready for high-speed operation.
The disadvantage of gasoline engines is certainly about 30% higher fuel consumption compared to diesel engines. Often, their durability is also much shorter. There is also a danger of uncontrolled ignition of fuel during refuelling, storage and transport. Therefore, operating equipment with gasoline engines requires absolute compliance with the necessary safety rules.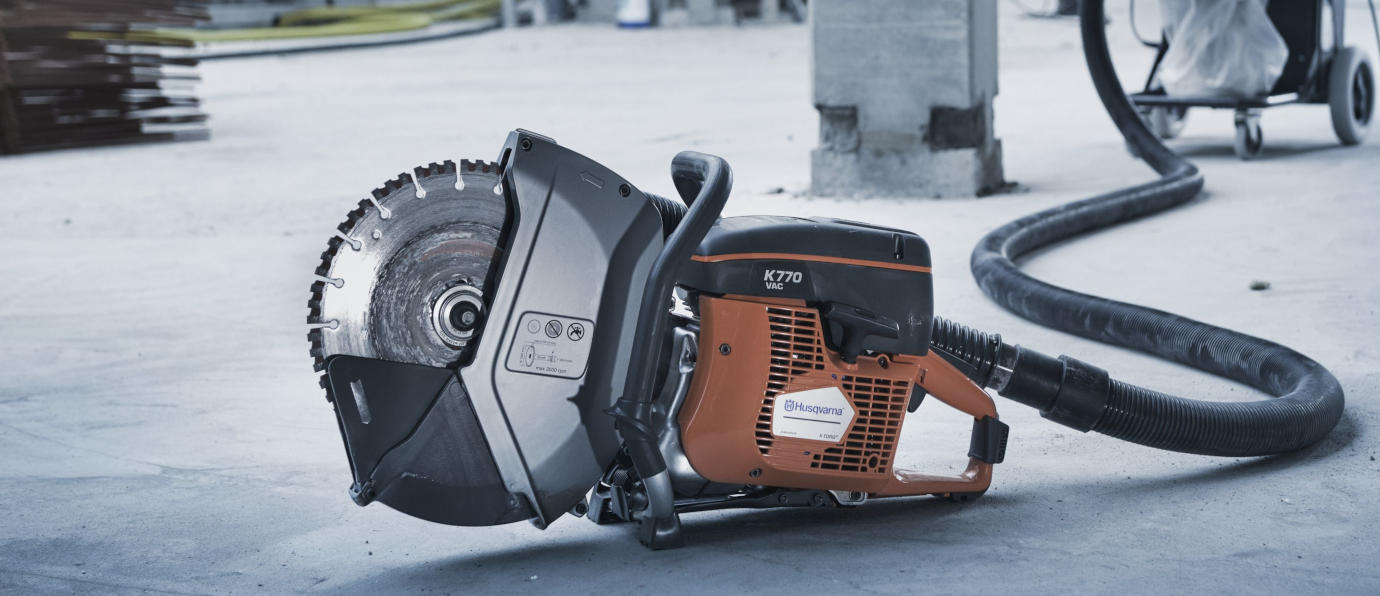 Diesl engine – strong and durable
The diesel engine, actually a diesel engine, was created slightly later than a gasoline engine. Unlike a gasoline engine, the ignition of the fuel-air mixture occurs automatically, due to the high pressure and temperature prevailing in the combustion chamber. So there is no need to use spark plugs, but special glow plugs are installed in their place. They are started automatically just before starting the engine to increase the temperature in the combustion chamber and thus facilitate ignition of the fuel. In diesel engines, diesel is most often used as fuel.
The diesel engine has several huge advantages, which, unfortunately, are balanced with equally significant disadvantages. First of all, compression-ignition engines generate much higher torque and therefore can work under a much higher load. An additional advantage of the diesel engine is lower fuel consumption compared to a gasoline engine. Also, these engines are characterized by more significant durability.
Unfortunately, despite such excellent performance and durability, diesel engines have their drawbacks. The first is the high weight, which limits the use of the diesel engine in small and portable devices. Due to higher production costs, machines with diesel engines are more expensive than their gasoline counterparts. These engines are also more noisy and sensitive to the quality of the oil used. The imperfection of the diesel engine is manifested in particular in winter. Its warm-up time to operating temperature is longer, and start-up at shallow temperatures can be difficult and sometimes even impossible.
2-stroke & 4-stroke engines - difference
Both gasoline and diesel engines come in two- and four-stroke variants. The difference, as the name suggests, is the number of cycles that fall into a single-engine work cycle. In a two-stroke engine, an operation is limited to only two cycles: compression and process. Thanks to this, two-stroke engines are characterized by easy starting and high power and torque at high revs. The advantage of these engines is also the ability to work in any position. For this reason, they are often mounted, among others in chainsaws. Their disadvantage, however, is high combustion, the need for oil lubrication from the outside, high emissions and noisy operation.
In a four-stroke engine, for the full engine cycle, there are four strokes: suction, compression, work and exhaust. As a result, combustion is much cleaner, which directly affects the amount and quality of exhaust gases. The four-stroke engine also means less fuel consumption and smoother work at idle. Unfortunately, they have a more complex power supply system, which is why they should work on as flat a surface as possible. Depending on the type of equipment, manufacturers allow working with them on slopes of up to 20-30°.
Combustion engines in construction machinery
All power generators are equipped with internal combustion engines. For small models, gasoline engines are used. Low weight helps in the transport of this equipment, and gasoline supply makes it easy to start at low temperatures. Larger and stationary aggregates are equipped with diesel engines. Because of this, they can generate more energy from the same amount of fuel as gasoline engines. They are also more durable, but at the same time, more expensive.
Soil compactors are also most often equipped with internal combustion engines. In both unidirectional and bidirectional compactors, gasoline and diesel engines are used. For vibratory rammers, the ideal solution would be to choose a model with a gasoline engine. Such equipment is perfect for working in small spaces, where high manoeuvrability counts. Also suitable are more massive and more expensive rammers with diesel engines that will work on medium-sized surfaces. The situation is similar in reversible compactors. For larger units, it is better to choose a diesel engine.
Internal combustion engines are installed in many types of construction machinery. Regardless of their purpose, the properties of gasoline and diesel engines remain the same. It is worth bearing this in mind when purchasing and operating such equipment.