A new year means new challenges and fresh provisions. Do you already have that? If so, with our help, some of them can be realised today by investing in new, efficient and reliable equipment. iSprzęt.pl is a store where, in addition to a professional assortment, you will also find practical information and advice. Thanks to this you will be satisfied not only from your purchases but also from the knowledge you will gain.

In today's article, we will introduce the offer of concrete milling machines. These are specialised machines for processing the top layer of hard materials such as concrete. The activity they do is called "milling" and should not be confused with "grinding". The main reason for milling is the desire to strip away the used, an additional layer of concrete or other material, such as old adhesives or paints, hence an essential parameter of each device will be the maximum depth and width of the cutter. It is also worth adding that concrete milling machines are significantly different from milling machines used in the furniture industry. Most of the models available on the market have been adapted to connect an industrial vacuum cleaner so that the work can be done without dust in various places and rooms. We also encourage you to read the article about vacuum cleaners.
We distinguish between electric and combustion routers with different parameters, which we will present on specific models offered on our website.
ENAR FEN 200 H
The ENAR FEN 200 H floor moulder is an example of a combustion device. The heart of this machine is the 3.7 kW, four-stroke Honda GX160 engine. The parameters to pay attention to are the working width of the drum - in this case 200 mm and the depth of milling - 8 mm. Also, the relevant information is efficiency, which is here from 33 up to 40 m²/h and depends on the type of work. This milling machine is equipped with a drum with TCT cutters that were made of tungsten carbide, they can quickly repair pavements, remove concrete and asphalt surfaces, when cleaning or preparing the ground, and when removing horizontal markings from roads.
DR. SCHULZE 
DBF200
The applications as mentioned earlier of this type of equipment are not everything. Milling machines can also be used to process floors or screeds indoors. In this role, the DR electric floor moulder is perfect. SCHULZE DBF200-E230 with a capacity of 2.2 kW. Small size and light manoeuvrability allow you to work in hard-to-reach places. The recommended milling depth for this machine is a maximum of 3 mm. The standard equipment includes a MB-200/4 TWIN 200 mm wide drum, and an HM5-45/6 cutter.
Husqvarna CG 200
HUSQVARNA proposes, in turn, an electric CG 200 milling machine (2.2 kW). The device removes concrete faster and more aggressively than standard milling machines. The tool will also allow us to strip off coatings such as thick layers of tile adhesives, rubber elastomers or epoxies. Also, we can lightly and intensively mill this device, groove the transition in concrete or asphalt, thanks to which we obtain a non-slip layer. As standard, the model is offered without a drum, but in iSprzet.pl, it is possible to purchase the device in a set with a TCT cutter and drum. The drum width is 200 mm. The advantages of Husqvarna devices are, among others, such details as a unique vibration damping handle, hour meter especially appreciated by equipment rentals, blocked depth indicator with fine adjustment up to 1 mm or quick lift lever for switching the drum on / off. You can purchase this machine with a 3.6 kW Honda combustion engine.
SCANMASKIN Ferox
We also recommend products from the manufacturer SCANMASKIN. One of the popular models of this brand is the FEROX 200 scarifier offered in the version with a 2.2 kW electric motor. It is a very versatile and light device (70 kg), which can be used for both simple tasks and those more challenging to remove the hardest layers. The working width is slightly smaller than in competitors and is 195 mm, and the working depth is 3 mm. The drum can be equipped with different knives, and the manufacturer states that the replacement of the entire drum is to last no more than 5 minutes, which is undoubtedly a significant advantage. The offer also includes two larger models FEROX 260 and FEROX 320, which will unwind the unwanted layer to a depth of 6 mm and 8 mm, respectively. The powerful FEROX 320 (11 kW) power is also a considerable weight of almost 340 kg.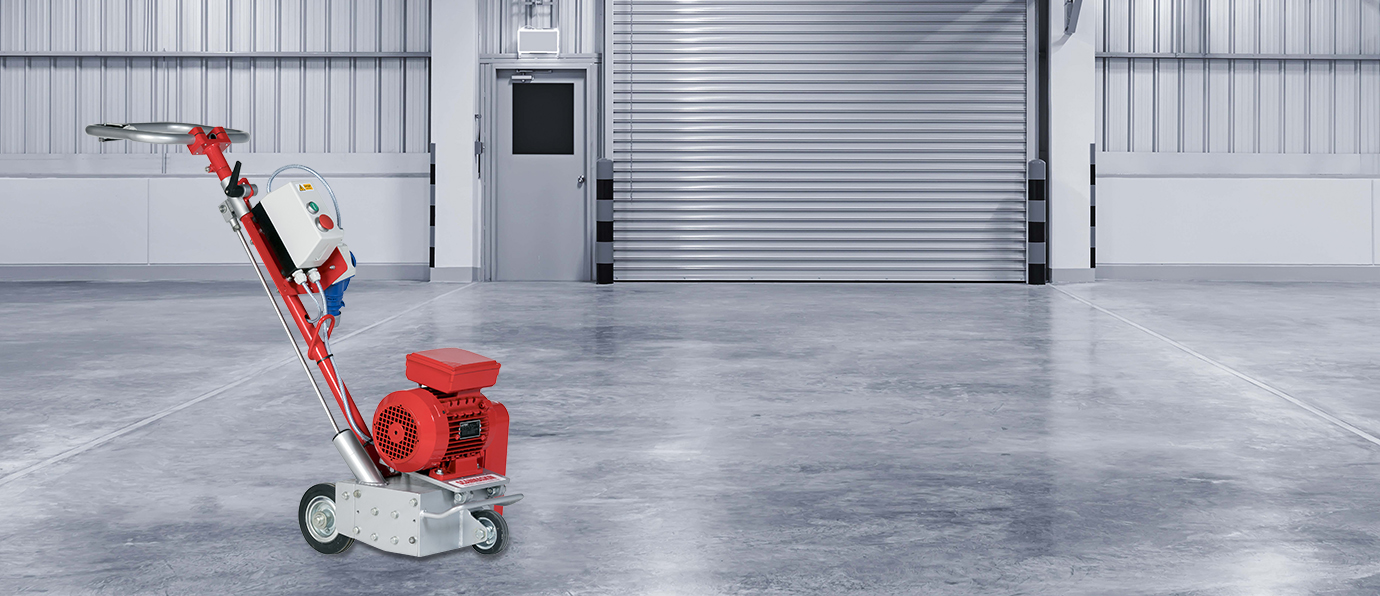 Kreber
This is not the end, because our offer also includes KREBER products. When it comes to milling machines, we distinguish the models K-200 K and K-300 FR, which are also designed for all types of concrete substrates. The K-200 FR model has similar parameters to those previously described by other companies, whereas the K-300 FR model is powered by a 4.0 kW motor, and the working width at 300 mm.
Frezy
The TCT cutter is available in ready kits or for assembling parts on iSprzęt.pl. It is a very efficient tool (84 tungsten wheels and 84 washers) that have high abrasion resistance. Thanks to the use of alternating bushings and distance sleeves on the four shafts of the milling cutter, you can obtain the desired cutter effect: coarse, medium and smooth.
The STARCHER cutter with the Husqvarna milling cutter is constructed differently than the TCT cutter (160-star wheels and 164 spacers). Its appearance resembles a wire brush, which copes well with paints, oils, greases, adhesives or thermoplastic markings on the road. Depending on your needs, we can set the tool to achieve the desired roughness effect.
The operation of milling machines is not the simplest, and it is not about physical strength, but experience in using it. Before starting any work, remember to read the instructions, check that the milling tool has been correctly installed and the basic safety rules, among others, about wearing glasses. Proper selection of the cutter for the surface and regular maintenance of the equipment will extend their lifetime, but also allow for more efficient work. If you do not feel too sure which model to choose and how to choose the right cutter, please contact iSprzęt.pl specialists.