Spray painting has become popular not only for industrial but also home applications. A wide selection of painting tools allows repair companies to perform their tasks more efficiently, while reducing maintenance costs and the time needed. A medium-class paint sprayers costs from a few to several thousand zlotys. The investment in this device is highly profitable taking into account the performance of such equipment and the quality and convenience of painting incomparable to traditional solutions.
WHAT ARE THE DISTINCTIVE SPRAY PAINTINGS?
Traditional methods of applying paint are usually limited to the use of a brush or roller. Undoubtedly, this is a proven method, which does not require considerable financial outlays and special preparation. Unfortunately, the painting time for this solution is not the shortest. Therefore, it is worth considering the choice of spray paint application.
However, a distinction should be made between spray coating technologies. Painting with compressed air, which combines with paint particles and escapes under pressure through a spray gun, is very popular. Most often the paint container is attached directly to the gun.
The technique of spray painting using the hydrodynamic method is similar, but with one fundamental difference. The paint is applied under pressure but without air. The painting aggregate is the intermediary in this activity, without which it would not be possible. The device draws paint, which is compressed and pressurized with a hose directly to the spray gun using an installed pump. Thanks to this, it is possible to precisely and efficiently cover the surface with paint, impregnation or other means adapted to the aggregate's processing capacity. It is estimated that in this way you can paint about 4m2 of surface in one minute.
HYDRODYNAMIC SPRAY PAINTING - ADVANTAGES AND FAULTS
Hydrodynamic spray painting of walls is particularly invaluable in the case of uneven and heterogeneous surfaces, e.g. structural plaster. The great advantage is greater efficiency and comfort of work compared to applying paint using compressed air. Paint particles do not float in the air, and thanks to limited dusting, painting indoors is much less arduous. Direct dosing of paint to the gun allows uninterrupted painting in any position, which is not always possible using compressed air.
Spray painting also has its disadvantages. First of all, it requires specialized equipment that is several times more expensive than traditional tools, e.g. a set of brushes or rollers. On the other hand, such equipment will be used for many years - provided that it comes from a proven manufacturer and is properly used. An obstacle to spray painting, especially at an early stage, maybe a lack of skill and experience. This activity is not the simplest one, and the ability to properly run the paint stream and organization of the workplace is crucial to achieving the desired results. Therefore, it is worth placing the first steps in spray painting in rooms with little or no use.
PREPARATION FOR SPRAY PAINTING
Before painting, regardless of how the paint is applied, the surface must be thoroughly protected. This applies to both places to be painted and places that should remain intact. A durable painting tape and protective foil will be useful in this respect. The surface to be painted should be clean, free from dust and moisture. In the case of fresh plasters, remember to prime the surface beforehand.
The next step is to prepare the paint and painting equipment. The paint should be mixed well, preferably by hand. Nothing prevents you from using electric mixers - but be careful. Mixing the paint too vigorously may lead to pigment precipitation or aeration, which is particularly inadvisable with traditional painting. Before painting, it is worth paying attention to protective clothing, for example, a nose and mouth mask that will limit the harmful effects of the paint on the respiratory tract. The equipment itself does not require special preparation. Just connect all the elements of the set and perform a painting test on a small area, e.g. on cardboard.
Spray painting is best suited to the paint intended for this application technique. They are additionally filtered and ensure proper viscosity, so there is no need for additional device adjustment or paint thinning.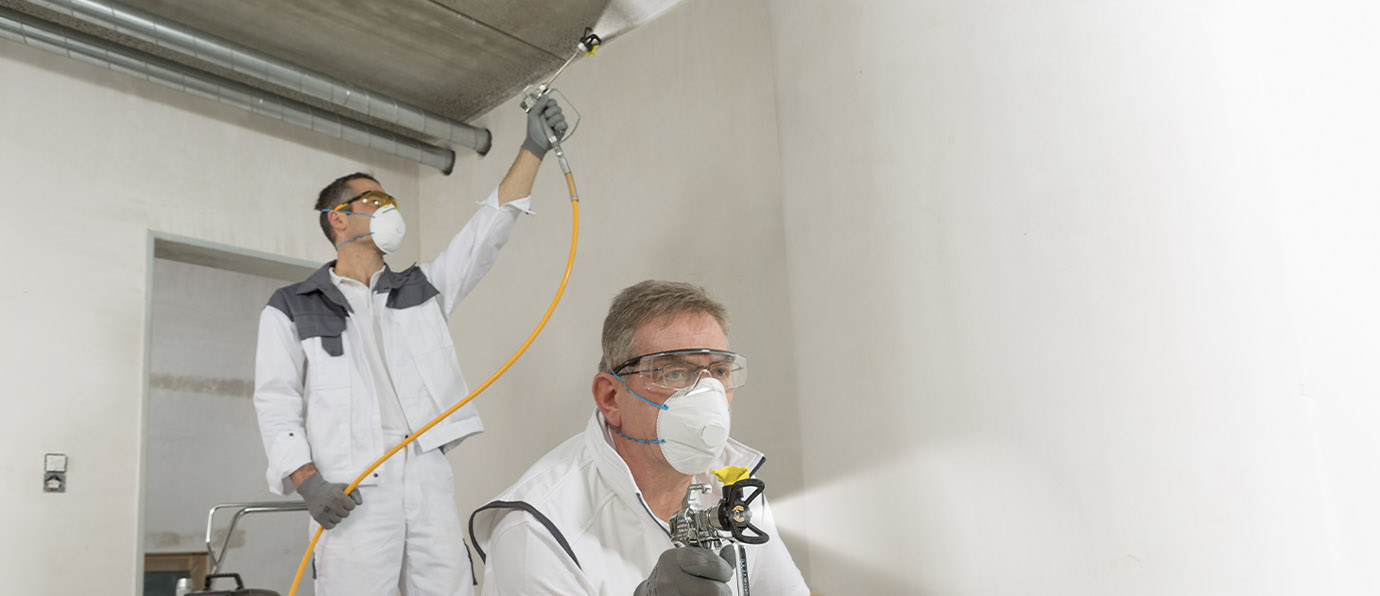 Protective clothing during spray painting

WALL SPRAY PAINTING - MISTAKES AND TIPS
As a rule, spray painting is not complicated, but it certainly requires some practice and minimal experience. The problem may arise from the very beginning, and it is caused by the wrong choice of nozzle and width of the paint stream. That is why it is worth doing a good painting test on cardboard or other unnecessary material.
The large spray width will work in larger rooms but will require a generator that will generate sufficiently high pressure. For domestic applications, the paint stream should not be too wide, and its use should be carried out at a distance of 15-20 cm from the surface. The method of conducting the paint stream is also important. It should be spread in a straight line, holding the gun perpendicular to the surface and try not to stop painting. Even temporary stoppage will cause too much paint to accumulate in one place or create stains that are difficult to remove. Therefore, before applying the paint, it is worth checking if nothing is preventing the flow from continuing.
CLEANING OF EQUIPMENT AFTER PAINTING
Nobody likes to spend time cleaning equipment after work. Unlike residual dust or dirt, drying paint can significantly reduce the functioning of the equipment or even wholly prevent its operation. Therefore, it is essential to clean all tools after painting thoroughly.
Depending on the paint used, the equipment should be washed with water or acetone or another solvent. The main thing is to clean the paint from the spray gun thoroughly. If ordinary wiping or flushing has not washed away all the paint, you need to use a brush or a soft brush. Finally, wipe the gun dry and set aside to dry. It is crucial that when washing equipment with acetone or another solvent, limit yourself to metal parts if possible. Prolonged contact of gaskets or soft parts with the solvent can lead to their destruction.
If the set is not used for a long time, remove residual water from the pump and all hoses. This will help prevent corrosion in crucial parts of the device. Of course, you should always empty the equipment of the remaining paint.
WHICH PAINT SPRAYER TO CHOOSE?
First of all, it is worth considering how often you intend to use the benefits of this device. For home use and an occasional painting, it is enough to buy a paint gun with an electric supply. Painting aggregates are primarily intended for renovation and finishing companies that consume hundreds of litres of paint each month.
There are several parameters to consider when choosing an aggregate. The maximum nozzle size supported by the device is important. For polyurethane, chlorinated rubber or polyvinyl paints, a size from 0.009" to 0.013" will be sufficient. In the case of oil paints it should be 0.015'', acrylic 0.017'', latex 0.021'', epoxy 0.025''. The nozzle diameter larger than that supported by the aggregate will make the device unable to maintain the correct pressure. The aggregate efficiency is also important, as it determines the amount of paint flow in one minute. The selection of equipment should be closely matched to its anticipated capacity.
PISTON OR diaphragm pump?
Hydrodynamic aggregates are divided into two groups depending on the type of paint supply: piston and membrane. Piston aggregates are designed for more professional tasks, where it is crucial to have high efficiency and the need to apply materials of different viscosities. Pumps in this type of aggregate are energy efficient. They work only when the system pressure falls below a certain level. Interestingly, some piston aggregates are also used to spray putty or other very dense materials. Unfortunately, along with the durability and versatile operation, the price of purchase and operation of devices of this type increases.
Membrane aggregates, in turn, are designed for more domestic applications where uncomplicated construction and low operating costs count. Unfortunately, this has several restrictions. First of all, due to the low suction power, the use of pumps with gravity containers is forced. Due to their design, pumps in membrane aggregates work without interruption - even when the pressure in the whole system is at the right level. This translates into higher electricity consumption.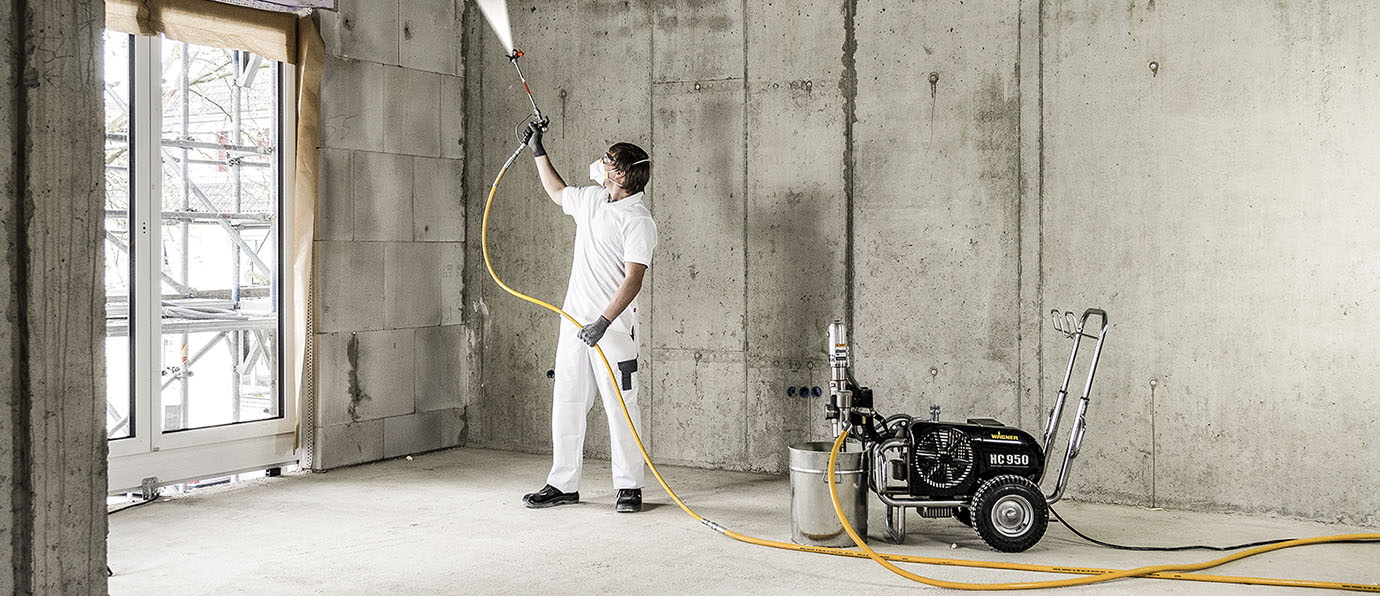 Paint sprayer WAGNER HC 950

RECOMMENDED PAINT SPRAYERS
As we mentioned earlier, the choice of device will depend strictly on the specific requirements of the user. If we have a small area to paint and later, sporadic painting, the best solution will be to buy an electric paint sprayer. The cost of such a device starts from a few hundred zlotys and may end up with several thousand. In the case of a medium-class painting aggregate, one should take into account the cost of several thousand zlotys. The highest class equipment is already an expense of over PLN 20,000.
This small and handy equipment will work in painting works on surfaces up to 50 m2. It can be sprayed with azure, varnish (including high viscosity) and dispersion paints. The gun is equipped with a 700 W motor, generating a spraying power of 220 W and a spray pressure of 0.2 bar.
There is no need for external aggregates or paint supply hoses. Thanks to this, the tool is handy, and the practical shoulder strap further improves the handling of the equipment. The mounted turbine is quiet and has a start/stop function, which translates into low operating load and extended service life.
The equipment is ideally suited to small renovation and finishing companies as well as for semi-professional applications. A capacity of 1.5 l/min and operating pressure of 110 bar will be the optimal choice when painting medium-sized surfaces. The equipment is equipped with an 0.6 kW electric motor. The set includes a 15-meter hose, a pistol with an extension, three types of nozzles, filters and a pressure gauge.
This tool is intended for more demanding users. Indispensable in medium-sized construction companies, it works well in painting residential, communal and other facilities with a larger area, where high performance counts. The 0.9 kW electric motor used generates a maximum working pressure of 227 bar and provides a capacity of 2.3 l/min.
The kit comes with a reversible 517 TR1 nozzle, LX-80 spray gun and a ¼ 'x 50' hose. The maximum hose length for use with this aggregate is 90 m.
Undoubtedly, this aggregate is designed for the most demanding customers who focus on maximum performance, durability and ease of use. ProSpray PS 3.39 is equipped with a brushless electric motor with a power of 1.65 kW, providing a maximum working pressure of 221 bar and a capacity of 5 l/min. Support for the maximum nozzle size of 0.039 allows you to paint with all types of paint while operating two guns in parallel.
The device has a potentiometer mounted to allow the spray pressure to be adjusted. Several improvements have also been applied, such as an automatic oiler, a self-adjusting piston seal system or an LCD that provides information on basic operating parameters.
The kit includes a DN10-ND230, NPS 3/8 '', 2.5m hose and DN13-ND230, NPS 1/2 ", 15 m hose, 2SpeedTip S10 527/235 nozzle and Airless AG 14, NPS 1/4 '' pistol ', together with the TradeTip 3 head.
If you have questions, please contact our sales department at bok@isprzet.pl or phone number 731-431-134