Fallen leaves in the autumn are a big problem for most owners of plots or a home garden. Fortunately, the market is full of various solutions that can help you get rid of fallen leaves effectively. The garden devices we offer include not only lawnmowers and trimmers, but also powerful and efficient blowers. These are the things that you need to quickly clean up your garden of fallen leaves. 

Interestingly, some devices of this type have a vacuuming function, which additionally affects the comfort of use and multifunctionality of the equipment. Which leaf blower with a vacuum cleaner function will be appropriate in specific cases? Check out our buying guide.
Is it worth buying a garden vacuum cleaner?
For some people, tidying up their garden can be a great joy, but for others, it will be a source of frustration and a huge test of patience. No matter if we clean with passion or not – with the right tools, we will do it much more efficiently! A traditional broom and a rake can be used to clean the leaves, but in the case of a larger area, this solution may be very time-consuming.

The garden vacuum discussed in this article comes in handy in such situations. Thanks to it, it is possible to efficiently clean the ground from sand, leaves, grass, or branches. The perfect way to quickly clean not only the garden but also the terrace or paving stones. It is also worth noting that cleaning with a garden vacuum cleaner is much more thorough than with a broom or a rake. In addition, some garden vacuum cleaners are equipped with special shredders. This allows more material to fit in the waste bag.
Which garden vacuum cleaner to buy?
The market is full of garden vacuum cleaners from various manufacturers. Our offer includes Gardena, Husqvarna, and Ryobi blowers. Before buying a garden vacuum cleaner or the blower, it is worth paying attention to the power of the device. The larger it is, the better the performance of the vacuum cleaner. For smaller gardens, the optimal solution will be battery or electrically powered equipment. More demanding users, on the other hand, should equip themselves with an internal combustion engine.

Contrary to appearances, it is also worth paying attention to the weight and additional accessories attached to the vacuum cleaner. The slung belt to which the device is attached is a great help. This relieves the operator and allows for more comfortable work. For heavier vacuum cleaners, the backpack system is most often used. Another issue is the bag on the list. It is best to make some kind of compromise on its size. Too small will require frequent emptying, and too much will have a higher weight to hold.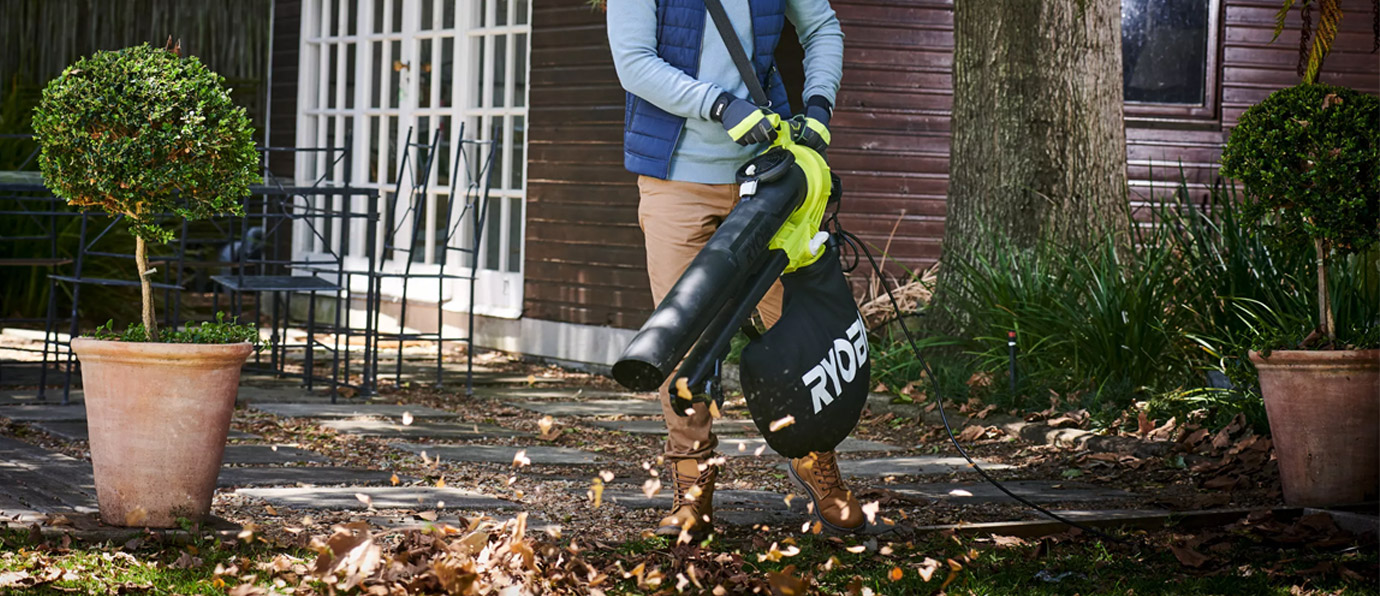 Blower (vacuum cleaner) Ryobi RBV3000CESV
Garden vacuum cleaner service
Using a blower or a garden vacuum cleaner shouldn't be a problem for anyone. Electrically powered equipment requires practically no additional maintenance. Unfortunately, while cleaning the area from dry leaves is not extremely complicated, in the case of wet leaves there may be some difficulties. It is best then to use the blower function and collect the wet leaves in one place so that after drying them you can quickly collect them with a vacuum cleaner. Due to your own safety, we strongly advise you not to use an electric vacuum cleaner in a very humid environment, e.g. after rainfall.
Recommended blowers (garden vacuum cleaners)
– 

buying guide

First of all, the Gardena ErgoJet 3000 blower (garden vacuum cleaner) with a power of 3000 W and the function of shredding leaves is worth recommending. Perfect for a medium-sized garden. The device is equipped with a special scraper that facilitates the collection of wet leaves. The low weight of the equipment is also an advantage – 4.8 kg. The ErgoJet 3000 model guarantees an airspeed of 310 km/h and has an attached waste bin with a capacity of 45 liters.

An alternative to the Gardena model is the Ryobi RBV3000CESV blower (garden vacuum cleaner). This device also has a power of 3000 W and a waste bag with a capacity of 45 liters. Unfortunately, it is a bit heavier (5.1 kg), but on the other hand, it provides better working parameters. The maximum airspeed was set at 375 km/h.

Both models of garden vacuum cleaners presented are characterized by high reliability and quality of workmanship. They allow you to quickly switch between operating modes (blower, vacuum cleaner), and the large capacity of the waste bag directly affects the efficiency of work. If you do not know which solution will fully meet your expectations – contact us! Our specialists will present our offer of garden tools in detail, including blowers and vacuum cleaners.