Ammann Group is a global leader in the field of soil compaction equipment and offers a wide range of equipment - from light to heavy machines. The manufacturer provides very technologically advanced equipment for various applications. The offer includes, among others rammers, plate and suspended compactors and heavy construction equipment.
Due to the high market demand, the Ammann Group has modernised the APF compactor lines, which in Poland are available for sale from 2018.
The devices are primarily characterised by high compaction power and manoeuvrability. It is also worth mentioning a new handle that minimises vibrations transmitted to the operator during work.
The APF series are the lightest plate compactors offered by Ammann. There are five new models available on sale:
APF 12/33 - weight 68 kg, width 330 mm
APF 15/40 - weight 80 kg, width 400 mm
APF 15/50 - weight 84 kg, width 500 mm
APF 20/50 Honda - weight 88 kg, width 500 mm
APF 20/50 Diesel - weight 106 kg, width 500 mm
The devices have been created for a wide range of applications. They are ideal for paving, gardening and even when renovating roads. The manufacturer makes it possible to equip the compactor with a sprinkler system, elastomer plate and transport wheels, which further increases the possibilities.

Reliable Honda petrol engines power the APF line, and the top model APF 20 / 50D is also available in the Hatz diesel engine version. This is the perfect solution when we need more performance.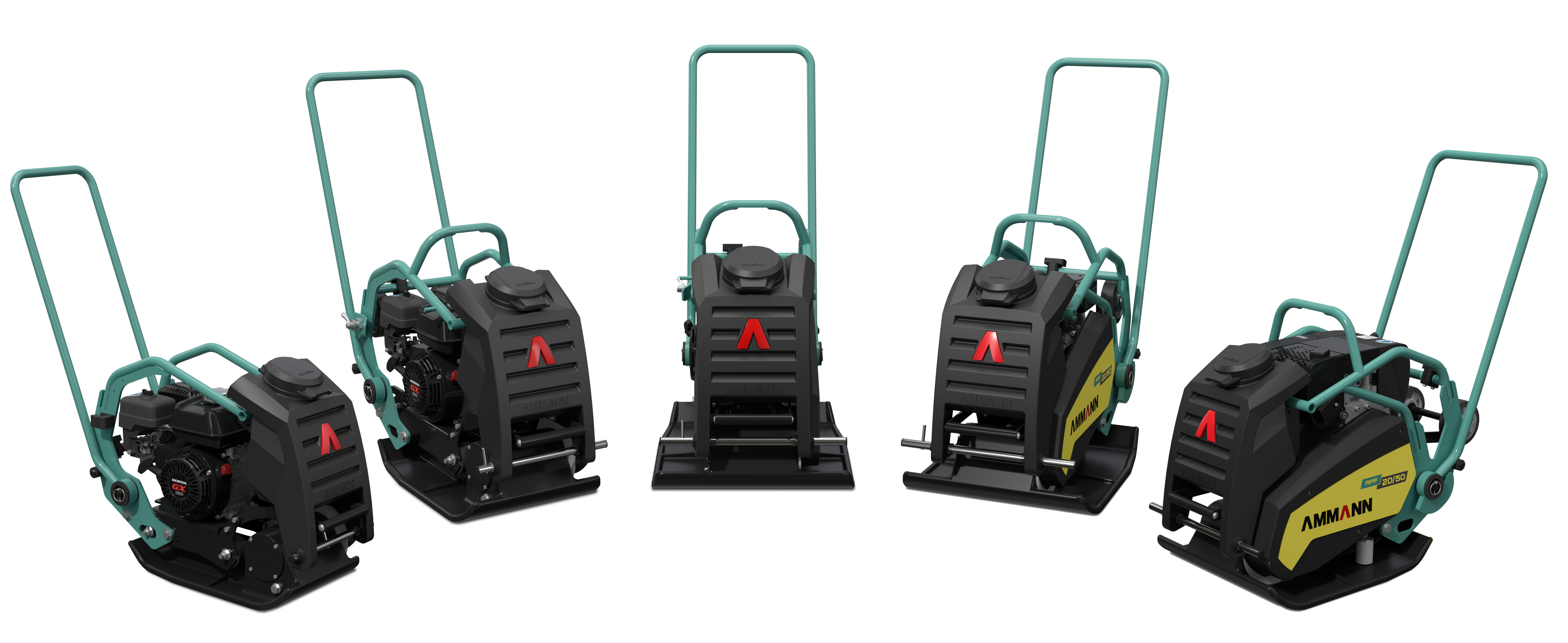 The most important features of the APF series
A handle that improves the comfort of work. Thanks to the innovative solutions, vibrations transmitted to the handle have been reduced. Thus the operator's work will be much more efficient, and the compactor will meet high standards for a long time.

A maintenance-free exciter system. It improves the machine's efficiency, and thanks to the appropriate design, it does not require servicing. Ball bearings significantly reduce friction, and the whole unit is sealed correctly, which prevents water or dust from entering.

Motor protection frame. The ergonomic shell protects key elements during work and transport and facilitates work in confined spaces.

Water tank with a sprinkler system. The water tank is available as an option, and its installation does not require any tools. The tank capacity is 10 litres. The sprinkler system is very efficient, and its operation is effortless.
Vulcolan elastomer plate. The optional rubber mat is designed to prepare a compactor for work on the pavement. The installation is extremely simple: the rubber should be placed under the plate of the compactor and secured with two hooks. No tools are required for assembly.

Transport wheels. They are used to transport the machine, significantly facilitating work with the compactor. The wheels can be lowered using the foot release, thanks to which the operation is effortless. Available as an option.