We grind the concrete to precisely align the surface, remove old coatings or achieve the appropriate material thickness. Grinding is carried out using replaceable diamond tools. A wide range of accessories allows you to choose grindstones for various applications. Today you will learn all about concrete grinders.
Concrete grinders generate much dangerous dust, which is why an industrial vacuum cleaner may be necessary during work. Modern concrete grinders have connectors that allow for full integration of the device with a dust-free system. The dust-free system is a perfect solution not only for working in closed rooms but also in all possible conditions. Modern vacuum cleaners thanks to the use of HEPA filters allow you to stop up to 99.9% of harmful dust that is generated during grinding.
Advantages of concrete grinding
Thanks to the use of a concrete grinder, the processed surfaces are perfectly flat and smooth. Such floors are perfect for warehouses or industrial facilities. Concrete floors do not cause problems with cleaning and long-term maintenance. It is also the optimal surface for forklifts and other machines used in warehouses.
Concrete grinders are also perfect for work related to the removal of old coatings, paints, epoxies, adhesives or putty.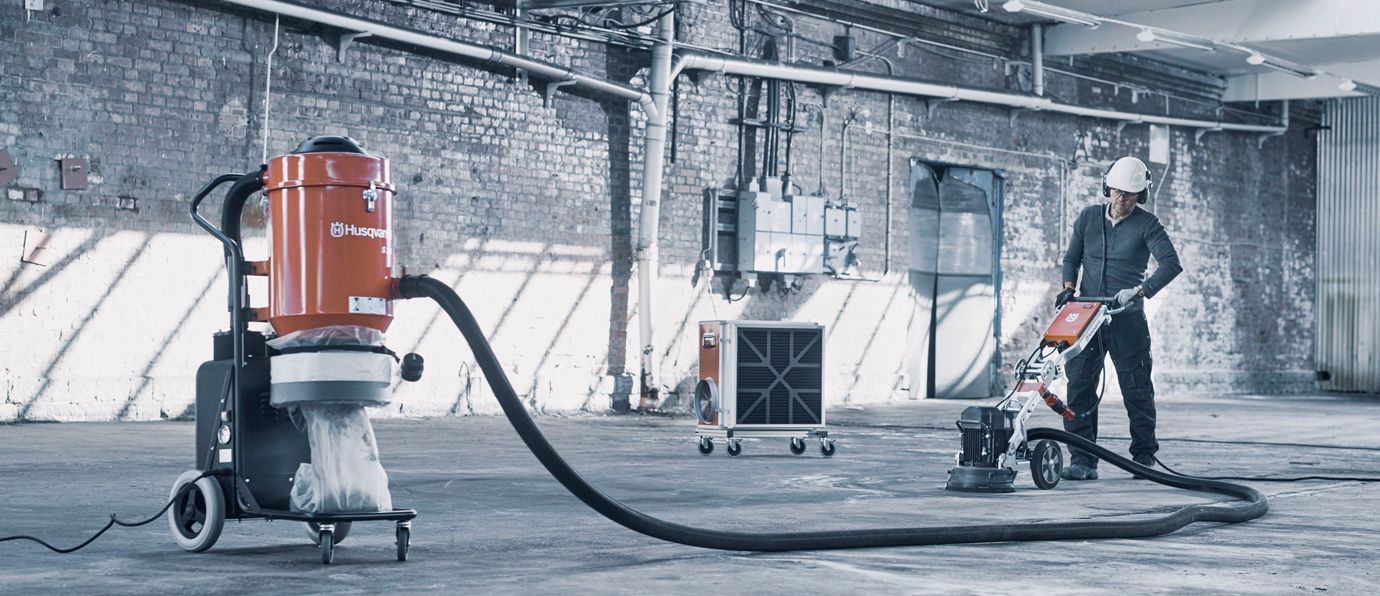 Featured products


The PG 280 is the most popular grinder on the market. The device is only available with a single-phase motor. The weight of the machine is only 70 kg, thanks to which its transport does not cause any problems. The working width of the grinder is 280 mm, which makes it a universal device. The speed of the grinding wheel for the model is 1400/min. The Husqvarna grinder is equipped with the Redi Lock system, which allows quick and easy replacement of diamond tools. The machine has been fitted with a special cover that effectively prevents dusting. Recommended also for rental due to operating hour meter.
It is a light, handy and efficient grinding machine from the German manufacturer Dr.Schulze. The device has been equipped with a single-phase 2.2 kW motor. The weight of the machine is only 60 kg, which significantly facilitates its transport. This floor grinding machine has been adapted for both dry and wet work- thanks to the water connection. It is also equipped with a unique protective cover that can be removed to allow grinding along the walls. A special brush seal ring reduces dusting and improves the dust-free operation of the system. The Dr.Schulze grinder has also been equipped with the DRS-LOCK fixing system for grinding tools.
TheFGE400 model stands out among all others of  its maximum grinding width of 400 mm, which translates into greater work efficiency in a shorter time. Three-phase motor with 4 kW power allows for much more hard work. The grinder's ground pressure is 47 kg. The grinder has been equipped with a vacuum cleaner connection, thanks to which dust-free operation is possible
This is the most giant grinder in our list, equipped with a Bluetooth remote control system. This innovative solution allows you to control the machine with wireless remote control, thanks to which the machine operator can work much longer, as well as in more favourable conditions. The device has been equipped with a three-phase 11 kW motor, the rotational speed of the grinding head is adjustable in the range from 500 to 1100 rpm. The weight of the device is 470 kg. Therefore the grinder has been equipped with its drive system, which is powered by a built-in battery. Optionally, the machine can be purchased with a built-in water tank, which eliminates the need to connect an external water source.

In our overview, we have presented a cross-section of grinders for various applications. It is worth mentioning that there is a wide offer of different grinding diameters in each manufacturer's offer. If you are interested in buying a new concrete grinder, make sure you read the detailed description of each of the products listed. If you still do not know what to choose, feel free to contact our sales department. We will be happy to provide you with all the most crucial information and help you to choose the best device for you. Contact us via email address bok@isprzet.pl or call 731-431-134.