Proper construction equipment is distinguished by reliability, excellent performance and low operating costs. It is worth investing in such tools because they have a direct impact on profitability and job security. A great example is rope saws here. They are mainly used for cutting steel and stone, for cutting holes in reinforced concrete and masonry structures, and for cutting large surfaces at once.

The teams dealing with professional demolition and demolition will undoubtedly appreciate the operation of wire saws. Especially for you, we have made an overview of the most exciting tools of this type, which we can confidently recommend — speech about saws from Husqvarna Construction Products and Tyrolit.
Husqvarna CP
It is equipment with a very high shelf, which is highly trusted by professionals. Husqvarna CP wire saws guarantee not only high performance but also smooth operation and operator safety.

In the beginning, let's present the Husqvarna CS 10 saw. This model requires connection to one of the electric wall saws: WS 482 HF or WS 440 HF (the saw itself is not equipped with a drive as standard). Such a set will work well for cutting walls within a single manufacturer's system. The saw can be used to cut steel, concrete and other building materials. Thanks to the symmetrical design, the CS 10 can be used to cut openings in hard-to-reach places, both vertically and horizontally.

You can buy a rope with a length of 1.7 meters to 11.7 meters to the saw (the line is not included in the set). The warehouse will accommodate 10 meters of rope. The speed of the device is up to 1200 rpm, while the column has a height of 1200 mm.

The strong side of this saw is a compact, lightweight design, which facilitates transport. The CS 10 can be mounted on either side of the rail and, for example, on pipes. You can also set it to cut on the right or left side.

Time for Husqvarna CS 2512. This rope saw creates a set with the PP 455 E hydraulic unit. It is ideal for cutting massive constructions, both steel and concrete. This model uses an integrated 20 kW hydraulic motor. The saw weighs 150 kg and is equipped with a magazine for 16 meters of rope.

Thanks to the drive wheel on the output side, the rope placed in the magazine remains tense at all times. This makes it easier to control the tension of the line during cutting. The adjustable pressure valve guarantees high precision and cutting performance. The saw can be set both vertically and horizontally. The rope moves at 20 or 25 meters per second (on 1st or 2nd year).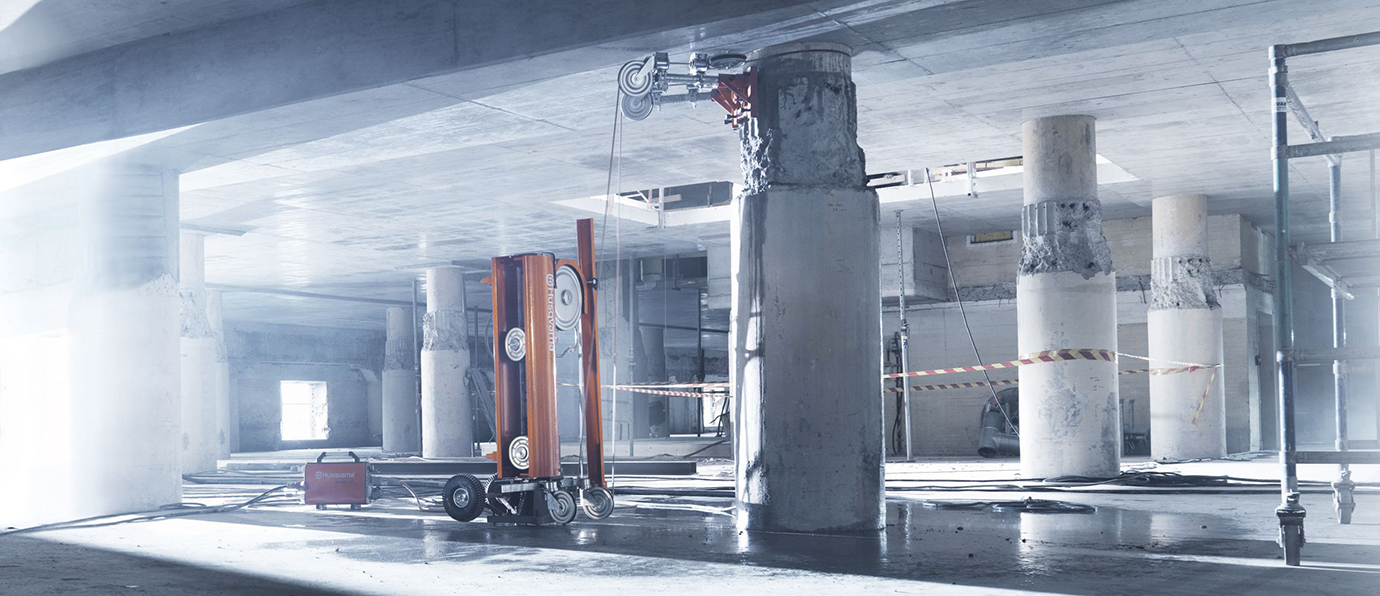 Tyrolit wire saws
This Austrian manufacturer has a dominant position in the industry of building tools suppliers. It is hardly surprising since the company has been operating in this market for almost 70 years. Tyrolit rope saws are the highest class equipment, and two models from the iSprzęt.pl best confirm this offer.

SK-SD is an extremely functional rope saw that offers, among others, direct assembly on the cutting surface. The saw can also be mounted on a core drilling rig, which requires only two screws.

This model is equipped with a rope magazine with a length of up to 10.8 meters, which allows you to cut elements with a larger diameter. Two drive rollers are used here, which facilitate the exact positioning of the rope, also in the closed state. Cutting ropes have to be bought separately because they are not included in the standard set.

Tyrolit SB-E is a saw designed for the most difficult work. It has a large magazine for a rope with a length of 15.5 meters, which allows you to cut solids with a circumference of up to 10 meters. The magazine can be easily enlarged or reduced without the use of tools. The hydraulic rope tensioner ensures quiet operation of the device.

The compact design of this saw makes it an excellent choice for work in confined spaces. The multi-groove drive guarantees an even better power transfer. The saw is available in two variants: with hydraulic (SB) and electric (SB-E) drive. It is the only Tyrolit rope saw that had been adapted for use in a modular system with a 26 kW power supply and WSE2226 engine. The drive must be connected to an external power supply unit.

All offered Husqvarna CP and Tyrolit rope saws are purchased at iSprzęt.pl.