Concrete is one of the most popular building materials used in modern construction. It is created by mixing cement (binder), aggregate (filler) and water. Also, admixtures of other substances are added to this mixture, which, for example, delay the setting process or give the concrete features of water resistance and frost resistance. For the resulting concrete to be of the highest quality, besides choosing the right proportions of semi-finished products, it is essential to mix them thoroughly. Concrete mixers are used for this. So what do you pay attention to when choosing a concrete mixer?
Capacity
When choosing a concrete mixer, pay attention to several key parameters. One of them is the capacity of the mixer. We choose a concrete mixer depending on the type of investment that we want to implement. To build a single-family home by a four-person team, a concrete mixer with a total capacity of about 160 / 180l is enough. During more massive investments, it is worth considering a much larger device.

Concrete mixers usually have two capacities - working and total. Working capacity determines the maximum amount of raw material produced, while the total capacity is the maximum capacity of the drum.
What importance has shape of a mixer?
We distinguish concrete mixers with a tumbler or bell mixer. Column mixers are perfect for more massive investments. Their main advantage is higher capacity, which in turn allows you to mix much more raw material in a shorter time. A smaller size characterises drum mixers; therefore they are dedicated to works for smaller investments.
Mixer tilt
There are two types of manual tilt. The first of them "on the wheel" is by far the most popular but requires the operator to use more power. This solution is used in cheaper and less professional mixers.

The "crank" tilt is used in more extensive and more expensive concrete mixers. The tilting is carried out with a worm gear that relieves the operator. This solution significantly helps during work and reduces fatigue. Especially recommended for companies in which employees deal with this equipment daily.
Power supply
There are single-phase concrete mixers available on the market, three-phase and powered by an internal combustion engine. Today's three-phase designs are much stronger than single-phase models, but this happens at the expense of electricity consumption. Single-phase motors will be much more economical and often sufficient. An attractive solution is also the use of an internal combustion engine, which is perfect for construction without access to electricity.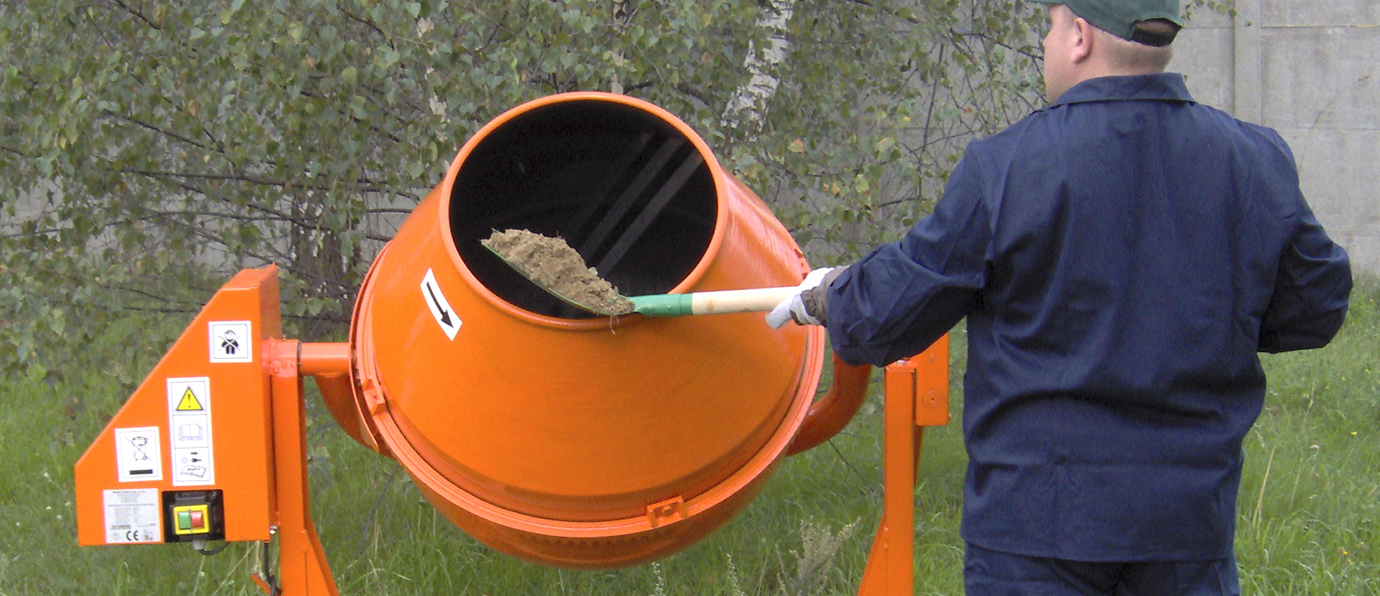 Altrad belle concrete mixers
In our store, there is an offer of about twenty models of Altrad Belle concrete mixers. They differ mainly in working capacity from 90 L to 350 L and engine power. The products of this brand were created for intensive use on construction sites and more. They are characterised by an orange colour given by powder painting. All models have transport wheels and the necessary handles. The smallest model is Altrad Belle Minimix 150 with a capacity of 90 L and a weight of 55 KG, and the largest model Altrad Belle Superior 350E (230 V or 400 V) with a capacity of 350 L and a weight of 260 KG. We distinguish series:
Altrad Belle MINIMIX 150 - professional mixer for house works, available in 230 V electric or petrol version with two motors to choose from Honda or Robin.
Altrad Belle MIX-130T / Ż / MK-130 / MK-165 / B - professional and durable small-sized concrete mixers powered by 230 V electric motors;
Altrad Belle MK-180 / B / BWE-190 / MK-165/185 - a series of light, economical concrete mixers powered with 230 V;
Altrad Belle BWE-150/200/250 / SUPERIOR-300E / 350E - concrete mixers for intensive use with an increased level of strength, available in 230 V and 400 V motor versions;
Altrad Superior 300E (400 V)
It is one of the most giant available concrete mixers with a working capacity of 300 L and a power of 1.5 kW (three-phase). It has an extremely rigid tank with an additionally reinforced edge. The unloading takes place at the height of the wheelbarrow and is facilitated by the use of a worm gear. It has CE certificate - switches with a re-enable block.
Altrad MK-185 PROFI (230 V)
This model is intended mainly for semi-professional tasks. The 0.9 kW (single-phase) motor can handle 145 L of concrete without any problems. This small and light machine is also safe during use. The Altrad brand attaches great importance to this. Concrete mixer has thermal overload protection and gear cover. An additional advantage is the two-way loading accelerating the work.
Altrad Belle BWE-200KJ (230 V)
The main advantage of this concrete mixer is the possibility of attaching it to the car's hook. It is driven by 1.5 kW electric motor (single-phase), which is to mix 200 L of concrete at the same time. On the occasion of this model, it is worth mentioning that the wreath in all models is cast iron.
Altrad Belle BWE-190
This is another favourite model from this brand. The tilting takes place through a crank, the working capacity is 145 L, the engine power is 0.9 kW (single-phase), and the whole weighs only 76 KG.

We invite you to visit our website to browse the entire range of Altrad Belle concrete mixers. Both large companies and small ones will find the best product for themselves. If you have any additional questions, please contact us.