Painting large areas requires the use of appropriate painting aggregates. The specialist will always choose a device that will guarantee precise dosing of material, failure-free operation and secure handling. All these criteria are met by Wagner's third generation ProSpray aggregates. We have prepared a brief overview of the manufacturer's range.
Third generation: what's going on?
Wagner uses the term "third generation ProSpray piston pumps" to emphasise how significant changes have taken place in the flagship paint systems of this manufacturer. The new pumps guarantee very high durability. They are ideally suited for work both inside and outside buildings. They can be supplied with emulsion paints, varnishes as well as high viscosity material.

The final confirmation of the quality of the new Wagner range is a 3-year warranty on all devices in the ProSpray series.
Solutions that facilitate everyday work
In Wagner ProSpray painting aggregates we find a lot of exciting technologies and improvements. One of them is Digi-Trac-Control. Thanks to the electronic display, the contractor can control material consumption or work time on a current basis.

The function of pulsatile cleaning ensures quick and, above all, thorough cleaning of the aggregate and the nozzle of residual material. An oil tank with an oil reservoir is a great convenience for the contractor. Just press the button several times to allow the pump piston to be sufficiently lubricated, which in turn protects it from premature wear. Simply refilling the oil is very easy thanks to the Easy Glide function.

The third-generation ProSpray aggregates also use a self-adjusting sealing system that protects the components of the device from wear and are very easy to replace. Wagner calculated that thanks to this solution, the service intervals extended by as much as 50%.

Brushless and maintenance-free DC motors power Wagner aggregates. An attractive solution is the automatic engine control function. Thanks to it, the contractor can be sure that the material is dosed in an optimal amount. There is also no risk of the pulsating stream.

Let us also mention an easily accessible and easily replaceable high-pressure filter that ensures perfect purity of the material being applied. Three types of filters can be used in the ProSpray aggregates: fine, medium and with a close eye.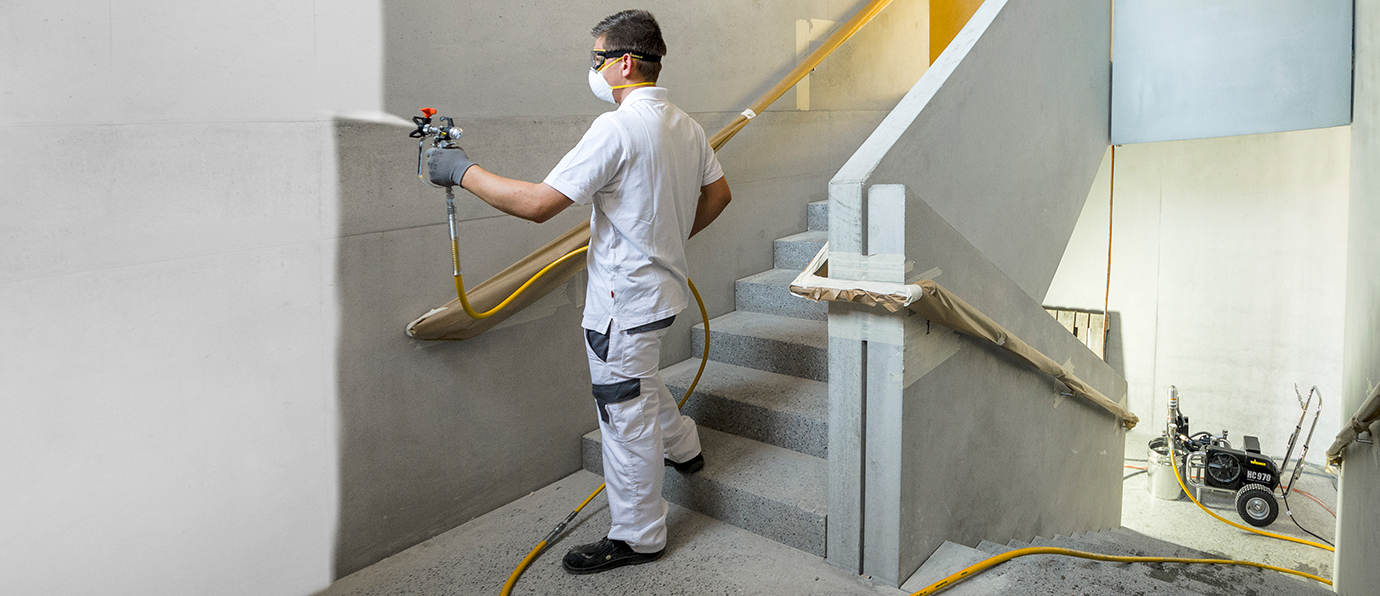 Everyone will find equipment for themselves
The Wagner ProSpray range of aggregates includes eight models. Let's start with the smaller ones, compact ones and thanks to that they are very convenient to use:
PS 3.20 - efficiency 1.6 l / min,
PS 3.21 - efficiency 2.0 l / min,
PS 3.23 - efficiency 2.3 l / min. It is possible to order the aggregate in the varnish version with a 5-litre tank,
PS 3.25 - capacity 2.6 l / min. In the variant of the Airless Spraypack variant, the unit is mounted on the trolley as standard.
In these aggregates, solutions such as a rotary coupling of the flexible suction system (dismounted without tools), a pressure gauge and a push rod of the lower valve ball were used.

Aggregates for typical industrial applications are:
PS 3.29 - efficiency 3.0 l / min,
PS 3.31 - efficiency 3.8 l / min,
PS 3.34 - efficiency 4.5 l / min,
PS 3.39 - efficiency 5.0 l / min.
These devices are equipped with a microprocessor system for electronic control of the unit's operation and regulation of its parameters as well as the function of quick replacement of the paint pump without the use of tools. The tilting frame of the trolley enables easy exchange of containers with work material. In the PS 3.39 model, the manufacturer used a low-mounted suction valve to improve the suction power of thick and sticky materials.

Additional accessories such as guns, nozzles, InlineRoller paint roller, filters, large capacity tanks, extensions, high-pressure hoses, PompRunner suction tube closing mechanism and 2 SpeedTip double nozzles can be ordered for each ProSpray unit.

We invite you to familiarise yourself with our offer.