Today's article will be devoted entirely to vacuum devices from the Probst sign. They are increasingly and successfully used in paving works in many countries around the world. Probst Handling Equipment, because this is the full name, is a German company founded in 1961 by Ernst Probst. During 50 years of its activity, the company has become a leader on the market, providing professional tools and paving machines for construction, as well as systems for transporting and laying precast concrete products. In 1991, thanks to the combination of the existing vacuum technology together with the newly-designed components and construction knowledge of the German manufacturer, we managed to start a new chapter in the history of this brand, which resulted in the production of vacuum tools for challenging and hard construction work.

Vacuum grippers intended for paving and road work are tools that enable you to grab concrete slabs, road curbs, paving stones and other concrete prefabricated elements by sucking air from the space between the gripper and the surface of the component that you want to pick up and transport. Probst's tools can handle even very porous structures, i.e. those with irregular and rough surface. The suction takes place thanks to a vacuum pump powered by electricity. There are also grippers that do not need power for proper operation. A good example is the Probst VH 1/25 model, which is perfect for laying concrete slabs and blocks. It is enough to press the gripper to the surface of the plate, then a vacuum is created, and the plate can be raised.
Vacuum technology advantages
Gripping is possible without the use of connectors (e.g. screws, hooks, ropes, chains).
Vacuum grippers compared to traditional techniques do not leave any damage on the lifted elements.
Vacuum tools enable very precise laying of building materials and facilitate possible corrections.
They allow non-invasive pulling out individual elements from a stacked whole (e.g. cobblestones).
Thanks to robust air valves and specialised suction cups (suction plates) they are safe to use.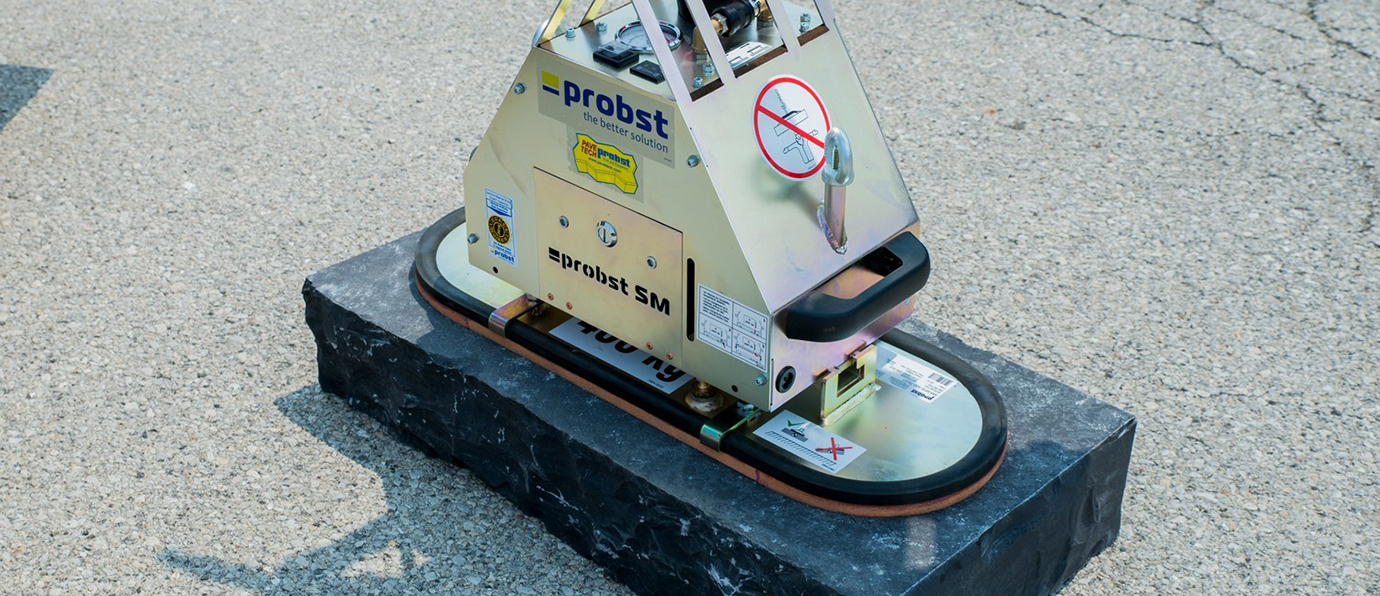 SM series
Probst Stone Magnet SM-600 vacuum lifter is one of the top vacuum grabs from this company. One of the most critical parameters to pay attention to is the lifting capacity. It depends not so much on the tool itself, but on the suction, plate dedicated to it. The largest offered such a 950/340 mm plate can cope with a weight of up to 600 kg, and the smallest - up to 90 kilograms (300/200 mm). The gripper is powered by a massive 12 V battery, which in combination with the energy saving system allows you to work all day without recharging. The lift is equipped with two vacuum pumps that can operate independently. Thanks to this solution, materials with a low porosity index can be lifted using only one shoe. In turn, the second should be included when we intend to transport moderately porous boards. The weight of the device itself is also significant, and for this model, it is 34 kg. The whole is made very solidly, as evidenced by a durable and compact main body covered with a galvanised coating, protecting against corrosion. We should also mention a few additional built-in facilities that the gripper featured. They are: warning light - informs about low-pressure level, automatic control system - starts the vacuum pump after losing pressure, and manometer - tells about the gripper pressure level on a current basis. At iSprzęt.pl you can buy this product in various variants. The basic package is SM-600, which you can buy separately or together with the charger or with suction plates in the set. The next package SM-600 POWER has twice the efficiency of the pump, which translates into speed and can also be ordered separately or together with the charger. The most extensive package is the SM-600 POWER FFS, which in addition to double performance, additionally has a remote control for remote control.
vs series
Vacuum gripper Probst Speedy VS-140/200 is another prevalent and robust equipment for laying a wide range of natural stone slabs and prefabricated concrete. As in other models of this manufacturer, the structure is galvanised. In turn, the high-performance vacuum turbine 230 V allows for fast, yet safe and ergonomic laying by two people, even very porous and with an uneven plate surface of up to 140 kg. Capacity can be increased up to 200 kg thanks to a special suction plate and hanging the device to the carrier. Variant VS-140/200-XL is a model with similar characteristics, but with an extended handle and eye lug together with a chain securing the load.

It is worth writing two words about the suction plates for the VS-140/200 gripper. The manufacturer's offer includes two types of boards. The first of the series VS-SPS, which we mount to the device using screws. This robust solution, however, takes time in the case of frequent replacement of suction plates. Here the second series VS-GH comes in to help, where the assembly takes place with the help of quick-connectors, which allows you to change the plates depending on the work performed quickly. The manufacture of panels on quick-connectors may take place only after screwing to the gripper the appropriate base with the designation S-SWV-SPS-50-30/25, what is interesting, the station has an integrated suction plate, the lifting capacity is 50 kg.
vph series
Let's have a look at the Probst VPH series. These are two devices powered by a 12 V battery: VPH-100 and VPH-150, which differ in capacity between them: up to 100 kg and up to 150 kg, suction plate dimensions: 260 × 210 mm and 440 × 250 mm and slightly weight 16 kg and 16.5 kg. They are flexible and efficient manual vacuum grippers for placing thick materials such as granite or high-quality concrete elements. The series is distinguished by a unique gasket consisting of two parts ensuring optimal sealing. A great convenience is a possibility of replacing it in a short time, without the use of glue and tools, although it will not often happen because the gaskets are very durable and leave no marks or dents even if the suction plate is mounted on sharp edges for a long time. The user will appreciate the fact that we will find here a vacuum pump assembly with a pressure gauge, an indication of the suction and charging force of the battery as well as a hook for lifting the device and a chain box. In our store, the customer can choose between tools with or without a charger. We also offer a VPH-100 set with a charger and VPH-RS transport set. Separately you can buy plates and gaskets.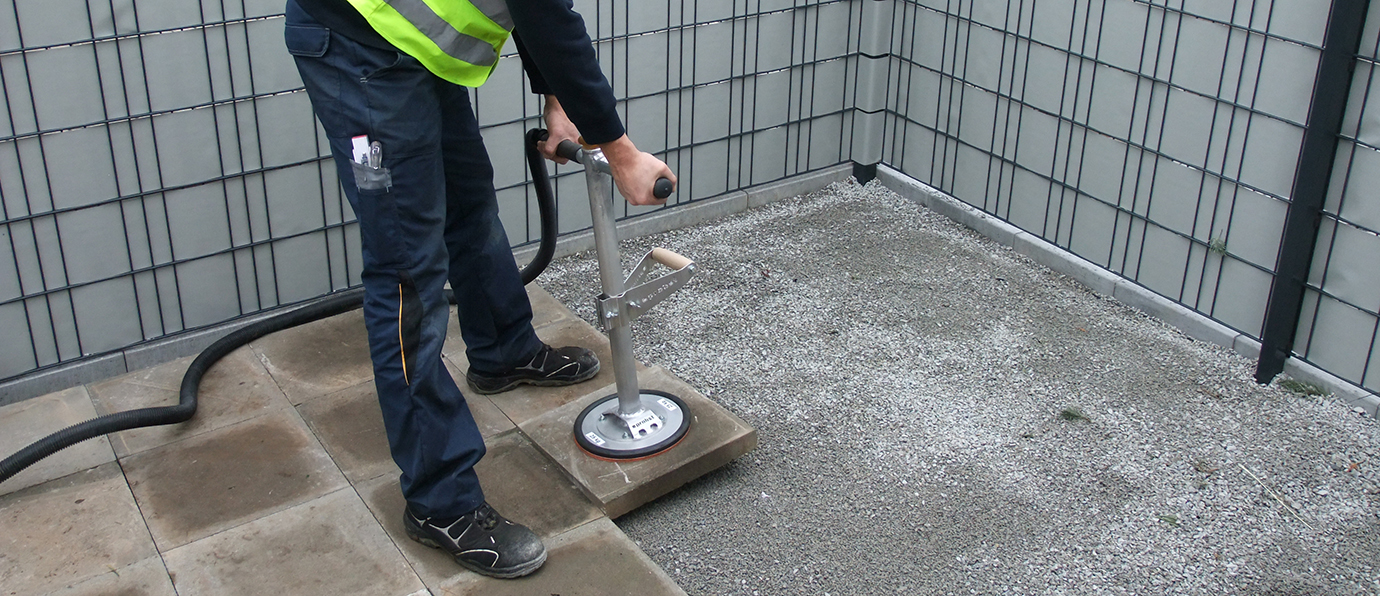 Microjumbo-jet MJ-J
Finally, we will present one more product, Probst MICROJUMBO-JET MJ-J. Under this name, a small grapple with a weight of approx. 4 kg and a lifting capacity of up to 25 kg is hidden. For the device to work, it is enough to connect the industrial vacuum cleaner with the 5 m hose supplied in the set. As a standard, this equipment was designed for one person, but only two people can do the work while buying a unique MJ-J-HG handle. This is an ideal option if you want to buy an optional suction plate with a lifting capacity of up to 50 kg.

iSprzęt.pl is continually trying to expand the offer with further professional tools and construction machines. The German producer Probst is another company that we can confidently recommend. We invite you to look at other devices of this brand, and if you have any questions, write to us. Perhaps it is your opinions that will be the best flywheel for subsequent articles.