Today, on our blog, we will present the Kingspan company and the range of Kingspan TITAN TruckMaster tanks for fuel storage and distribution. For over 40 years, the Kingspan brand TITAN has been supplying solutions in the field of effective energy resource management, at the same time ensuring that all standards in the field of safety and environmental protection are met. This is crucial because most of the company's products are associated with the storage of flammable and harmful substances. Kingspan TITAN products are made of high quality, certified steel or plastic and are used primarily in agriculture, road transport, mining and construction.

Kingspan TITAN TruckMaster tanks are professional, mobile tanks designed for transporting, storing and distributing diesel oil or other liquids. However, it should be remembered that the containers are not suitable for storing gasoline. They are made of high-quality polyethene, thanks to which they are very resistant to mechanical damage, changing weather conditions and UV radiation. The manufacturer offers tanks in 4 capacitive variants (200, 300, 430 and 900 litres) and various equipment variants. Kingspan tanks meet the requirements of the European Union (ADR) for international road transport of dangerous goods.
The advantages of using the TruckMaster tanks
Refuelling anywhere - the tanks are mobile, easy to load, adapted to changing weather conditions and do not need a unique ground to place them.

Reliability - Kingspan offers a 5-year warranty on the coat and a 2-year warranty on equipment as well as efficient warranty and post-warranty service.

Construction - the special shape of tanks allows them to be loaded with a forklift. More substantial tanks (430 and 900 litres) also have a lifting handle for an excavator or crane. Besides, the unique design of the tank prevents excessive liquid movement during transport. An essential element is also the external flap, which protects the equipment against external factors. It is also worth mentioning that tanks with capacities of 200 and 300 litres can be loaded onto the Euro-Palette.

Environmental protection - when you buy products from the TruckMaster series, you can be sure that you care about the environment. Kingspan Environment applies every effort to not only meet the set standards but also to take care of the quality of the devices.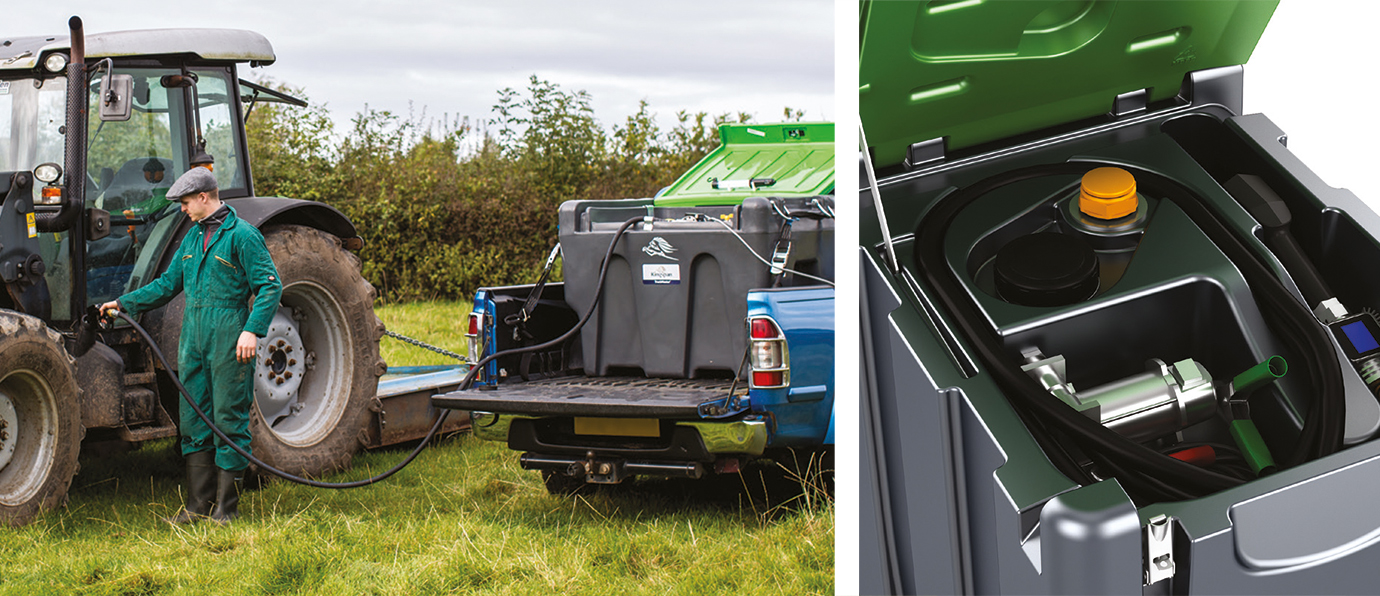 Standard tanks are equipped with:
suction line 1 "with mesh filter,
12V DC pump with a capacity of max. 50 l / min.
6-meter power cable with terminals,
distribution cable 3.7 m in smaller tanks (200 and 300 litres) and 4 m in larger tanks (430 and 900 litres)
automatic filler,
a vent with a structure preventing the liquid from spilling during transport,
cover with the possibility of additional protection (padlock) for smaller tanks (200 and 300 litres) or basic integrated lock system for larger tanks (430 and 900 litres).
Optionally, you can mount:
Pumps with higher efficiency (430 and 900-litre tanks),
Digital flow meter attached to the filler (all containers),
Digital flow meter mounted at the pump outlet (430 and 900-litre tanks).
The 430 and 900-litre tanks also have a float level indicator, a shut-off valve on the suction line and a LED accumulator lamp. Also, due to their larger dimensions, we also find four metal shackles for safe lifting. The most massive available tank in the TruckMaster series also has pneumatic cylinders mounted at the cover to facilitate the use of accessories.

If you want to get more information or receive a personalised offer, call or write to our specialists.