A concrete vibrator is an irreplaceable device on any construction site. Perfect for removing air pockets, which consequently protects concrete against cracking. The advantages of using internal vibrators are described in detail in the article about concrete compaction devices. We divide concrete vibrators into external and internal ones. In today's article, we will present some selected models of internal vibrators.
These are very characteristic devices that every construction worker knows. The complete set consists of a flexible shaft from 0.5 m to a maximum of 9 m and a vibrator head that directly affects the compaction of concrete. The vibrator heads are also available in various diameters from 25 mm to 70 mm. If we are dealing with modular vibrators, we will also need a drive, and in the case of high-frequency vibrators, we need to equip ourselves with a high-frequency converter. Internal vibrators are used to perform different tasks on the construction site, including the preparation of reinforced concrete walls, ceilings, foundations, etc. Internal vibrators are the most popular range of devices of this type on the market. They can be divided into:
They are very versatile and their construction is extremely simple as it consists of a drive, a connected shaft and a replaceable head. Modular vibrators are usually powered by 230 V. A drive with an internal combustion engine is also available, which significantly increases the mobility of devices.
This is our definite bestseller, the device is characterized by excellent performance at a great price. The vibrator in a set with a shaft with a length of 3 m and a vibrator head  with a diameter of 40 mm weighs approx. 12.3 kg, which provides great comfort of work. The maximum engine power is 2.3 kW, which ensures the performance of 18 000 rpm. The manufacturer declares that the vibrator can compact approx. 17 m³ of concrete per hour.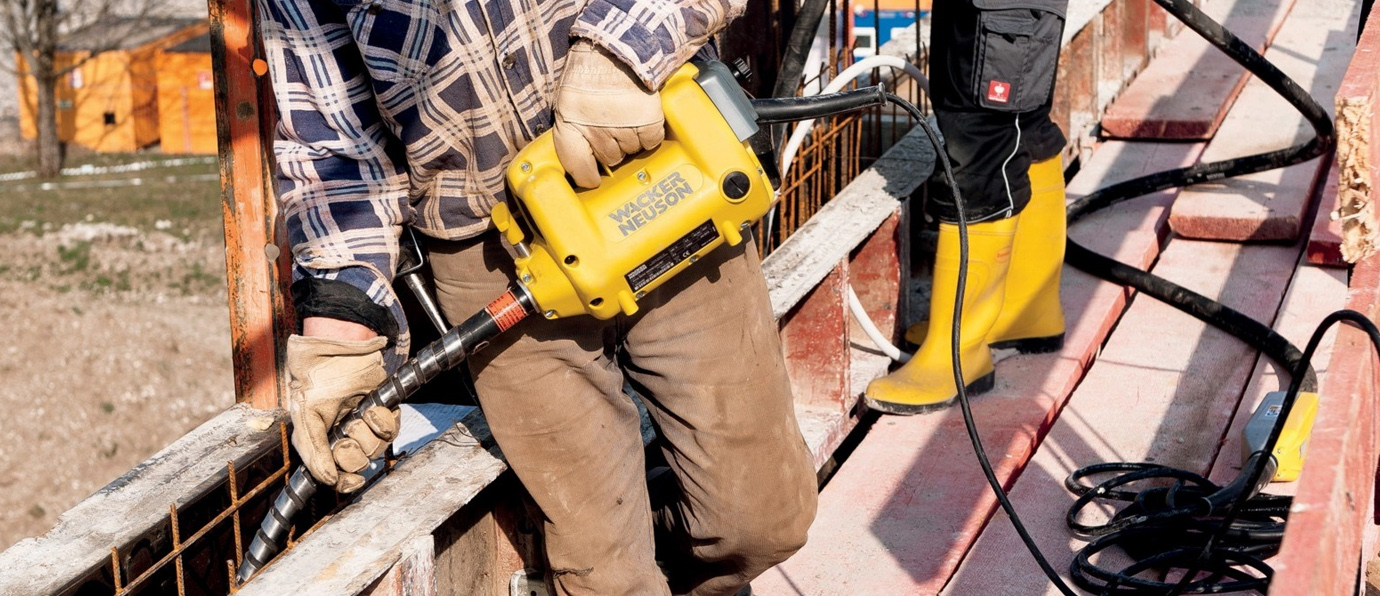 Internal vibrator Wacker Neuson HMS-SET 425
This is a very popular modular vibrator manufactured by Wacker Neuson. HMS models are characterized by excellent versatility and efficiency. Like the previous model, this one can also be individually configured with different shafts and heads. Reinforced vibrator heads used in Wacker Neuson vibrators guarantee high wear resistance to wear. The described model consists of the Wacker Neuson M2500 drive, the Wacker Neuson H45 head and the Wacker Neuson SM 5S shaft, so the set weights 18.6 kg. The drive is powered by 230 V electricity and generates the power of 1.8 kW. The vibrator is characterized by exceptional durability due to the use of durable housing. It is worth mentioning that the shaft that fits the M2500 drive will also be suitable for combustion engines from the Wacker Neuson A5000 and Wacker Neuson L5000 series. Wacker Neuson provides a quality that others should follow.
These are advanced devices that require a high-frequency converter to work. The inverter converts power from the socket to a voltage of 42 V and a frequency of 200 Hz. Such parameters allow increasing the maximum performance of the device. You might want to know that you can connect several vibrators to one inverter.
This is the most popular high-frequency vibrator manufactured by Wacker Neuson. The device has a built-in converter, so it can be connected directly to a 230 V socket. The device has a low weight of only 13.6 kg. The cable length is up to 15 m, which allows for comfortable work. The standard set includes a vibrator head with a diameter of 38 mm and a shaft with a length of 5 m. Shafts with a length of 10 or 15 meters are also available. The shaft is made of a strong, durable and abrasion-resistant material. A vibration frequency of 12 000/min ensures excellent performance. The device has been equipped with the BodyGuard system, which ensures the operator's safety. In case of over-voltages or other malfunctions, the system will cut off power within 3 milliseconds.
This is a very handy and efficient high-frequency vibrator from the Swedish manufacturer Husqvarna.

The AX90 has a shaft length of 5 meters and a maximum head diameter of 90 mm. This high-frequency vibrator weighs 26 kg, which is a good result considering its large dimensions. The device requires a high-frequency external converter for proper operation. The motor has a voltage of 42 V and a frequency of 200 Hz. The noise level is only 76 dB (A).
Last but not least, pneumatic concrete vibrators are also worth mentioning, e.g. the Husqvarna AY47 model. These are devices that need only compressed air to work. They have many advantages, one of them is high performance. Pneumatic vibrators can also be used in potentially explosive areas. The extremely simple design of these devices greatly simplifies maintenance and also extends the period of trouble-free operation.

The huge selection of concrete vibrators is quite impressive. The above list is to present you the most popular models of internal vibrators that are available on the market. In case of any doubts or questions please contact our sales department at email bok@isprzet.pl or phone number 731-431-134.