LOGOSOL is a Swedish manufacturer of equipment and accessories for professional woodworking. Its products are distributed in 65 countries, and the high quality of the range offered means that the number of satisfied customers is constantly growing. Woodworking with LOGOSOL products is convenient, safe and efficient. Sawmills popular in this manufacturer's offer allow for professional wood processing in almost any place.
Logosol F2 Farmer's chainsaw mill
Chainsaw mills are the most recognizable products of the LOGOSOL brand. F2 Farmer's model is characterized by high mobility and durability. It allows you to wipe logs with a diameter of 60 cm while remaining light and handy. The equipment can be moved manually, and it takes a few minutes to install and remove it.  This chainsaw mill is very easy to use and people who are just getting started with wood processing will appreciate it. The precision of cutting and the automatic locking system are also a great advantage. For this chainsaw mill, the ideal solution will be to use a Stihl MS39. For more demanding users, we recommend Stihl MS661. Trak Logosol F2 Farmer's can also be used as a stationary equipment, in which case you should opt for an electric saw with automatic feed.
Trak Logosol F2 Farmer's is maintenance-free and is made of anodized aluminum, resistant to corrosion. The log bed can hold wood weight up to 1 metric ton. The saw chain during operation, removes sawdust on an ongoing basis, thanks to which after cutting the board is clean and ready for further processing. In the basic configuration, the discussed chain saw is adapted for cutting logs with a length of 3.8 m. It is also possible to extend it by any length.
LOGOSOL F2+ Chain sawmill
There is also a newer and more powerful version of the above-mentioned sawmill. The version marked with the symbol F2+ is characterized by greater stability, weight and oversized log lift with a 50% higher load capacity. This design allows processing logs up to 70 cm in diameter. Similarly to the previous version, the LOGOSOL F2+ chain saw can be freely expanded by another segment.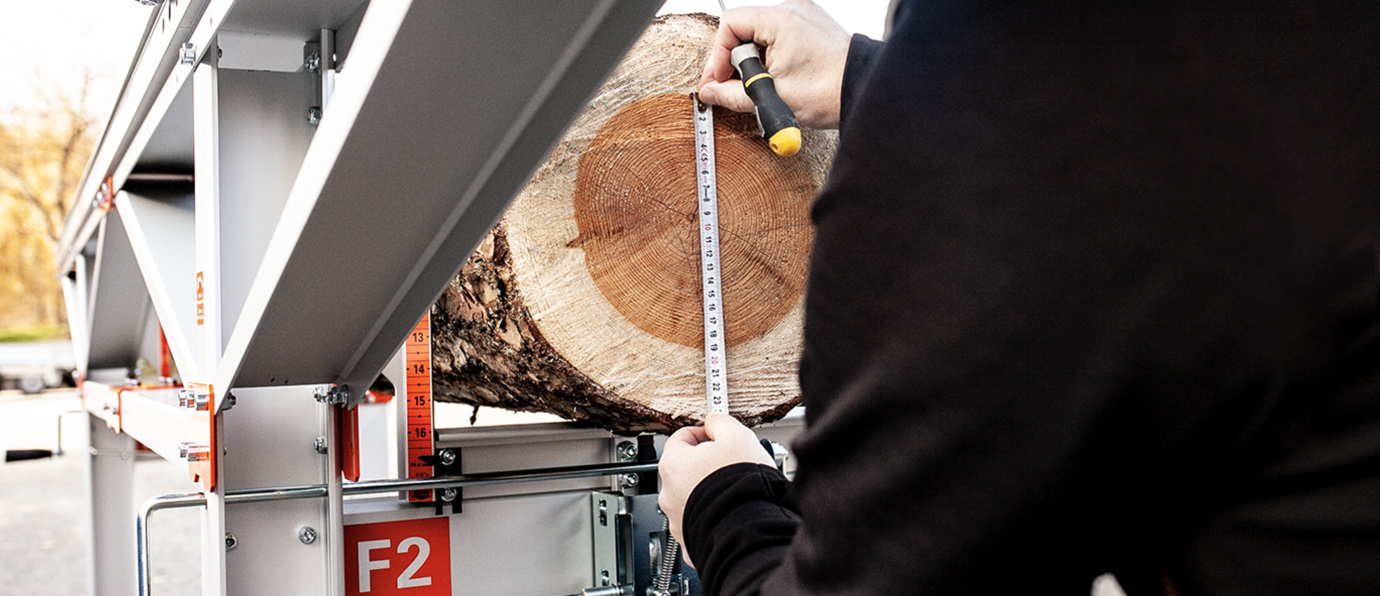 Chain sawmill LOGOSOL F2 Farmer's
Logosol PH360 Planer
The machine is designed for industrial applications and is perfect for professional carpentry workshops and the construction industry. The basis of this planer is a durable and heavy cast iron table, which allows comfortable work without vibration. The design of the device allows you to process elements with a height of 230 mm and has an adjustable feed speed up to 30 m/s. All the preparation you need is to connect it to a sawdust extraction system, thanks to which work with it can start almost immediately after delivery.
Each of the LOGOSOL PH360 planer heads has an independent electric motor and the total power of the machine is 16.25 kW. Thanks to the IP54 resistance class, this device is resistant to moisture and the ingress of dust that can disrupt its operation.
Vertical Milling Machine LOGOSOL MF30
The MF30 is ideally suited to most carpentry workshops. It enables planing the material along the guide, planing the sides and ends of the boards and milling. The machine is equipped with a stable sliding table, and the motor with the spindle can be tilted 270 degrees. The MF30 allows you to process not only wood but also plastic, which requires the use of HM knives (optionally available). The range of spindle movement is 500 mm vertically and 350 mm horizontally. The machine is powered by a three-phase electric current and its power is 3 kW.
Board edger LOGOSOL C210
It's simple and at the same time very efficient equipment. The LOGOSOL C210 edger has two discs, each with an independent motor. One of the discs is located under the work table, and the other - adjustable, above it. Thanks to this, the cutting process is under full control at all times. The feed of the processed material is carried out using two shafts with gears, and its speed is constant and amounts to 10 m/min. The edger is open on one side, which gives the possibility of cutting material of unlimited width. For this model, the maximum height of the workpiece is 30 mm.
ACCESSORIES AND OTHER PRODUCTS FROM LOGOSOL
The manufacturer provides complete technical support for its products, including a number of many accessories. Optional equipment will be especially appreciated by owners of F2 and F2 + saws, for which the manufacturer has provided cooling system, vibration damping crank and guide arm extension. Additional log clamps and extension segments are also available. In our range of LOGOSOL products, you can also find band sawmills, big mill basics, Big Mill 56'', and Paketkap PK1500.