Brands that we associate mainly with expensive, industrial equipment also offer great products for individual customers. An excellent example is the Nilfisk group existing on the market since 1906 when it was founded in Denmark by Peder Andersen Fisker and Hans Marius Nielsen. In 1910, they patented the first vacuum cleaner under the name C1 Nilfisk. The name comes from a simple combination of the first letters from the names of the founders: NIelsen and FISKer. The 17.5 KG vacuum cleaner, which could be operated by one person, was revolutionary at the time. The rapid development of the company is evidenced by the fact that a year later (1911) half of the products were exported abroad, and in 1954 the number of units sold exceeded the unimaginable limit of one million.
Today, the offer of Nilfisk consumer products includes not only vacuum cleaners, but also pressure washers, window washers and detergents for various applications. The entire range is available in our iSprzęt.pl store or on order - contacting our specialists directly.
Which vacuum cleaner should i choose?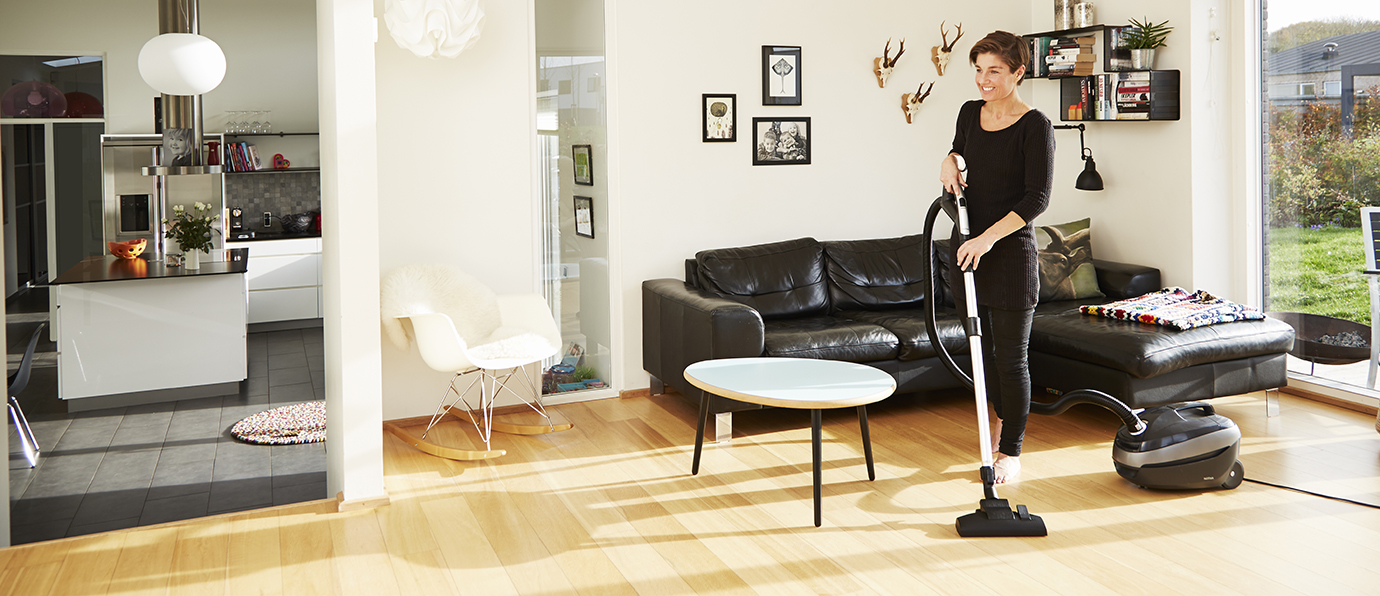 The parameters that today we pay special attention to when choosing a home vacuum cleaner are for sure: the level of noise generated, size, weight and type of filters that will ensure air cleanliness. This requirement will be met among others by the Nilfisk SELECT series. Vacuum cleaners from this range have the Hepa 13 filter, which will not let even the smallest dust particles. Also, Nilfisk Select has the highest class:
energy (A +);
dust reemission (A);
the effectiveness of vacuuming carpets (A);
the effectiveness of cleaning hard floors (A).
Thanks to the lightweight construction (6.4 KG) and small dimensions, it is perfect for everyday cleaning. Low noise levels (75 dB.) With a relatively powerful engine (450 W or 650 W) will be appreciated especially by families with small children. This product is also recommended for allergy sufferers and persons allergic to find pollen. You can choose different colour versions and equipment versions. An attractive solution is, for example, a handle with remote control, thanks to which we can turn on and off, vacuum or change the suction power without bending down.

Even more lightweight, and thanks to this, the Nilfisk HANDY 2-IN-1 18 V LI-ION MW vacuum cleaner is efficient. It is distinguished by a slim design, ease and convenience of use and immediate readiness to work. Handy can work continuously from 20 to 35 minutes depending on the operating mode (two modes). A 0.5-litre tank is enough to clean up spilt crumbs from the floor. An attractive solution in this model is the ability to disconnect the engine from the entire column, so you can quickly get to even the most difficult places. This model has a built-in Turbo Rotary brush in the floor sucker, which can cope with, for example, hair. The filter and container can be easily removed, cleaned, rinsed and dried to make them fit again. Therefore, we do not have to remember about buying new sacks. An additional advantage is the mounted backlight in the sucker so that you can vacuum the darkened places even more accurately.

Nilfisk MULTI II 22 - is an example of a vacuum cleaner that works both dry and wet. It is ideal for more difficult tasks during renovations or outdoor work. The weight of the device is less than 8 kg, but thanks to the smart design on wheels, this is not a significant challenge during use. The higher weight results, among others, from the power, which in this model is 1200 W and the size of the polypropylene container (22 L), which can be easily cleaned after finishing work. The standard equipment includes a crevice nozzle, a floor sucker, a set of filters, a pipe with catches and a suction hose. To top it all one should mention the sensational and competitive price available in the linked products tab.
Nilfisk Consumer high pressure washers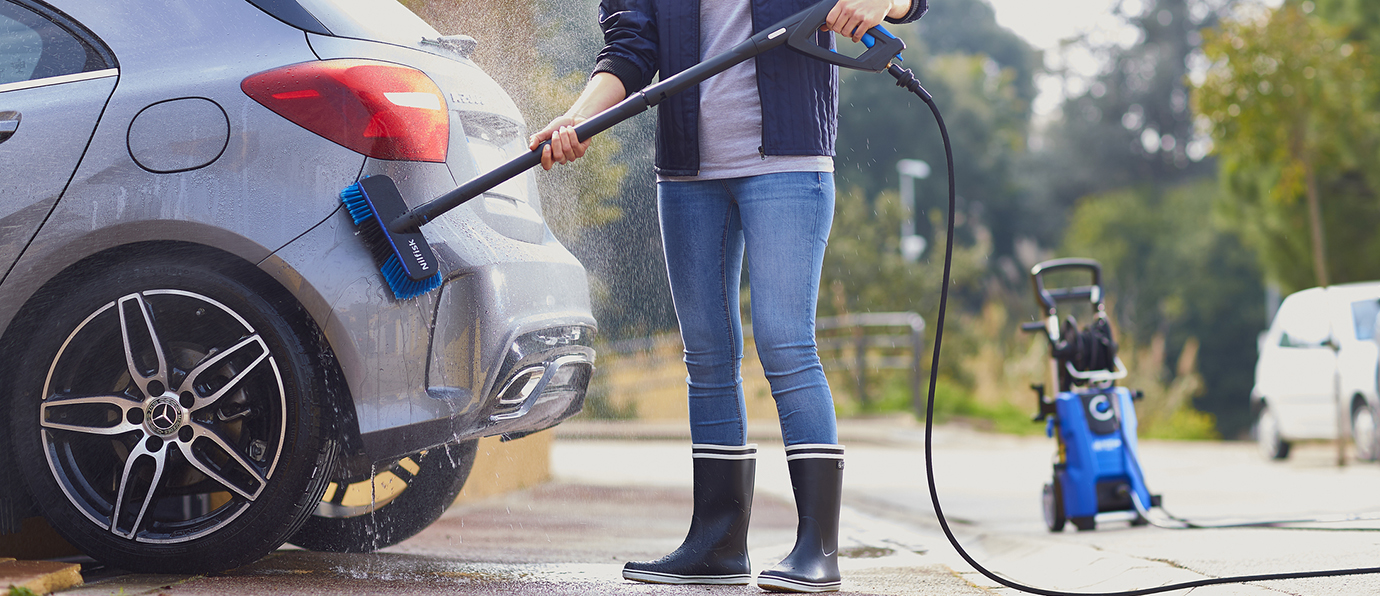 It is also worth mentioning Nilfisk Consumer high-pressure washers. These are devices that combine high technology and craft. One of the basic but excellent models is Nilfisk C 125.7-6 X-TRA. This inexpensive, cold water cleaner with a low weight (6.6 KG) produces a maximum pressure of 125 bar. The washer has an electric start and stops system. The pump is made of aluminium alloy, which makes it a very reliable device. In the set, you will find a pistol, a lance, a "Tornado" nozzle, a Click & Clean nozzle, a foam sprayer with a tank and a 6 m long. If you plan to clean a small terrace, fence or other medium-polluted surfaces, this product will be very beneficial in quality for the price.

The Nilfisk 150.2-10 H X-TRA EU will be a much more expensive alternative. It is also a cold-water washer that can cope with larger surfaces. A durable induction motor (2.1 kW) and a 10-meter hose reinforced with steel will help. Also, the machine has durable wheels, a rubber suspension, a telescopic handle and a reel that can be operated with one hand. The product also weighs nearly 20 KG but produces a maximum pressure of 150 bar. In addition to the things above, together with a washcloth, you will get a "C & C Power Speed" nozzle, a nozzle "Tornado PR (two lines)", a G4 lance, a G4 gun and a needle.

If you are looking for a Premium product, we highly recommend Nilfisk 160.2-15 X-TRA EU. It is the highest class of high-pressure washer designed for frequent, intensive use. The 3.3 kW induction motor provides a maximum pressure of 160 bar, a metal water pump and brass cylinder heads for excellent durability and performance. You can use it to clean swimming pools, boats, trailers for animals and other difficult dirt. In comparison with the cheaper versions, the device has a 15 m long reinforced hose and a G5 gun. It should be remembered that power also means higher dimensions and weight, which is why not always more expensive product works best everywhere.

We are aware that the choice of home appliances is not an easy task, especially since it is natural to choose an inexpensive device that meets specific criteria. We advise you to think carefully about the purpose of the vacuum cleaner, washer or other products before purchasing. If you think about buying and need professional advice, call us or write an e-mail. Our specialists will try to respond quickly and advise and prepare an individual offer.