Every professional will agree that mechanical laying of paving stones is faster, cheaper and more accurate especially when we have a machine with the right parameters, which guarantees high safety and comfort of work. Such devices are the showcase of Probst. They are on the iSprzęt.pl offer, therefore this time we decided to introduce our clients to the possibilities of Probst VM-301-KJ-Pavermax pavers and VM-401-Multimatic pavers.
Why Probst?
At iSprzęt.pl, we consistently recommend our clients to Probst pavers. This manufacturer guarantees the very high quality of its machines, as evidenced by the fact that they are designed and manufactured in Germany.

Probst has nearly 60 years of experience in providing equipment for transporting and laying building materials, in particular, paving stones. The offer of the German company includes both stackers and matched grippers.

The first stacker in the history of Probst was VM 203, which went into mass production in 1988. It was an extremely successful construction, which for many years set the standard for this category of machines and allowed the manufacturer to gain the position of one of the most reputable suppliers of pavers for paving.
Probst VM-301 series Paver installation machines
VM-301 is a new series of pavers, which is mostly based on the technologies used in the VM-203. Of course, there is no shortage of new products, among which a solid, tubular steel construction deserves particular attention. In K and KJ models, the manufacturer used a fully glazed cabin protecting the driver from wind, rain and dust, which allows paving works in all weather conditions.

In VM-301 stackers, we find a double articulated steering system that guarantees excellent manoeuvrability and allows you to carry out work even in minimal space.

An important novelty used in the VM-301 series is the dual central control in the chassis. Thanks to it, the paver moves very smoothly on the freshly laid surface, thus not causing the cubes to be moved. The low centre of gravity ensures adequate static stability in any working position.
Probst VM-301 paver installation machines series consists of:
VM-301-Pavermax - with a working load limit of 600 kilograms;
VM-301-J-Pavermax - with an electronic joystick instead of mechanical cross-over control and with a load of up to 600 kilograms;
VM-301-K-Pavermax - with heated cab, windshield wipers and load limit up to 650 kilograms;
VM-301-KJ-Pavermax - offers electronic joystick, wipers, heated cabin and working load up to 650 kilograms;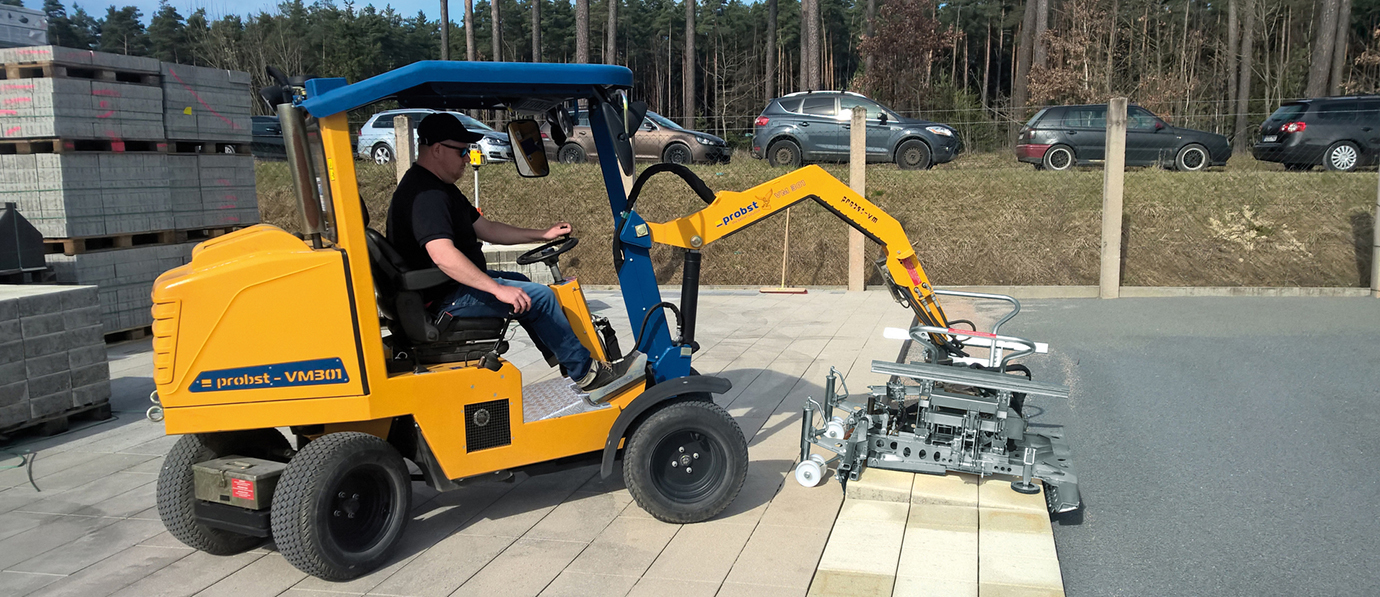 VM-301-KJ-Pavermax: the best Paver installation machine in its class
This model is distinguished not only by its excellent equipment but also by its working efficiency - it enables the laying of up to 1000 of cube per day. The Kubota 25-hp three-cylinder engine has no problems with driving this 1.2-tonne machine. Also, the manufacturer put on hydrostatic front-wheel drive, ensuring no jerks and higher precision with maximum load.

An important advantage of the machine is a strong arm construction - it allows you to raise the gripper to a height of even 1.6 meters, which will be especially useful when pulling the cube from the pallet stacked on top of each other.

The presented paver is compatible with the HVZ-UNI-II gripper with main and side clamps controlled from the cabin. It enables the laying of cubes of various shapes and formations, in the case of rectangular cubes also with a "zip" shift. The gripper can also be mounted on a mini excavator or a mini loader equipped with two separate hydraulic control circuits.

The Probst VM-301-KJ-Pavermax paver, along with the HVZ-UNI-II gripper, a glazed, heated cab and an electronic joystick are available in the iSprzęt.pl offer.
VM-401-Multimatic: excellent parameters
The latest model offered by Probst offers a lifting capacity of up to 800 kilos with an empty weight of 1550 kg (without a grab). In this machine, as in the VM-301-KJ-Pavermax, an arm is used to lift the gripper to a height of 1.6 meters.

In the Multimatic variant, the stacker offers a glazed, separated from the chassis cab and a hydraulic section control system. Its modular design allows the system parameters to be adjusted to the specific needs of the stacker's owner.

The operator has a precise electronic joystick and 5 automated control programs: from manual to automatic control of the speed of clamping and machine movements. It is also possible to equip the stacker with a vacuum program. Positive effect on comfort and safety of work is the wide-angle rearview mirror, which eliminates the problem of dead spots.

A 35.6 hp Kubota diesel engine powers the VM-401-Multimatic paver - here also the hydrostatic front-wheel drive is used. The machine has a continuous hydraulic rotator and dual articulated steering.

The Probst VM-401-Multimatic paver ideally cooperates with the HVZ-ECO gripper with an extensive gripping range from 580 to 1260 mm (it has to be purchased separately). Such a set can be ordered at iSprzęt.pl.