Sweepers are devices used for dust-free sweeping and cleaning of dirty surfaces, both inside and outside the facility. Nilfisk sweepers were created to work in difficult conditions - they are very durable and efficient. We distinguish three types of sweepers.

Hand sweepers - are handy and straightforward devices with manual drive, are light and can be used in everyday cleaning, are at the same time the cheapest and most popular in daily use.
Sweeping machines - they were created for more difficult work, and thorough cleaning is possible thanks to the built-in semi-automatic drive, thanks to which sweeping and cleaning are lighter and more comfortable.
Self-driving sweepers - is the most advanced range of devices with fully automatic drive designed for cleaning, cleaning and waxing both medium-sized storage areas and large areas in heavy industry. It is worth noting that the operator can comfortably sit and control the machine while working.
Sweepers find application:
in warehouses
on parking lots
in the food, metallurgical, electronic and chemical industries
in sports facilities
in conference centres
Automatic sweepers can have an electric drive (built-in battery) dedicated to working inside and combustion drive (diesel, petrol, LPG) designed for outdoor work.

Different jobs are different surfaces. Nilfisk sweepers do excellent job cleaning, including concrete, asphalt, ceramic tiles, linoleum, or paving stones.

There are many factors to choose the right sweeper. First of all, we should determine what and where we will sweep. The surface on which we will work is of great importance - the smoother it is, the easier the sweeper will work. The type of brushes also depends on the kind of pavement to ensure maximum performance and not damage delicate surfaces.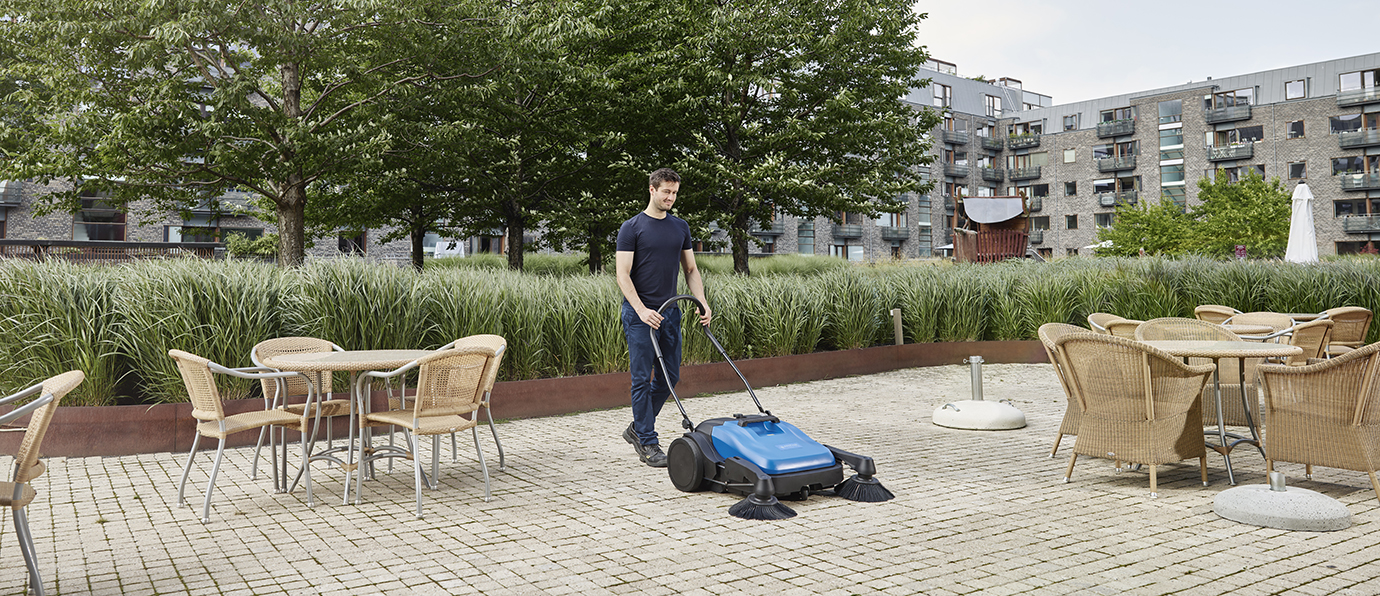 Nilfisk Floortec 570 M
This sweeper is by no means our bestseller. It is primarily easy to use and at the same time very useful despite its small weight (19.5 kg). Just push it to start working (manual drive). The proper construction and materials from which it was constructed allow cleaning both inside and outside the building. Rotating brooms collect and remove dust, dust and even scattered nails or small screws. The working width of the main broom is 480 mm. This value is increased to 700 mm after using the side broom. Work takes place much faster than when using a traditional brush. Nilfisk also took care of work comfort. The soft, adjustable handle ensures ergonomic operation, and the built-in dust filter prevents dust from rising in the air. The sweeper has a large tank (38 l) on the waste, equipped with a handy handle for easy emptying.

Why is it worth using sweepers? First of all, because the clean surface in the business premises, in the warehouse or the car park, is the image and business card of our company, but on the other hand, professional cleaning means to care for hygiene and comfort of work. We should also remember that care for an order is a way to preserve and extend the life of the surface. We invite you to look at our proprietary offer and to contact our professionals from the sales department.