Do you remember how we wrote about the acquisition of Atlas Copco compactors and concrete machines? Today, all of these machines are available in our offer. However, this time we will focus only on compactors.

Soil compaction is often an undervalued but crucial stage in the implementation of construction investment. It does not matter if a parking lot, driveway, sidewalk, single-family house or shopping centre should be created in a given place: the ground must be of adequate stability. That is why it is so important to use dedicated equipment for compaction, designed to work with a specific type of soil. Husqvarna rammers and compactors offer machines for all standard applications. Especially for our clients, we have looked at the available solutions.
Single direction vibratory plates
This range of devices includes models designed for both compactions of soil and asphalt. Compactors LF 130 LT, LF 100, LF 80, LF 75 L, LF 50 L and LX 90 show their full potential when stabilising silt and grit. The LF 80 model is particularly exciting and sought-after by professionals, which is one of the strongest on the market up to 100 kg.

Husqvarna LF plate compactors are factory-fitted for the installation of paving slabs, so they can be used to stabilise the pavement or concrete block. In everyday work, a patented, cushioned handle protecting the operator's joints is handy. In turn, the cooling fan and the ventilated plate extend the durability of the drive belt.

The Husqvarna LF series also includes asphalt plate compactors. They are equipped with a maintenance-free, detachable water container with a valve. A unique feature of these models is the disc that does not leave marks on the asphalt.
Reversible vibratory plates
Here, the manufacturer offered us a total of 7 models, which, however, are designed for entirely different work. Let's start with the smallest machines, LG 300, LG 204 and LG 164. These compactors are particularly well suited to the paving industry. They are straightforward to use and mobile. The best deal with compacting the macadam ground. Each of these models can be ordered in a petrol or diesel version.
Medium reversible plate compactors are LG 400 and LG 504 models, which are designed for deep and medium-deep compaction of granular soils and wet ground. An essential element used in selected models is the density index, which significantly improves the precision of the work carried out. It is also worth mentioning that the compactors have a bottom plate made of very durable Hardox steel.
Large reversible plate compactors, LH 804 and LH 700, are machines equipped with heavy plates that enable compacting the soil to a considerable depth, as well as breaking the gravel. Hydraulic models generate power comparable to a 10-ton cylinder, which says a lot about their working capabilities. Compactors can be remotely controlled from a distance of 30 meters. This is a great way to increase the operator's safety.
Husqvarna tandem rollers
The rollers LP 6505 and LP 7505 are of course intended for compacting large areas. They work best when working with granular substrate and asphalt. Hydraulic, compact constructions are distinguished by a smooth side surface, which allows working just next to the building.

Both rollers are equipped with drum scrapers, as well as hydraulic brakes with an automatic braking function. At the operator's disposal, there is also an hour meter and oil lamp.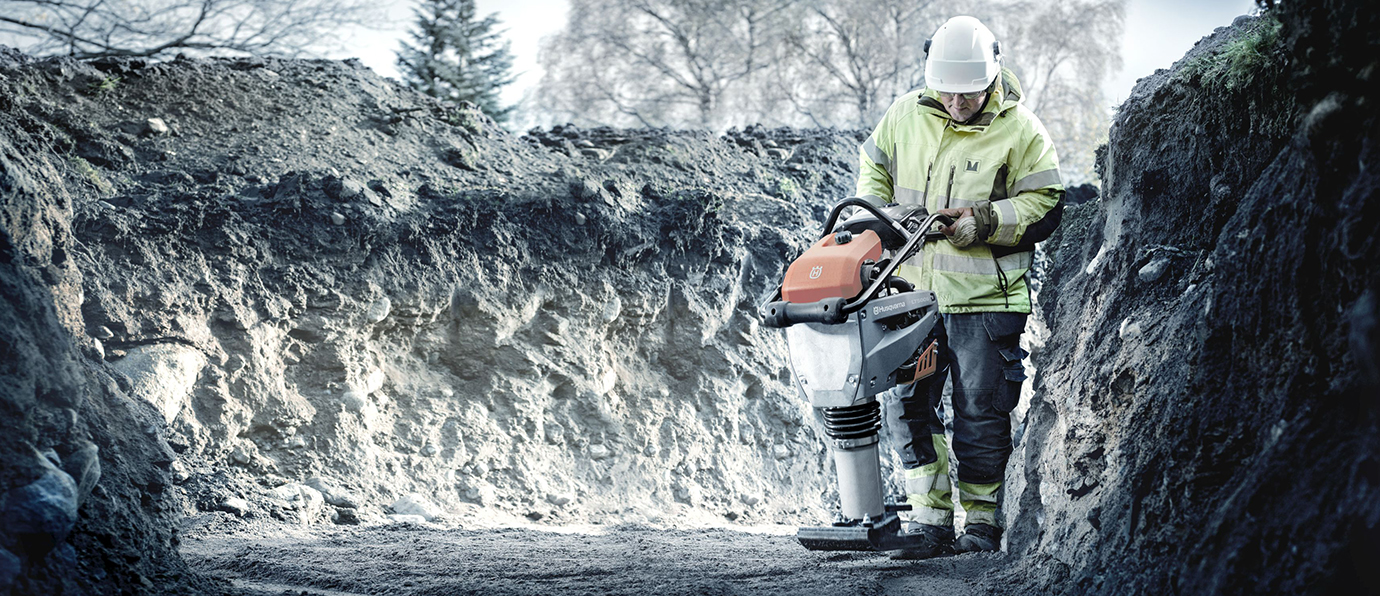 Husqvarna rammers
We distinguish here, among others LT 800, LT 6005 and LT 5005 models. The last two most frequently chosen by our customers are powered by a 2.7 kW Honda GXR120 gasoline engine. This unit is tranquil and reliable, and it guarantees a trouble-free startup.

The LT 6005 and LT 5005 rammers are also available in narrower versions, intended for work in confined spaces, for example in trenches.

Machines are distinguished by versatility and guarantee very easy service. On their equipment we will find, among others a gas lever with three fixed positions: stop, idling and full speed.