Every professional knows that proper equipment greatly facilitates, speeds up and increases the precision of work. Therefore, it is worth investing in high-end devices, created to guarantee the operator the most comfortable conditions possible. This time we want to interest you with masonry saws. They are gaining more and more popularity in our country, especially among finishing teams. In this guide, we present models that, in our opinion, deserve attention and command.
What exactly do masonry cutters do?
The use of this equipment is extensive. Everything, of course, depends on the capabilities of a particular model, which is why we divide the table saw into two basic categories:
For cutting tiles
For building applications (cutting bricks, concrete blocks, ceramics etc.)
The table saw has the advantage over, for example, an angle grinder that allows you to work in a standing position, which is much more convenient for the operator, and also minimises the risk of injury to the spine or knees.

In the upright position, it is also easier to maintain cutting precision, which is especially essential when machining large format tiles. Advanced high-end cutters guarantee uninterrupted operation without the need to frequently remove the pulp, reduce dust and are easy to transport.
Masonry saws for tiles
The Husqvarna TS 230 F cutting machine is distinguished among the models intended for tilers. An 800 W electric motor drives it. The maximum diameter of the disc is 230 mm. The cutter cuts to a depth of 46 mm, and after turning the material, this parameter increases to 92 mm. The device gives the possibility of cutting at an angle of 45 °.

The Tyrolit TRE250 cut-off table saw supports discs up to 250 mm in diameter. The equipment allows you to make even a 1-meter, exact cut, which is why we especially recommend this model to contractors working on large format plates. Transporting the cut-off machine does not cause the slightest problems - the table in the set has comfortable wheels.

Husqvarna TS 60 is excellent for cutting large format tiles. It is powered by an 1800 Watt motor and supports a disc diameter of up to 254 mm. The saw can cut both deep and at an angle of 45 °. The innovative water-retaining system deserves special mention, which limits the amount of pulp remaining in the trolley. The cutter is offered with a Husqvarna Elite-Cut GS2 diamond blade.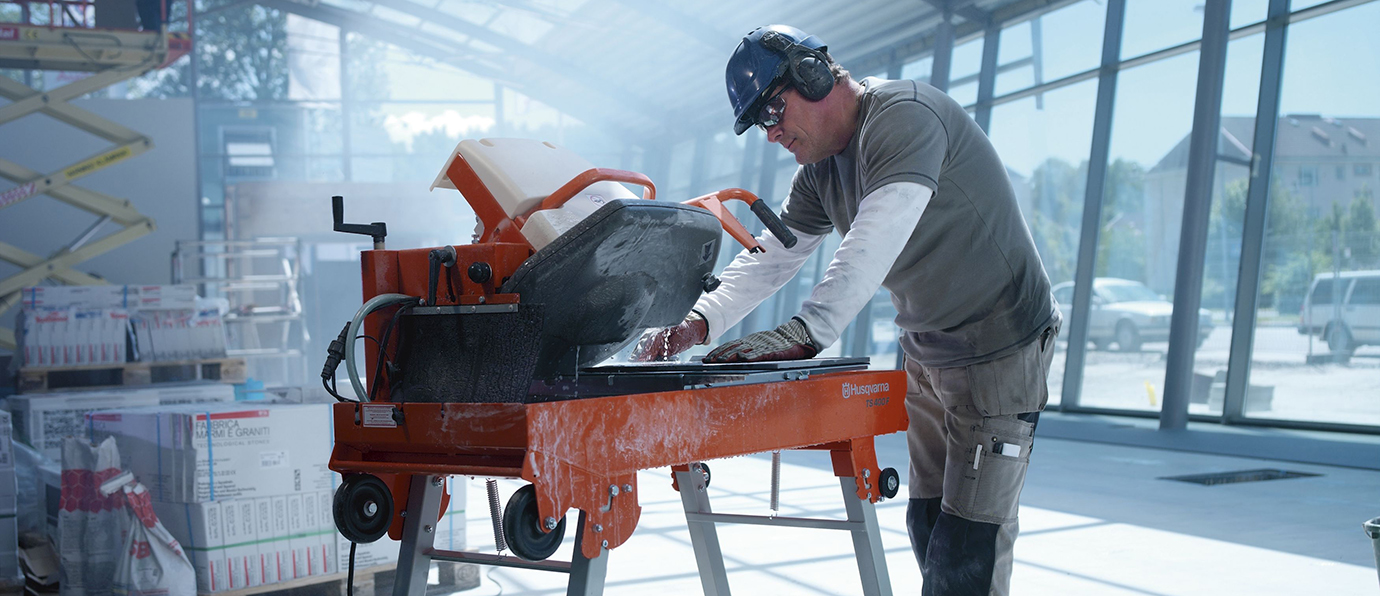 Construction saws: they can cope with any material
Cutting hard construction materials, such as concrete blocks or bricks, is a nightmare of many a bricklayer. Choosing a floor saw for construction applications can save you unnecessary nerves. Such equipment significantly speeds up work, increases its precision, and protects the operator against injuries.

A review of the recommended models will start with the Husqvarna TS 350 E. This universal cutter is intended for cutting, for example, bricks and concrete blocks. It offers a maximum cutting depth of 100 mm for one-sided cutting and 200 mm for turning the material. The saw also allows cutting at an angle of 45 °. We offer the equipment in a set with the Husqvarna Elite-Cut GS50.

A 2.2 kW motor masonry cutter Dr. Schulze BS 350 LST, it supports a disc with a maximum diameter of 350 mm and cuts to a depth of 110 mm. The maximum cutting length is up to 600 mm. We especially recommend this model due to the solid construction, built-in electric water pump and effortless operation (thanks to, among others, transport wheels and folding legs). An additional advantage is a possibility of cutting at an angle of 45°.

Dr. Schulze BS 750 is a circular saw with a diameter of 750 mm, cutting to a depth of 285 mm and a length of 650 mm. The cutter drives a 4 kW motor. The mechanism for lifting the head with the help of an actuator is excellent. It is worth emphasising that the table has been galvanised, which 100% protects the structure against corrosion.

"For dessert" we left a Tyrolit TME1000 table saw. It works perfectly when working with the largest and the hardest materials. The engine has a power of 7.5 kW and is air-cooled. The cutting machine supports a disc with a diameter of 1000 mm, enabling cutting to a depth of 380 mm and a length of 660 mm. The disc drive is maintenance-free and requires no maintenance.