The low temperatures outside the windows remind us that winter is inexorably approaching. Despite the unfavourable weather, many companies will continue construction or installation works. In this case, it is necessary to obtain professional lighting equipment. It guarantees comfort and safety of workers, and also allows you to carry out any work after dark. In the iSprzęt.pl, offer you will find lighting towers and balloons from the leading manufacturers: Wacker Neuson, Chicago Pneumatic and Pramac. Which our specialists particularly recommend models?
Wacker Neuson offer
The Wacker Neuson range mainly includes lighting balloons with a modular design. The advantage of this solution is the ability to configure the device to the needs of the entrepreneur. Their compact construction also characterises wacker Neuson balloons, so they are easy to transport and do not take up much space on the construction site.

The heart of Wacker Neuson's lighting balloons is HQI 80,000 lumen lamps or traditional halogen lamps with a 50,000-lumen stream. This type of lighting is especially recommended to road crews because it does not dazzle drivers. You can choose between two types of tripods, 3.4 or 5 meters high. The manufacturer also offers various accessories thanks to which it is possible to assemble a single lighting set.

We especially recommend our two lighting balloon models to our customers: LB 50H and LB 80M (the latter is only available with a weight - we offer such a set at iSprzęt.pl). LB 50H has a halogen lamp with a capacity of 2000 W and provides lighting of an area of 154 m2 (after placing the light source at the height of 5 meters). The 1000-watt LB 80M balloon with a metal halide lamp covers an area of 315 m2 (at an altitude of 5 meters)

The Wacker Neuson range also includes an LTE lighting mast. It is a free, very efficient light source equipped with its power generator. Such a solution is especially recommended to entrepreneurs who work away from the power source. The mast has been equipped with 6 LED lamps covering an area of 3800 m2. It works very well during the implementation of road, bridge and construction investments. It can also be used to illuminate a car park or outdoor events.

The 8.5-meter mast tower works with a hydraulic winch - setting up the set is very easy and takes little time. The LTE mast has also been equipped with three levelling supports that provide it with stability on any terrain and resistance to wind speeds up to 110 km / h. The mast of the lighting mast is approved for moving on the road in Europe.

In the M Wacker Neuson series, the ML 440 lighting tower is also available, which will interest companies with limited purchasing budget.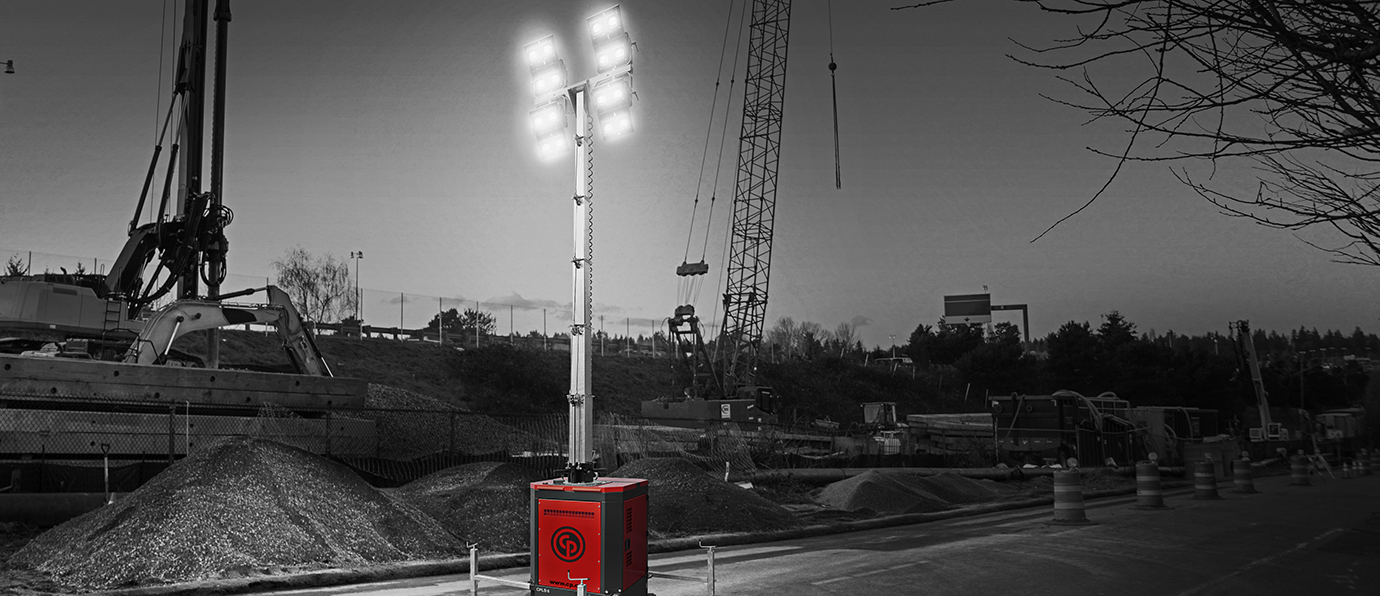 Chicago Pneumatic: lighting towers of the highest quality
Chicago Pneumatic offers four models of mobile lighting masts that can be powered from built-in power generators or directly from the network - this option depends on the specific model. In iSprzęt.pl a prevalent CPLB 2 model is available, which has been equipped with four metal halide lamps with a power of 400W each, which guarantees to the light of the area of about 2000 m2.

It is also worth taking an interest in the CPLB 6 model with a hydraulic mast with a height of 8 meters and 4 LED lamps with a power of 350 W each. It is an excellent alternative to the 4000W metal halide tower. This solution can be recommended especially to entrepreneurs who focus on low operating costs (fuel consumption in CPLB 6 is as much as 71% lower).

The free operation time of the device is up to 260 hours, while the tower is controlled via a panel with the LC 1300 controller. Please note that the light beam can be directed in practically any direction, because the hydraulic mast rotates in the 340 ° range.
The offer of Pramac lighting towers
In the Pramac product range, we find lighting towers offering an excellent ratio of size and efficiency. We would especially like to interest you with the Light Tower model, which has been equipped with four halogen lamps with a power of 500W each.

This tower is distinguished by the aluminium construction of the telescopic mast - it is lifted pneumatically. The manufacturer also used supports with quick couplers and mast support for the aggregate. This solution guarantees excellent resistance to wind gusts of up to 100 km / h. Pramac Light Tower can illuminate a square of approximately 700 m2.

The Pramac offer is complemented by lighting balloons, to which you can buy a power generator with a transport set. Model Hal 2 kW illuminates the surface up to 1500 m2, is equipped with halogen lamps with a luminous flux of 54600 Lm, the manufacturer placed it on a mast with a maximum height of 5 meters. This balloon is not subjected to wind speed up to 100 km / h. The lifetime of the lamps is up to 300 hours.

All presented towers and lighting balloons are of course available in the iSprzęt.pl, offer.