We hope that the holiday season will allow you to rest and gain new strength to work because this season will certainly not be missing. How isprzęt.pl can help in construction works? Indeed professional advice and valuable information that we try to convey to you regularly. Today you can read about demolition hammers.

Demolition is one of the most extensive works that leaves a lot of dust and debris. We wrote about how to get rid of these smaller wastes in August. We encourage you to read the article about industrial vacuum cleaners.

What should be a demolition hammer according to Wacker Neuson? First and foremost, it should be distinguished by the energy of stroke and the number of strokes per minute. Besides, the hammer must be of high quality and should withstand hundreds of hours of hard work. Wacker Neuson offers the BH 55 and BH 65 models, which are available in different versions. We distinguish hammers with the HEX designation, which characterises the holder for mounting a hexagonal working tool. Wacker Neuson hammers were created only for professional applications during demolition. Certainly, it will be an ideal choice for construction or demolition companies. It is also worth mentioning the hammers with the RW designation, which will work in the railway industry, thanks to the right working tool.
The use of breakers in the railways
Being in the subject of the railway, we can describe the Wacker Neuson BH 55 RW gasoline hammer. It is an ideal solution for companies working on track construction, where it is necessary to improve the railway ballast. This hammer allows you to work with the required frequency of impacts, which further translates into the quality of ballast compaction. What are the values here? The rate is 1350 beats per minute, and the energy of one stroke is 55 Joules.

It is also worth being interested in the Chicago Pneumatic company offer, accurately the Red Hawk Rail model, which is also suitable for killing gravel on trackways. It produces over 1,600 beats per minute with an energy of 40 joules. Very high frequency of work means faster and better breaking the gravel. The model described it is an example of a typical combustion hammer.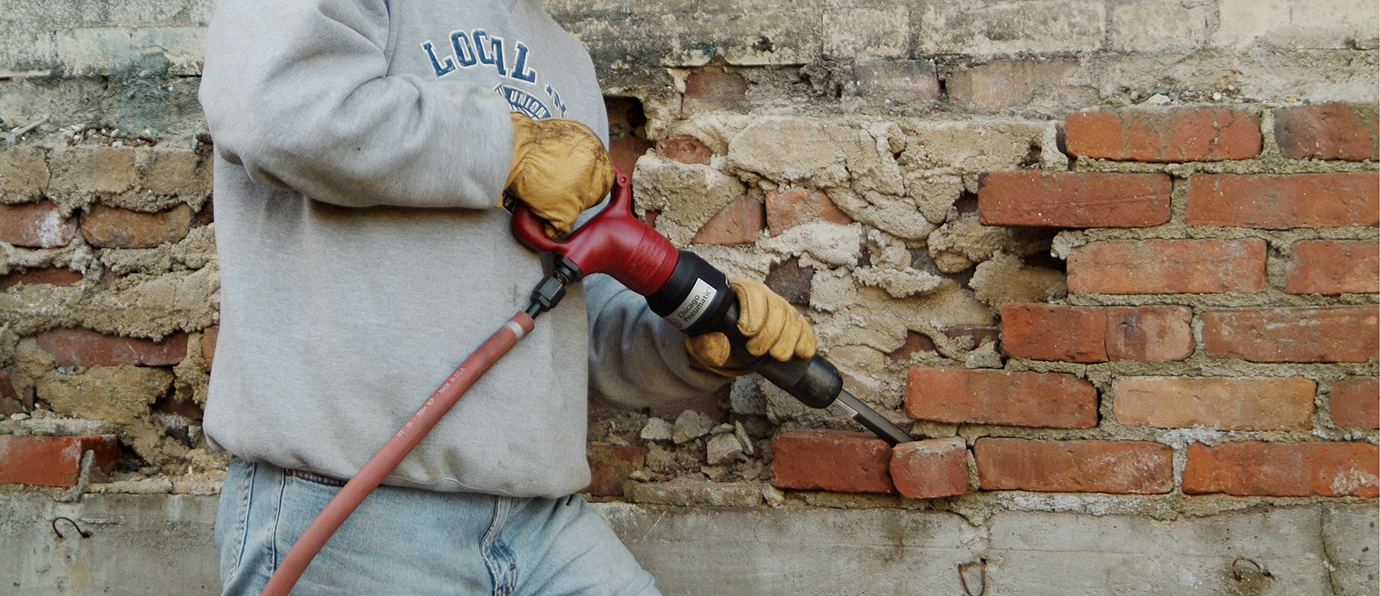 other Types of drives for breakers
Hydraulic - are characterised by high efficiency and compact dimensions. Hydraulic tools have been created to work in the most adverse conditions.
Pneumatic - as in the case of hydraulic equipment, it is distinguished by its high efficiency, small size and relatively low weight.
Electric - they are popular hammers, but they do not have as much power as the devices with an internal combustion drive, and they require a constant source of electric power supply.
We have already written a lot about the operation of hydraulic and pneumatic devices in previous articles, but it is worth recalling that for proper operation of hydraulic hammers we will need a suitable unit, and for pneumatic hammers - a compressor.
Wacker Neuson BH65 27x80
The most universal breakers are the combustion ones because they do not require additional equipment. One of our bestsellers is the Wacker Neuson BH65 model with a round handle 27x80. The number 65 in the name of the hammer means the energy of a single impact, which in this model is as much as 65 joules. This is the ideal hammer for demolition work. Its advantage is the low level of vibrations transmitted to the operator's hands, which improves safety and productivity. The optimal weight (25 kg) allows for easy and practical service. Wacker Neuson is also known for its low-emission economy engines.