Battery devices are becoming more and more popular. Most equipment uses lithium-ion batteries that allow for long life and short charging. Husqvarna's range includes batteries with different capacities, allowing you to choose them according to your specific requirements. The situation is similar with chargers. Depending on its model and battery capacity, charging time will vary. When purchasing battery-powered devices, it's also important to note whether a battery is included with the equipment.
The full mobility of these devices and relatively high performance make them the perfect choice for home cleaning work. There is no need to refuel during operation or a permanent connection to the electric network. All you need to do is charge the battery before starting work, which usually takes several dozen minutes. An electric motor also has fewer parts that may fail and require periodic inspection. The efficiency of battery devices is lower compared to those powered by internal combustion engines. On the other hand, they do not generate exhaust gases, work quieter and are easier to use. In our offer, you will find chargers and batteries that will perfectly suit your needs. Remember that during more demanding work, it is worth buying additional batteries to exclude unnecessary charging breaks.
Leaf blowers
Battery leaf blowers are easy to design and use. They allow without much effort to tidy up the garden of leaves, which over time become a breeding ground for fungi and bacteria. The leaves also limit the access of light and limit the evaporation of water. In the case of a small yard, it is enough to rake the leaves, but on a larger surface, the use of a blower will work better. Thanks to this, you can quickly move the leaves lying in one place, which will facilitate their later collection.
Ideal equipment for small cleaning jobs, where high mobility and efficiency are essential. The device is equipped with a brushless electric motor, providing 25% higher productivity and high and constant torque. Blower operation is intuitive. You can lock the blow-out speed at specific engine speeds and increase the blow-in power for a particular time. The Husqvarna 320iB Mark II is also lightweight - just 2.4 kg (without battery).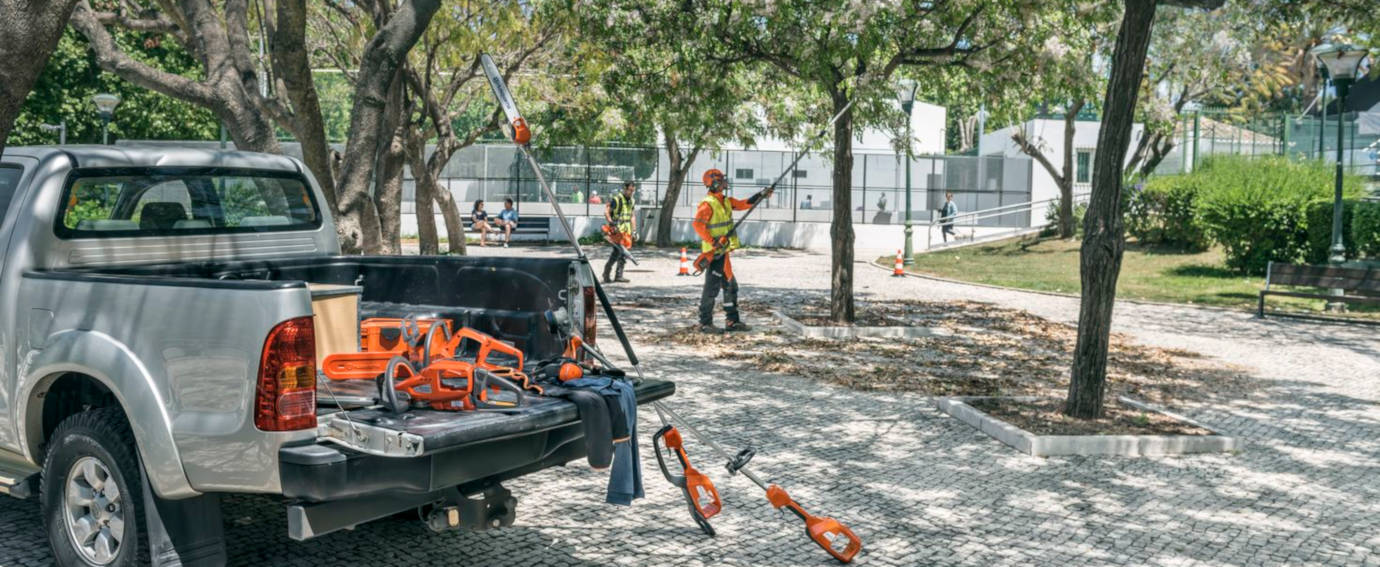 Chainsaws
These devices combine high mobility, relatively good performance and convenience in use. Battery chainsaws do not emit exhaust gases, weigh less and work quieter compared to classic petrol chainsaws. They work well when pruning branches or preparing wood for fuel. Unfortunately, the power of these devices is not enough to be able to use them during professional felling or woodworking fully. Nevertheless, thanks to their handiness and low operating costs, electric chainsaws have found a wide range of satisfied consumers.
This proposal from the Husqvarna brand will appeal to those who value lightness and high performance. A fully charged 36V battery provides a comparable operating time to a petrol chainsaw on one fuel tank. The only difference is that it doesn't generate any exhaust gas. The saw has a built-in savE ™ mode, which allows you to achieve maximum working time - use one button. Operating safety is improved by an inertial brake that protects the user, among others before kickback.
Hedge trimmers
Proper care of the hedge ensures its adequate development and shape. The hedge is best pruned in March and April, but you can think about the right pruning equipment much earlier. For home use, you might want to consider buying a battery hedge trimmers. They do not emit exhaust gases, are light and can work for about an hour on one charge.
Necessary equipment for most people working in the garden. Trimming a hedge with 520iHD70 is efficient, convenient and practical. The shears are equipped with a 70 cm long cutting bar and ensure cutting speed of 4,000/min. The adjustable rear handle allows easy access to the sides and tops of hedges.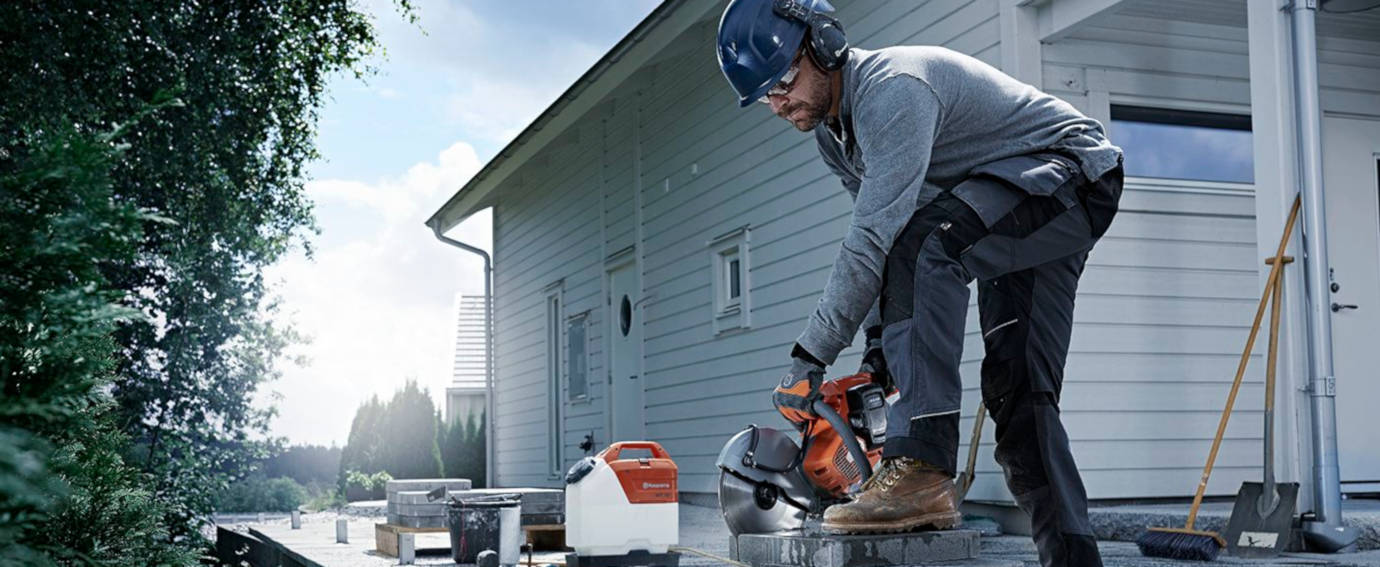 Power cutters
Battery power cutters are beneficial equipment in the renovation and construction teams. Their configure is so versatile that they work well when cutting almost any material.
Thanks to the battery supply, the K535i can be used almost anywhere. It does not require connection to the electric network and at the same time, can work indoors. The use of an intelligent charging algorithm allows you to charge the battery to 80% in just 30 minutes. Thanks to this, work with the cutter can be virtually continuous - provided you have at least two batteries. This gives a massive advantage over combustion-powered cutters that generate exhaust gas and are more expensive to operate. In our store, you can buy the cutter itself or complete with a shield or a battery and charger.
Husqvarna devices are currently on sale. This means that the Husqvarna 535i XP chain saw with battery and charger can be obtained completely free of charge by purchasing any variant of the Husqvarna LG504 reversible vibratory plate.