Service lifts are normally used for the so-called vertical transport. They are used in many industries, especially construction, but also installation. When choosing a goods lift for your company, it's important to remember a very important rule: both the pace of work and the safety of people depend on the quality and reliability of this equipment. That is why at iSprzęt.pl we invariably recommend GEDA service lifts to our customers. In this guide, we present several popular models from the manufacturer's offer.
Why GEDA?
GEDA is a company specializing in the production of vertical transport equipment. All of its products are designed and manufactured in Germany, which of course guarantees very high quality. No less important is the fact that this manufacturer's offer includes elevators of all types, which work well in virtually any application.

GEDA's advantage is also the fact that the company has a wide network of distributors, which also includes iSprzęt.pl. Thanks to this, there is no problem with the availability of accessories and spare parts. Let us add that GEDA's offer also includes rope winches, chute buckets, suspended working platforms, goods and passenger platforms, goods cranes, mast platforms and platforms for cold stores.
Featured models
Geda 200 Z
This is a goods lift. Applies to the transport of building materials. It is distinguished by low unladen weight (44 kilograms) and an easy and quick assembly system. The platform is rotated 90 ° clockwise and counterclockwise. The maximum load capacity of the elevator is 200 kilograms. GEDA 200 Z offers a travel speed of up to 25 meters and a maximum range of up to 35 meters.

The basic set includes 2-meter feet, a detachable controller with a 5-meter cable, a drum with a tow cable and an overload switch. In addition, there is a long list of optional equipment, including: swinging frame (platform operated from the elevator with the right and left sides), loading platform with keys for floor protection doors, movable handle for 1 ½-inch high pipes, 2-meter ladder with with a frame, a ladder segment 1 meter long and a rail support.

At iSprzęt.pl, we offer a GEDA 200 Z goods lift in variants with a 12-meter rope.
Geda 300 Z
This is a larger model with a maximum load capacity of 300 kilograms. The lift offers very good operating parameters, including a lifting speed of 30 meters per minute and a maximum lifting height of up to 100 meters.

In the basic set you will find a driving sledge with a drive and a catching mechanism (it works when the set speed is exceeded, thereby increasing the safety of people and materials), a 2-meter foot with a basic segment, a detachable controller with a 5-meter-long cable, a container with a cable, rotating freight platform and overload switch with overload indicator.

The optional equipment list includes a single-axle trailer, running gear, standard handle, special handle and 0.85 meters wide ECO unloading gate.

At iSprzęt.pl an elevator can be ordered, among others in the variant with a 12-meter rope and a 230 V or 400 V motor.
Geda 300 Z Boiler Hoist
This rack-and-pinion elevator on an aluminium mast is distinguished by a foldable structure, thanks to which it is possible to carry out work while maintaining access to the interior of tight constructions, including hatches for people with a diameter of 45 cm.

The elevator enables its use during loading and unloading. You can move along it during assembly and disassembly. Thanks to the use of a mast instead of a rope, the convenience of work have increased, as well as the time of folding the elevator - according to the manufacturer's estimates, it should not take more than 40 minutes.

The maximum lifting capacity of GEDA 300 with Boiler Hoist is 300 kilograms. The lift has a range of up to 100 meters, and the lifting speed is up to 25 meters per minute. The 2.2 kW motor requires 400 V.

The basic set includes a lift with feet with a 1.5-meter mast and a 2-meter-high transition mast, a carriage with a drive and a gripping mechanism, overrun cams, a mechanism stopping the 2-meter elevator at ground level (with acoustic warning), upper and lower gauge switches and operating limit switches, service control built into the platform, overload switch with overload indicator and a controller on a 5-meter cable.

The lift is available in a wide range of optional equipment. We encourage you to contact iSprzęt.pl directly - our experts will help you configure the right settings depending on your specific needs.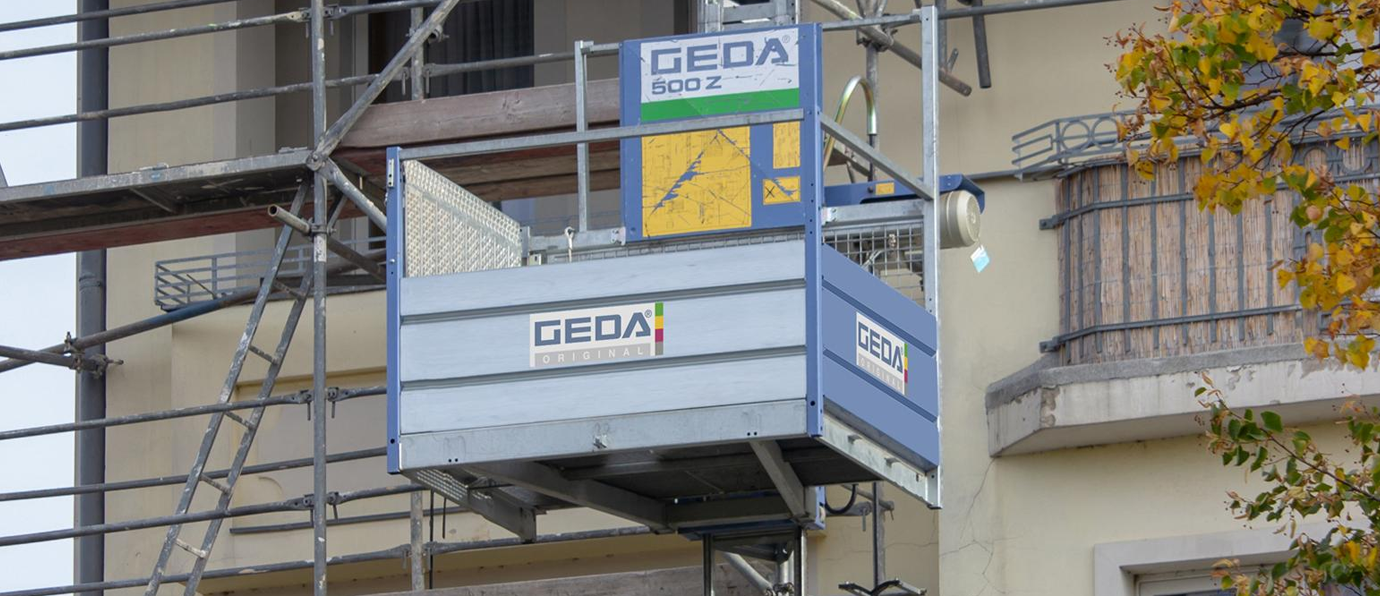 Photo of  the Geda 500 Z service lister
Geda 500 Z
In this case, we are dealing with a lift designed for transporting heavy building materials, also stacked on pallets, which is enabled by a wide loading platform measuring 1.6 x 1.4 x 1.1 meters (rotated 90 ° to the right and left). The lift offers a maximum lifting capacity of 500 kilograms, its range is 100 meters, while the maximum lifting speed is up to 30 meters per minute.

GEDA 500 Z is a model in terms of occupational safety. The manufacturer equipped the elevator with a mechanism with acoustic signalling stopping the structure 2 meters above the ground. The steel mast with screws provides even better stability.

The standard set includes afoot with a basic segment, two adjustable feet and a 2.3-meter-long basic mast, a platform with a loading flap and a key to the unloading gate, a sliding carriage with a drive and a gripping mechanism, a switch for the upper and lower gauges, a limit switch for tilting sleds, mounting controller permanently built-in together with the ignition switch and 230 V mounting socket, overload switch with indicator, inrun cams and inrun cams, stop ramp, detachable controller on a 5-meter long cable, container with 25, 50, 75 long cable and 100 meters, steel mast and mast anchors. The set is available at iSprzęt.pl.

Customers buying the GEDA lift at iSprzęt.pl guarantee not only a very attractive price but also professional advice. Our experts will be happy to help you configure the optimal settings that will meet the needs of each client.