There are various power tools and machines for demolition on the market. Depending on the complexity of the work and the frequency of its performance, you should choose the right tool for it. In today's article, we will describe four types of tools that are intended for demolition works and present offers from our store.
Impact drill drivers
An impact drill driver is undoubtedly a tool that is perfect for home conditions. The mechanical impact used in this type of drill is intended, especially for drilling in hard materials. These devices have been designed to work under a lower load while maintaining considerable versatility and compactness. It is challenging to assign percussion drills to the category of demolition equipment, although it is worth mentioning such solutions on this occasion.
A great example of a compromise between ease of use, performance and price. The M12 BPD-402C model has a maximum torque of 38 Nm and a stroke frequency of 22,500 bpm. The device together with the battery, weighs 1.5 kg and is compatible with all batteries of the Milwaukee® M12™ series.
The equipment belongs to the FUEL™ device series, so it is perfect for the most demanding tasks. Generates a maximum torque of 135 Nm. The impact frequency for this model is 32,000 bpm. The equipment can be used with all Milwaukee® M18™ batteries. The small dimensions of the device make it easy to use it in limited spaces - its length is only 175 mm.
Rotary hammers
Rotary hammers are a kind of compromise between a demolition hammer and a drill with a stroke function. Unlike the latter, they will do much better during less demanding demolition work. A lower frequency of impacts also characterizes rotary drills, but higher energy of a single impact. They still retain the possibility of drilling; however, due to their weight, size and method of attachment, precise manoeuvring during this task will be difficult.
An excellent choice for demanding users who focus on high power and reliability. HD18 HX-402C provides a maximum impact frequency of 4200 bpm and 2.5 J impact energy. The FIXTEC system used allows simple change of working tools, and the unique AVS handle minimizes transmitted vibrations. This model has four operating modes: drilling with on/off hammer, shoeing and Variolock mode.
The equipment is equipped with a powerful and efficient brushless POWERSTATE™ motor. The maximum impact frequency of 5,000 bpm and energy of 4.1 J make this product ideally suited to professionals. The engine is powered by 28 V electricity, and the equipment without a battery weighs 4.7 kg.
Jack hammers
Jack hammers are by far the heaviest and most efficient demolition equipment, manually operated. Products in this category are intended for professional construction companies dealing with, among others demolition. In our offer, you will find hydraulic, pneumatic and petrol hammers. We have solutions tailored to the needs of each user, providing the highest class devices with a high degree of reliability and performance.
A 2.3 HP petrol engine powers the BH 65 model. This equipment has a high impact energy of 65 J and the best power-to-weight ratio of the device. Users will also appreciate the low level of vibrations transmitted to the upper limbs, which is 4.6 m/s².
This equipment belongs to medium multi-purpose hammers. Perfect for crushing asphalt, concrete, masonry and frozen soil. The discussed model is equipped with a vibration reduction system (VR), which makes working with this device more comfortable and does not require frequent breaks. The BRK 55 VR weighs 26.5 kg and operates at an operating pressure of 110 - 125 bar.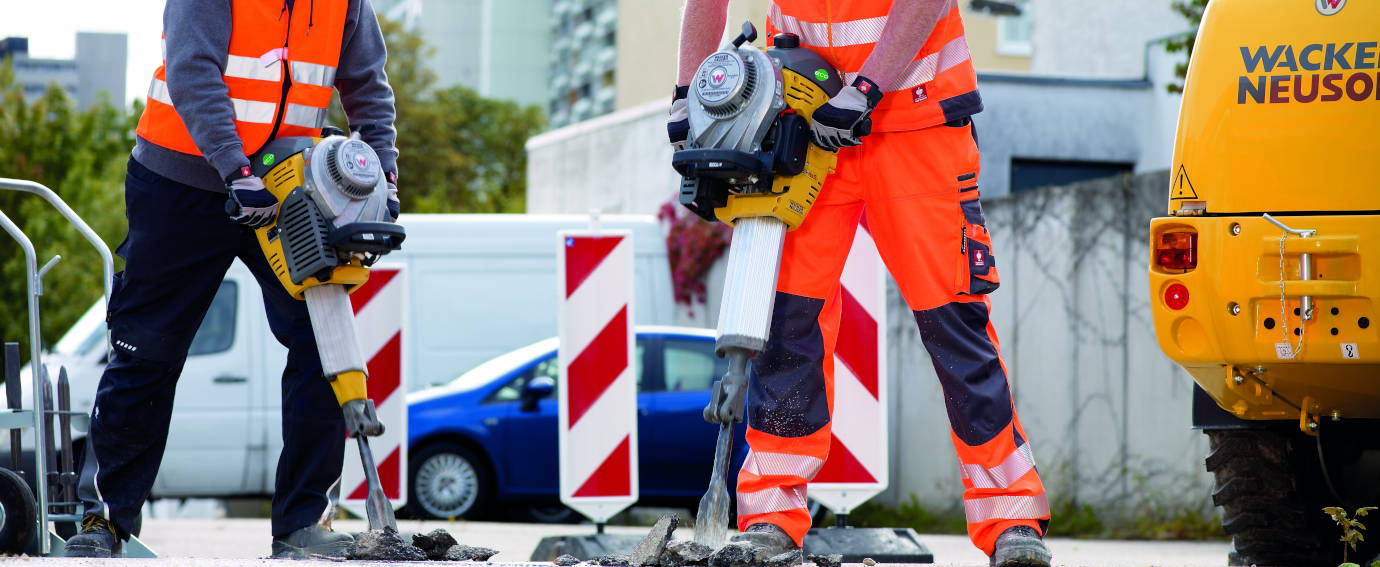 Gasoline breaker Wacker Neuson BH 65
Demolition robots
Demolition robots are premium class equipment whose versatility will be appreciated by the most extensive construction and demolition companies. The purchase of a demolition robot is justified primarily by the safety of employees.
Thanks to the remote control, the machine operator can stay in a safe place. The risk of injury due to falling fragments of debris or a violation of the structure at the site of demolition has been virtually eliminated. The dimensions of demolition robots also deserve a plus. For DXR robots by Husqvarna, the machine width does not exceed 780 mm. This allows you to manoeuvre the robots, even in narrow spaces effortlessly. The compact size is also a lot easier when transporting these machines.
DXR 140 is the smallest demolition robot in this series. A 15 kW electric motor powers it. The robot has a maximum working range of 4.4 m up and 3.7 m forward. The machine weighs 985 kg, so its transport to the demolition site should not be a problem. The machine operator controls it using a remote control with a Bluetooth module, which range is up to 100 meters. The width of this model is 771 mm, and the length including the boom is 1614 mm.
This machine is the most potent remote-controlled construction robot with a telescopic arm. It is equipped with a 22 kW electric motor and has a maximum working range of 5.5 m upwards and 5.2 m forward. The DXR 310 model has a much higher weight compared to the previously discussed position - 2020 kg. It is also slightly wider (780 mm) and longer (2057 mm with the boom).