Spring is the perfect time for smaller or larger garden works. Special tools that affect the speed and quality of performed tasks are helpful in such activities. The market abounds with various solutions, tailored to the needs of both beginners and more advanced users. Cordless garden tools have been recently gaining huge favor. Thus how did they owe their popularity?
Cordless garden tools – advantages
The first question that may arise is when battery garden tools work best. They will certainly be an ideal solution when working in a small area. A small or medium-sized garden is a great opportunity to buy battery-powered garden tools. Compared to devices with an internal combustion engine, battery types do not generate exhaust gases and work much quieter. There is also no risk of accidental spillage of flammable fuel, which unfortunately can happen when refueling combustion equipment.

Users who value the power of garden tools also do not have to feel worse. Modern battery tools are extremely efficient, work longer on a single charge, and can cope with even more demanding tasks. Cordless tools, due to their affordable weight, can be used by women and the elderly. They also do not require specialized maintenance and regular service inspections. The design of this equipment is very simple and almost trouble-free.
What can we find in the offer?
Almost all corded and internal combustion tools can be replaced with battery-powered versions. Our offer includes light and efficient hedge trimmers, grass trimmers, mowers, and chainsaws of the proven Ryobi brand. All this equipment is distinguished by the highest quality, affordable price, and short battery charging time. The offer also includes wired and combustion garden tools. Let's take a look at the gardening equipment we recommend.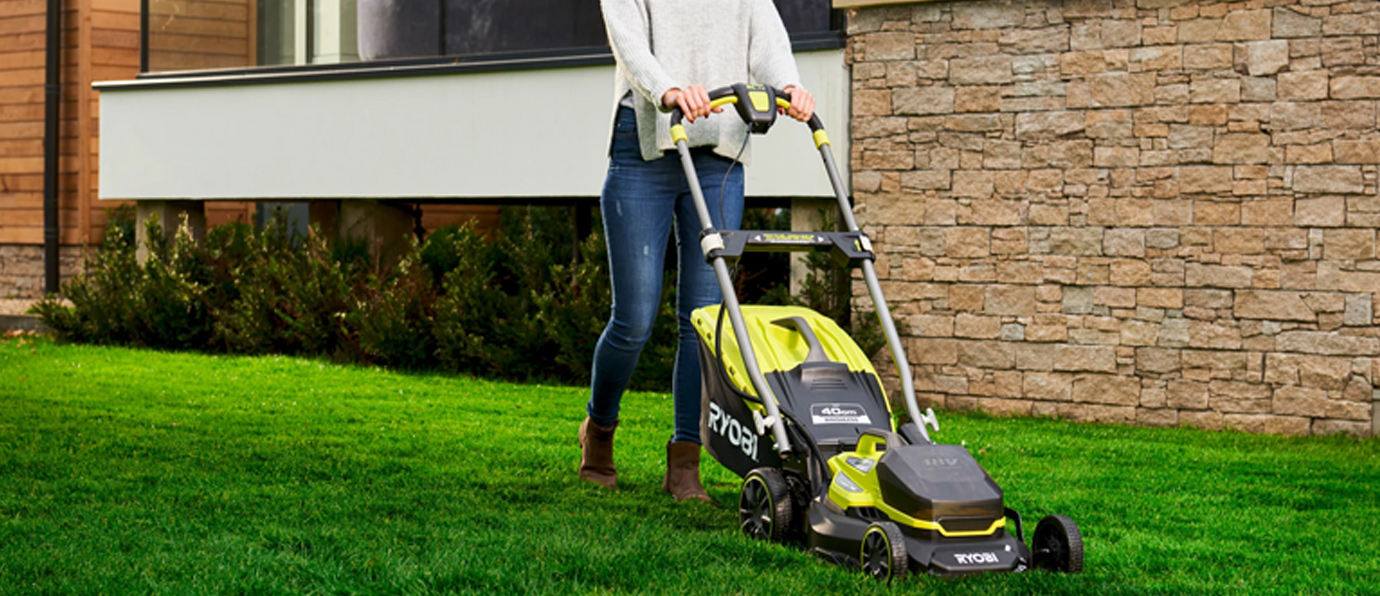 Ryobi cordless lawn mower
Recommended Ryobi cordless garden tools
In the beginning, the Ryobi RLM15E36H electric lawnmower is worth recommending. It has a 1500 W electric motor and a cutting width of up to 36 cm. This mower has a 5-step height adjustment and a 45-liter grass catcher. The operation of the device is very simple and requires no effort. The mower weighs only 11.5 kg, and special Vertebrae™ handles affect the comfort of working with horizontal and vertical positions.

For trimming grass in hard-to-reach places, a Ryobi RLT1832-25F cordless grass trimmer weighing only 2.8 kg will be useful. It is equipped with an automatic feeding system and EasyEdge™ function, which allows you to quickly change the operating mode between undercutting and trimming. The cutting width is in the range of 25 – 30 cm, and the battery charging time is just 75 minutes.

The handy Ryobi RHT1851R25F 18 V hedge trimmer weighing 3.2 kg (with battery) and a 50 cm blade will work for tasks requiring greater precision. The distance between the knives is 22 mm, which, combined with the sawing function, allows you to cut even thicker branches. This model is also equipped with an Anti-jam system to prevent accidental blocking of the blade and a HedgeSweep™ attachment for easy removal of truncated tools.