Bomag Fayat Group does not need to be presented to anyone. It is one of the most valued manufacturers of construction equipment, specialising in the production of equipment for compaction of soil and asphalt. For our customers, we have great information: iSprzęt.pl became the official distributor of Bomag in Poland, and our offer has expanded to include rammer and compactors of this company. This is an excellent opportunity to take a closer look at the range of the manufacturer's equipment. Get Ready!
rammers - friendly to the operator
The review begins with the smallest thickening devices in the Bomag range. The manufacturer offers models with four-stroke engines (gasoline and diesel), including the world's first beater powered with propane (marked as G). The petrol versions are characterised by quiet operation, compact design and very low vibration transmitted to the handle. In turn, diesel oilers are designed for the toughest jobs and compaction of, particularly problematic soils.

All Bomag rammers provide the operator with maximum comfort through, among others, headband with adjustable height and vibration dampening. It is worth mentioning practical switches and switches (engine and fuel supply) that significantly increase the operator's safety.

The two-stage, dual air filtration system used in the BT fueled gasoline models, as well as the Bomag lubrication system, which ensures optimal oil flow in the crankcase in all positions, is worth emphasising. The engine also uses an automatic oil level control system.

Our customers have much confidence in Bomag equipment, as evidenced by the fantastic sales results of the BT 65 model with a capacity of 2.8 kW. It is the most powerful rammer in its class. It is equipped with a foot 280 mm wide, and its weight is 68 kg. The rammer works at a speed of 20 m/min, covering the working surface at a rate of 336 m2/h.
Universal single direction vibratory plates Bomag
Bomag offers models of one-way compactors with a working weight from 47 to 122 kg and plate width from 300 to 500 mm. All have been equipped with a folding head mounted on silent-blocks to reduce vibrations. The list of options includes a plastic plate that protects the surface from damage. In selected models of BP Bomag compactors, a water tank with increased capacity and a fill indicator was used.

The Bomag one-way compactors can be a model in terms of workmanship. A protective frame protects the structure, engine and key components. Also, all models are equipped with a V-belt cover as standard.

Bomag BP 20/50 is a flagship, 95-kg compactor, which enjoys the particularly great interest of our customers. It is driven by a 3.6 kW Honda engine that generates a turnover of 3,600/min. The device operates at a working speed of 30 m / min and is equipped with a working plate with a width of 500 mm. The compactor can climb hills with a slope of up to 30%.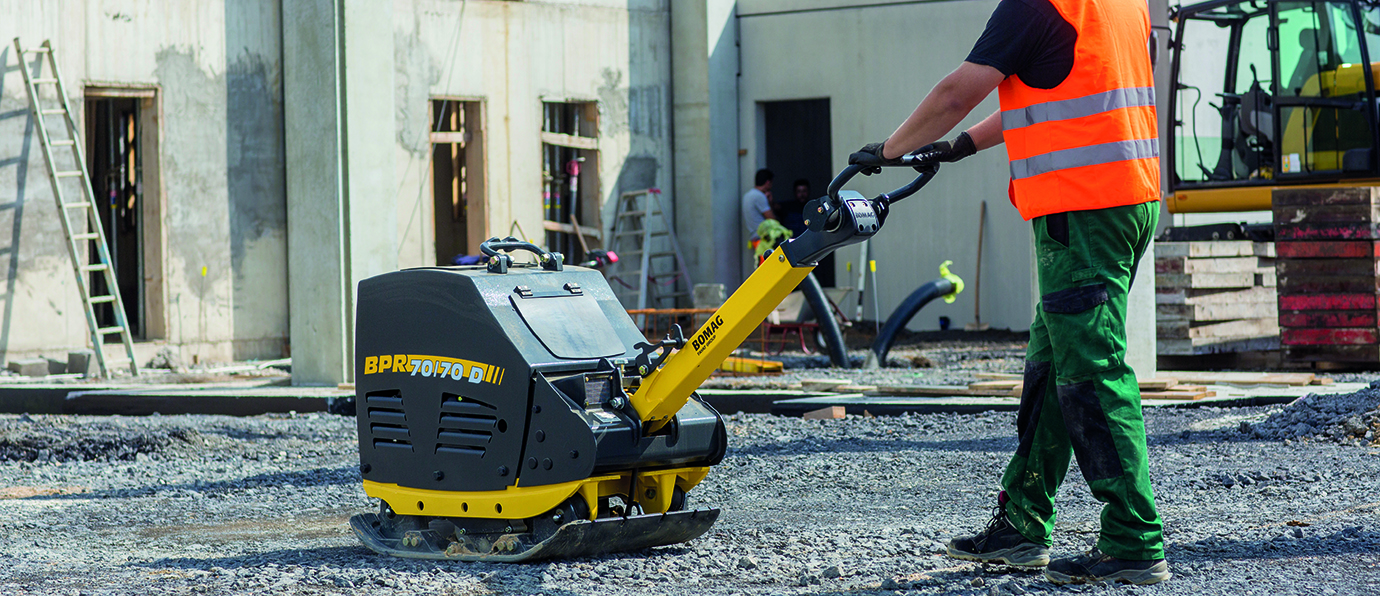 Reversible vibratory plates for heavier work
The Bomag offer includes up to a dozen or so reversing plate models and one unique because it is remotely controlled. You can choose between devices with a working weight from 135 to 750 kg. Compactors are equipped with many very useful solutions, such as the TipControl control system (available in models weighing more than 500 kg). TipControl is a hydraulic control of the displacement lever with support function, which reduces operator fatigue and enables a greater range of work within the working day. Besides, the system has been equipped with integrated reversing protection, which provides the operator with maximum safety.

Bomag Economizer is a system that has revolutionised the compaction process. It provides the operator with detailed information on the current level of soil compaction. This eliminates the need for corrections, speeds up work and reduces its cost because it saves fuel. The system is available in Bomag reversing ballasts with a weight of over 350 kg.

For customers looking for a universal, but at the same time very efficient reversing plate compactor at a good price, we can confidently recommend the BPR 35/60 D/E with electric start. A 3.1 kW diesel engine powers the device. It offers a working width of 600 mm, reaches a speed of 27 m / min and overcomes elevations with a slope of 32%. The weight of the compactor is 245 kg.
Single drum and tandem rollers
The Bomag offer includes five devices of this type - two one-drum, two two-drum and one heeled, remotely controlled, designed for work in trenches. It is worth knowing that the company started its activity in 1957 just from the production of manual rollers.

Two-drum models are equipped with a manual and electric starter as standard. Every operator will appreciate the fact that the devices have been placed on the drawbar for regulating the speed and setting the vibration mode, which is extremely convenient. It is also worth mentioning the double vibration system, folding drawbar and maintenance-free gear.

Of the Bomag manual rollers, we especially recommend the BW 55 E model with a mass of 161 kg. A 2.2 kW Honda gasoline engine powers the device. The working width is 560 mm, while the static linear load is 2.9 kg/cm.

Light thickening devices from Bomag, including all presented models, are of course available in the iSprzęt.pl offer.