Among the many devices used in construction, chain saws for concrete can boldly be included in the group of the most universal. A full application is one of the main reasons why this equipment enjoys great interest among entrepreneurs. Concrete chain saws are also available on iSprzęt.pl. Our team reviewed the most exciting models of renowned Husqvarna Construction Products and ICS manufacturers.
Husqvarna CP chain power cutters
The manufacturer's offer includes a wide range of chain devices. Husqvarna saws are known for their high reliability, safe and comfortable handling. It is also necessary to mention the high-frequency PRIME ™ technology, which offers a very high raw performance compared to competition models, as well as guaranteeing an excellent saw-to-power ratio.

Husqvarna concrete chainsaws can also be used for cutting pipes, which is useful for the original clamp designed for Ring and Chain models. It enables secure, fast and safe cutting of pipes up to 350 mm in diameter.

Particular attention should be paid to the Husqvarna K 970 Chain petrol chain cutter, equipped with a 4.8 kW, 4.8-kW air-cooled two-stroke engine and 94cc capacity. This model offers a cutting depth of up to 400 mm. The guide, which is sold separately, is attached to the saw construction through two solid screws, which increases the safety of workers.

This model is equipped with a DuraStarter system with a fuel pump - it makes the saw easier to start, especially on a cold engine. The maintenance-free starter has been protected against contamination and requires no maintenance.

The Husqvarna K 970 Chain comes with a wet cutting kit. The flow of water is adjustable, which allows the operator to control the amount of dust and translates into higher comfort under challenging conditions.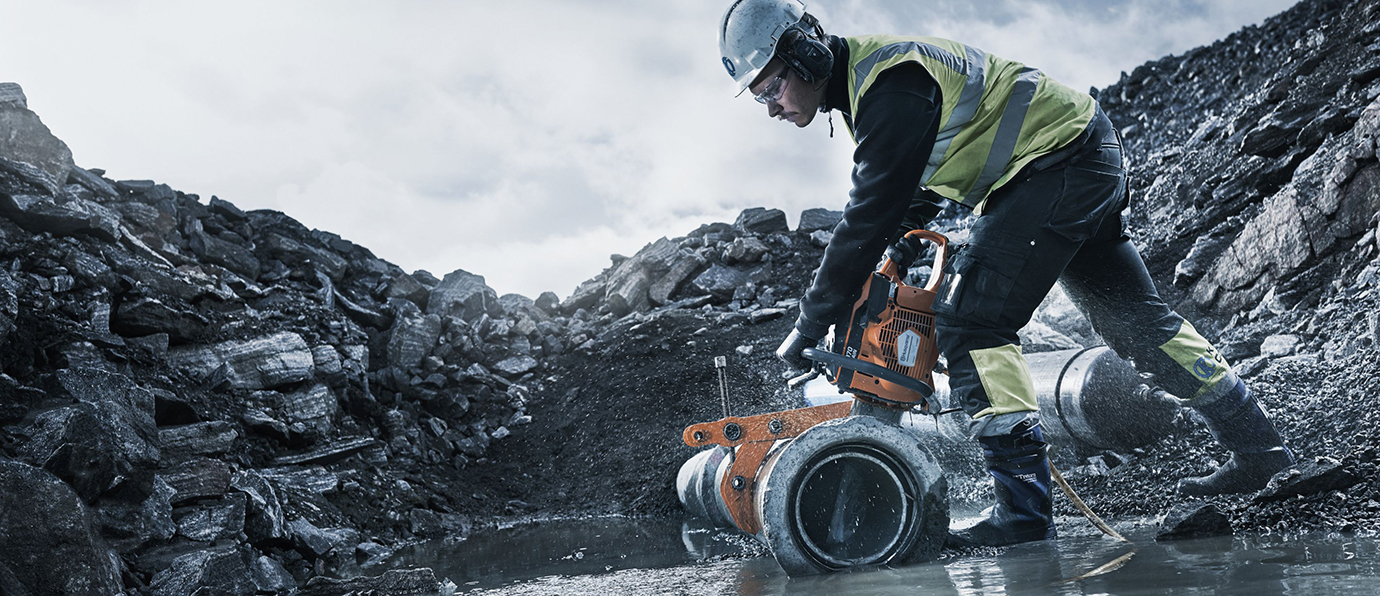 The pile also uses several other practical solutions, including an integrated, automatic filter bandwidth compensation system. Thanks to it, the device maintains maximum power throughout the life of the air filter. The presented model is also distinguished by a low level of vibrations transmitted to the handle, thus protecting the operator from injury and allowing him to work longer without tuning.

Another model that we particularly recommend is Husqvarna K 6500 Chain. This electric chain saw is one of the most capable devices on the market, especially at such an affordable price. The equipment enables cutting to a depth of 450 mm. It can be used to cut holes in corners. It can also be used to cut irregular and small holes, up to 11x11 cm.

The presented model uses PRIME ™ technology, which guarantees very high power and cutting speed. To operate the device, it is necessary to connect the saw to the PowerPack chiller. Husqvarna K 6500 Chain works with PP 65, PP 220 and PP 490. The PowerPack can be powered from a 3-phase or single-phase socket.

The advantage of this saw is a compact, well-balanced design. The device weighs just over 9 kg, which is an outstanding result concerning its power. The operator has comfortable grips at his disposal, which guarantee a very high comfort of work.
ICS chain power cutters
ICS is one of the most reputable producers of cutters for professional use. In its offer, we can find combustion, hydraulic and pneumatic models. ICS saws are an ideal choice for contractors looking for equipment to work in a small space, for cutting walls in corners and for making small holes. Cutters are also characterised by an excellent ratio of weight to power, which will be appreciated by every operator, especially after a whole day of work.

An overview of this manufacturer's offer, let's start with the ICS 680ES model, which can be used to cut light armaments. The cutter drives a 5 HP engine. The equipment offers a maximum cutting depth of 350 mm - there is a possibility of using a 30 or 35 cm guide. The set includes a guide with a Force3 ™ diamond chain, which ensures maximum efficiency and durability. Thanks to SealPRO® technology, it was possible to minimise the effect of stretching the string. You can also buy saws without a chain or guide.

The cutter can be re-equipped using PowerGrit® accessories. Then the equipment will be an ideal choice for cutting cast iron pipes to a depth of up to 250 mm. PowerGrit® technology increases the efficiency of the cutter and provides the operator with more excellent safety. Its great advantage is the elimination of the rebound effect when cutting cast iron, PVC, HDPE, LDPE, Hobas, Amitech, pulled steel tubes and Insituform sleeve.

The ICS 695XL PG-16 chain saw is a combustion model designed for cutting concrete, stone and masonry elements. It can also be equipped with a PowerGrit® series chain. This model uses an air-cooled 4.8 kW engine. Every operator will appreciate functional solutions, including a secure start system. The cutter is available as an option without accessories, as well as a set with a 40 cm guide and a PowerGrit-29 chain.

Model ICS 701-A is a pneumatic cutter with very high resistance to severe working conditions. It has been correctly protected against dust and moisture. It will be an ideal choice for cutting walls, columns and pipes, also with one approach.

Cutter ICS 701-A is compatible with guide rails from 25 to 63 cm long, as well as a full range of FORCE4 diamond chains. It can be converted to PowerGrit® accessories.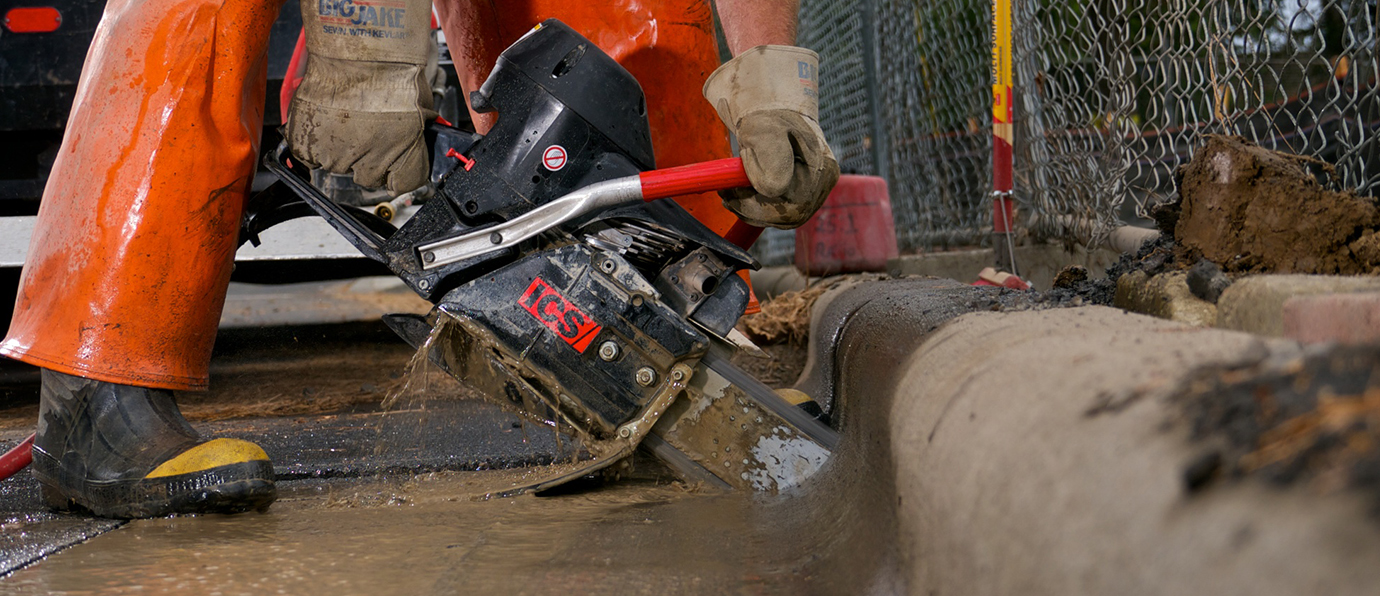 Quality of the chain also counts
Of course, the concrete cutter must be equipped with a high-quality diamond chain, which guarantees not only the right cutting efficiency but also the resistance to the most demanding working conditions. This is especially important when the saw is used to cut reinforced concrete.

Diamond segments affect the high precision of cutting. This allows you to cut small holes and carry out work in hard-to-reach places such as wall corners. A good diamond chain has a direct effect on the cutting speed and reduces the level of vibration transmitted to the saw body, and then on the operator's hands. Thus, it increases the safety and comfort of work.

Do diamond chains have a flaw? Yes, it is a high purchase price and limited durability. That's why there is no point in experimenting with products of unknown origin. It will be better to put on the chains of renowned producers, preferably original ones.

Diamond chains and all presented chain saws with accessories are available in the iSprzęt.pl offer.