We associate some producers almost exclusively through the prism of one area of activity. Undoubtedly Ammann belongs to them, a company with a reputation as a supplier of high-quality machines for compaction of soil - rollers and compactors. We present the most interesting proposals from the Ammann manufacturer.
Compactors with 3-shaft technology
This revolutionary solution proposed by Ammann was used in the APH 5030, APH 6530 and APH 100-20 models. The system with three rollers favours a significant stabilisation of the compactor plate during operation. In the case of specific phase positions, the tilting movement of the working plate was eliminated, which is a typical problem in vibrator rollers with two rollers.

Benefits are most noticeable when working with low frequency and high pitch amplitude. The effect is that these compactors have the highest imbalance in their class and guarantee the most top compaction performance.

From the operator's point of view, this solution translates into significantly higher precision in the direction of the compactor as a result of infinitely variable auxiliary control for forward / reverse motion and point vibration. The machines also have a new drawbar, which is very responsive and provides excellent manoeuvrability and less operator fatigue during operation.

Compactors APH 5030, APH 6530 and APH 100-20 stand out due to the construction protected against pollution and damage - engine and hydraulics are specially protected. It is also worth mentioning a convenient electric start, an emergency shutdown function at the end of the drawbar and a tilting suspension of the central point. All this improves the comfort of work, and thus its efficiency and safety.

Each of the compactors can be equipped with an optional ACEeco system, which is a development of the well-known Ammann solution. The indicators on display regularly inform the operator about the current and maximum level of compaction of the ground.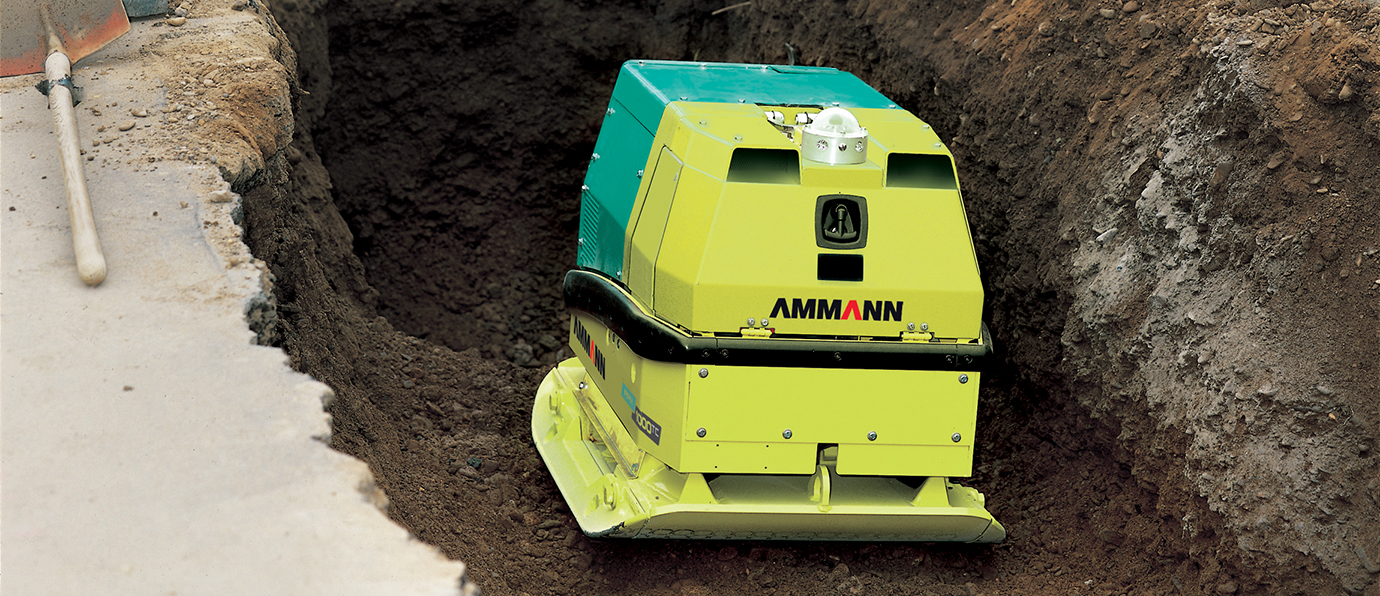 remotely controlled Reversible compactors
The representative of this class of machines is the Ammann APH 1000 TC compactor with a working width of 650 to 800 mm, equipped with a Hatz diesel engine with a capacity of 15.4 kW. Such a device works perfectly in places where the operator's safety could be endangered in some way, i.e. in a deep excavation. Said an infrared remote control can control compactor. The machine offers excellent power, but at the same time, it retains a compact size, thanks to which it can be successfully used to work in narrow trenches and hard to reach places. Ammann APH 1000 TC has a sealed housing that facilitates maintenance work and an efficient filtration system with active separation of solid particles. An additional advantage is the hydrostatic drive of the shaft by a hydraulic motor.
hydraulic compactors for excavators
These are unique compactors designed for weighty and hazardous work, operated through the hydraulic system of the excavator. Ammann offers the following models: APA 20/30, APA 20/40, APA 55/46, APA 55/56, APA 72/74, APA 75/74 2M, APA 75/74, APA 100/88 2M, APA 100 / 88. Machines differ in typical working parameters, including weight (from 360 to 1180 kg), compaction width (from 460 to 880 mm), length (from 950 to 1226 mm) and purpose depending on the weight of the excavator (from 12 to 40 tons).

The assembly system created by Ammann is so versatile that the compactors fit virtually every famous excavator available on the market. Changing the accessories happens automatically or manually - it is very convenient and fast. The operator can adjust the compactor depending on what task will be currently carried out. The equipment is ideal, among others in ditch compacting for water or sewage installations, construction of roads and tracks or preparation of soil for bricklaying work.

Ammann once again shows what is consistently building an offer of professional equipment tailored to the needs of every entrepreneur: from a small paving company to a construction corporation. This is a great convenience for customers who know that by looking at the manufacturer's catalogue they will always find a device that is currently necessary for them. Also, when it stops, it will not be a problem with its subsequent resale - Ammann devices enjoy an excellent reputation on the market.