This year's Poland's golden autumn is conducive to rest, but also construction works. iSprzęt.pl, however, keeps its finger on the pulse and presents the offer of air heaters in advance. We know that more and more cool days, and later winter frosts will slow down the pace of work, so we want to help to remedy this. We will present the offer of Remko and Wacker Neuson, and we will describe the types of heaters available on the market briefly.

Air heaters, as the name suggests, are devices that generate warm air through various heat exchangers immediately after starting. The simplest example of a heater can be a hairdryer, in which the electricity is converted into heat using a heater. Expertly, it can be said that to start the heating process, it is necessary to create the right amount of energy beforehand and turn it into heat. This can be done in several ways and using various energy sources.
Breakdown due to the type of Fuel
Electric heaters produce heat through electricity, which is converted using a heater or infrared heater into thermal energy. You can also find electric air heaters in which the heating medium is water.
Gas heaters - provide relatively cheap and safe heating.
Oil heaters (usually fuel oil, oil or mazout) - fuel is burned to obtain heat. They are characterised by high efficiency.
DIVISION OF COMBUSTION HEATERS
Air heaters with flue gas discharge - combustion takes place in a closed chamber, and the air is heated by a heat exchanger, thanks to which the flue gas is separated from the heated air.
Air heaters without flue gas discharge - the air is heated directly by the flame of the fuel burned and connects to the fumes.
The handling of the described devices is also essential. The heaters can be portable or stationary. The former can be used for heating air in small offices, warehouses, production lines or renovation works in unheated buildings. They are usually efficient, on transport wheels so that they can be easily used in various places. Portable heaters, despite the name indicating small dimensions, can be handy. It is worth to look, among other things, on the offer of portable combustion heaters. The stationary heaters are entirely different. They can also be called interchangeably central devices. These are real combines for heating large surfaces with both fuel and gas. However, to be able to use their power one hundred percent, you need to take care of an appropriate system of ventilation shafts or heating sleeves. They will be used in huge halls, factories or farms.

The Remko company is a leading and recognizable producer of heaters, air conditioners and dryers. Below we will describe the most popular series of devices for heating air.
Remko ELT - is a series of electric heaters that quickly and efficiently get heat wherever needed. Such heaters can be used in residential, catering and small rooms. They can also be used in greenhouses and tents. Individual models differ in performance and dimensions.
Advantages of Remko ELT electric heaters
Can be used even in non-ventilated rooms;
Heating elements made of stainless steel;
Environmentally friendly;
Low noise level;
Automatic operation;
A thermostat can be installed;
The ELT 18-S model has the additional option of installing an elastic air duct, thanks to which we can direct warm air into various corners and ventilation shafts;
Remko PGM and PGT - are point-type gas heaters. The PGT series is additionally equipped with a waterproof thermostat. Connect the device to the gas cylinder and to the electricity to start heating. They can be used on construction sites, in well-ventilated halls, but they can also be used outdoors. These types of heaters are great for agriculture and commercial gardening. The latest generation devices (Remko PGT 100 INOX) have an additional built-in power regulator, and combustion is more efficient thanks to a few point gas injection.
Advantages of Remko gas heaters
Simple service;
Cheap operation;
The PGT series is fully automatic;
Gas pipes allow you to connect several gas bottles at once;
The casing is made of double, galvanised, powder coated sheet;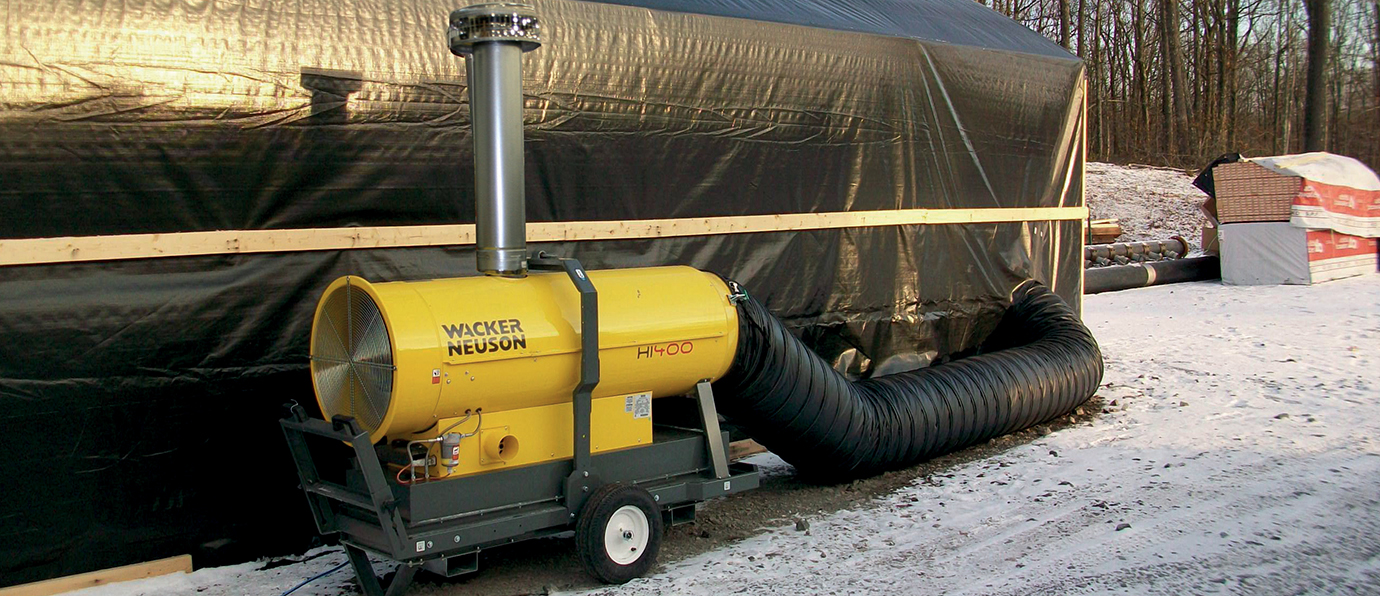 Wacker Neuson air heaters
Wacker Neuson is a company that you do not need to present because it offers a variety of construction equipment and machines, which we have written many times on our blog. This manufacturer also provides a range of products for heating. It is worth highlighting and describing the following models briefly.

Wacker Neuson HDR45 - is a 45 kW spot heat spot infrared heater. When using this device, we do not heat the air around, but a specific place. It is a portable heater for diesel (without flue gas), so it can work where there is no access to electricity. It can be optionally controlled through a thermostat.

Wacker Neuson HD50 / HD70 - are heaters without exhaust. They can be used in well-ventilated rooms and will work great on construction sites and large warehouses. They are very safe devices because they are equipped with a safety temperature limiter and flame control. Thanks to high-quality components such as the stainless steel combustion chamber, Wacker Neuson guarantees a long service life with minimal service. The HD50 model can heat to 6,000 m3 and its larger brother up to 8,500 m3.

Wacker Neuson HI35 / HI60 / HI90 / HI120 - are heaters with flue gas discharge. They differ in their power - from several dozen to over 100 kW. They guarantee warm air without burning residues. They have a huge tank guaranteeing continuous work for several hours and pneumatic tires to facilitate transport around construction sites. Extended versions of the HI60 Heavy Duty or HI90 Heavy Duty are available, which can work at temperatures down to -40 ° C.

Choosing the right fuser is not always a simple task. The most important thing is to determine the place that we will heat, for example, an office, agricultural warehouse or a production hall. Then, it is worth measuring the surface - it's crucial to determine the efficiency of the heater. Still, another fundamental issue is access to electricity and the condition of the electricity grid. You also need to pay attention to the ventilation system in the room, which we will heat. When buying a heater, we encourage you to contact our specialists to choose the best device. Before that, however, be sure to look at the products available on our website.