Drills belong to cutting tools. Their main task is drilling, i.e. making holes in various materials. Depending on the construction of the drill, it is possible to process surfaces such as wood, concrete, brick, metal and much more – also glass. We present the most crucial information related to drills, their use and construction.
TYPES OF DRILLS WITH ATTENTION TO THEIR CONSTRUCTION
TWISTING DRILLS
It is the most popular type of drill, used to make cylindrical holes in many materials. They are made of high-speed steel, tool steel or cemented carbide. Twist drills are used to make holes ready for further processing or subsequent threading.
They are suitable for drilling holes with larger diameters, even in sturdy materials. Core drills are most often made of steel, diamond or cemented carbide. They differ significantly from classic twist drills. Core drills resembling a tube are used for deep hole drilling – also through the inside. Drills with a pot-shaped tip are used to drill shallower holes. This type of training is used for such materials as brick, concrete, stoneware, stone, ceramics as well as glass. One of the most popular manufacturers of diamond core drills includes Husqvarna, Tyrolit and Dr. Schulze.
SPIRAL DRILL BITS
These are typical drills for drilling in wood. Their chip groove is large and specially shaped to remove excess chips effectively. They are adapted for drilling holes of small diameter and depth. Thanks to the unique centring cone, the twist drill penetrates the material better and is more stable during drilling.
PEN DRILL BITS
Otherwise called paddle or flat drills, they are also used for drilling in wood. However, they are characterized by lower precision than the mentioned twist drills. They can, in turn, be used to drill larger holes, up to 45 mm in diameter. Feather drills do not have the characteristic grooves for removing chips, and consist of two coils arranged straight. This drill can be successfully used for manual drilling.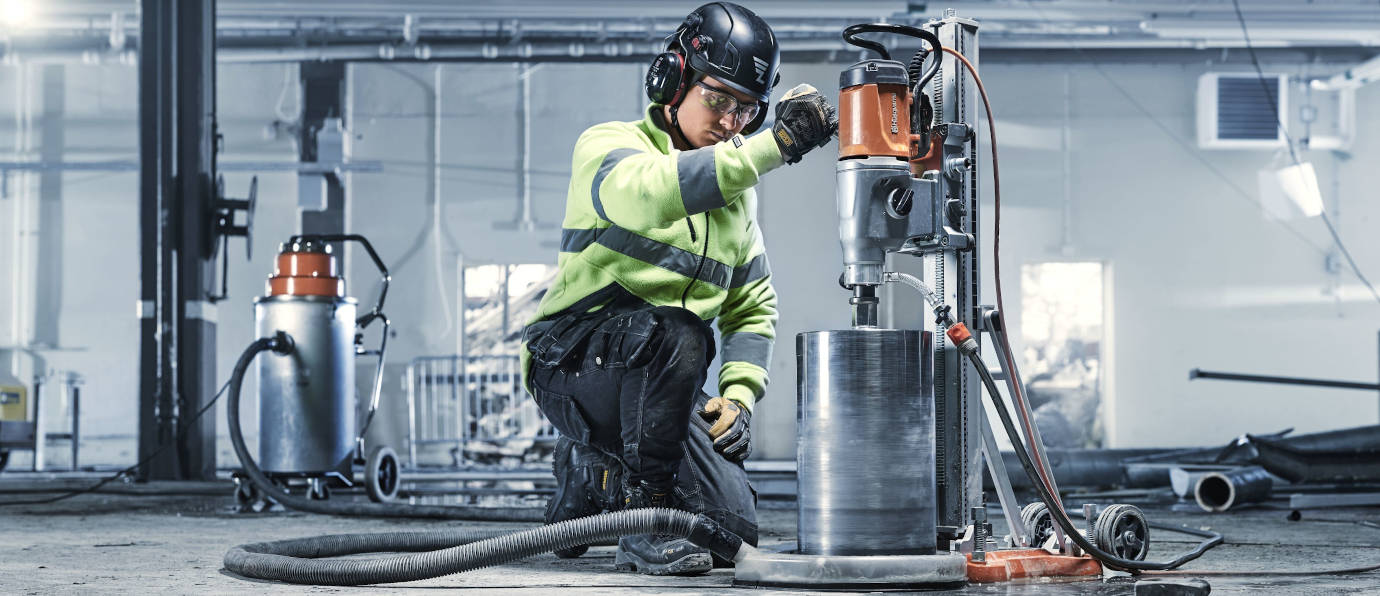 Core drill Husqvarna DM 400
CONCRETE DRILL BITS
Drilling in concrete and similar materials, such as brick or stone, requires the use of appropriately durable drills and powerful power tools. For drilling in concrete, mainly widia, diamond and impact drills are used. As for the type of drill, they are usually typical twist and core drills. For core drills, you can find models up to 500 mm long. Drilling in reinforced concrete requires the use of extremely durable drills. For this purpose, titanium-carbon twist drills or individual diamond core drills work well. For drilling holes with larger diameters in concrete, core drills are used. This equipment, in combination with diamond core drills, can easily break through thick concrete walls - including reinforced ones. The leading producers of core drills are Husqvarna, Milwaukee, Tyrolit, Dr. Schulze, Chicago Pneumatic, Atlas Copco.
DRILL BITS
Drilling in wood can be done with several types of drill bits. The main thing is to properly adjust the drill to the purpose of the hole, its diameter and depth. For medium-sized holes, twist drills can be used. If we want more precision, reach for twist drills. Of course, for drilling in wood, you can use the pen drills adapted for this and discuss earlier. However, we must reckon with their lower accuracy.
DRILL BITS FOR TILES AND GRES
It is not necessary to prove that both ceramic and porcelain tiles are sturdy materials. This means that for drilling in them, use appropriately durable tools. You do not have to think for a long time about choosing the right drill for these materials - of course; it's best to opt for diamond drills or individual carbide drills (so-called widia). They are strong enough to handle such hard work. As for the type of drill, mainly twist drills, core drills and individual fin drills are used.
DRILLING EQUIPMENT
The market abounds in various types of drilling equipment. The most popular devices are probably all known drills, screwdrivers and hammer drills. The selection of the right stuff in this category is vast. We offer products of the proven Milwaukee brand. Power tools of this manufacturer are characterized by the highest quality, power and durability.