Today on the blog in the isprzęt.pl store you can read about vacuum cleaners. The principle of operation of these devices is well known to us, but not everyone is aware of how many activities they can be helpful, and sometimes even necessary. In the article, you will find information about the types of vacuum cleaners, classes of industrial vacuum cleaners and interesting functions that facilitate service and improve safety and care for work hygiene. In brief, we will write about what HEPA filters are and why it is so important to take care of clean air in the workplace.

The basic division of vacuum cleaners is the division into household vacuum cleaners and industrial vacuum cleaners. Well-known home vacuum cleaners are offered in virtually any RTV-AGD store. The growing demands of consumers have led to additional features being more important than price, power, design. One of them is the possibility of mounting the HEPA filter. This filter purifies the air, which is first sucked in with dust and then blown back into the room. The energy class of devices and the level of noise generated by them are also important. It is also worth checking what accessories will be available with the vacuum cleaner or what will suit them later. This is crucial because at home we often vacuum different surfaces ranging from carpets, panels, boards, finishing on raw concrete and hard-to-reach nooks, for example in the car.

More advanced vacuum cleaners are those that can work wet. With this solution, you can clean in damp places and were just something spilt. We can also spray the polished surface, for example with warm water, so that we can get a washing effect and prevent the dust from moving in the air - which will be appreciated by every allergy. When discussing this category of vacuum cleaners, it is worth mentioning the washing vacuum cleaners, which also have the function of spraying detergents, thanks to which we can effectively clean car interiors, armchairs, carpets.
Central vacuuming
Vacuum cleaner manufacturers also offer so-called central vacuum cleaning systems. The high power vacuum cleaner (adapted to work in houses with an area of 100 m2, up to 500 m2) is centrally mounted in, for example, a basement, and a system of pipes and sockets located throughout the house is connected to it. To start the vacuum cleaner, connect the flexible pipe to the socket and start the vacuum cleaner with the button on the "handle". The advantage of this solution is that you can vacuum and not make noise at the same time, which until now seemed impossible and the problem of dust drifting disappears. It also turns out that the cost of assembling such a system is not at all discouraging. It should be remembered that the maintenance of such a system is more complicated and expensive because you need to ensure the cleanliness of the system so that the unpleasant smell does not rise.
industrial vacuum cleaners
They are, in turn, of great importance during construction and maintenance works, as well as during the automation of the production process, cleaning of various surfaces and removal of dangerous substances. An appropriate type of industrial vacuum cleaners can be used where sterility is essential, e.g. in laboratories. Professional vacuum cleaners can also work near electronic devices sensitive to floating dust. Below you can see how many types and uses of industrial vacuum cleaners:

We distinguish industrial vacuum cleaners:
single-phase or three-phase devices for dry and wet applications
to explosive zones
to dangerous dust
for oils and wood shavings
for the food, pharmaceutical and OEM industries
In construction, it is important to drain dust and sludge
For construction companies, the biggest problem during works is dust and sludge. This happens, for example, when drilling, cutting or grinding. One of the best ways to control dust in such situations is to use water, which is associated with the resulting dust, creating sludge and preventing the dust from rising. Unfortunately, in many places the use of water is impossible, then it is best to use an integrated dust separator connected to the device, and then to a specialist vacuum cleaner with a suitable for a given application airflow and efficiency and equipped with HEPA H13 filters. It should be added that industrial vacuum cleaners are designed to suck up not only dry dust but also sludge extracted during wet work.
The smallest dust particles are a challenge
Floating dust on construction sites is not welcome for two reasons. The first reason is, of course, the issue of maintaining order, but it is not the most important thing. First of all, it is about the hygiene and working conditions of people staying in a given place. Small particles of dust are very often different substances, often harmful to health, and above all to the human respiratory system. While in a very simple way you can eliminate the thick dust visible to the naked eye, this is not so easy for the smallest particles. On this occasion, it is worth mentioning dust separators that effectively deal with catching larger dust particles. Very often there are many different undesirable substances in the air, and we do not even know about it. In the case of the European Union, acceptable air standards are defined. Hence it is worth writing a few sentences from the HEPA H13 filters.
HEPA H13 filters
HEPA is short for English High-Efficiency Particulate Air filters, i.e. high-efficiency particulate filters. The HEPA standard (EN 1822-1) is divided into several levels (from E10 to H14), depending on the efficiency of filtering. Most reputable manufacturers of industrial vacuum cleaners use H13 level filters capable of separating 99.95% solids from 0.15 to 0.30 μm. Particles of this size are the hardest to catch - both larger and smaller easier to stop on the filter.
Classes of industrial tools
We distinguish three classes of industrial equipment. Class L - the main application of such vacuum cleaners can be found in the carpentry industry. The M class is characterised by vacuum cleaners, which are perfect for construction works related to the treatment of concrete, stone, etc. Class H - designed for the most challenging tasks related to the removal of carcinogenic dust, and especially hazardous to health.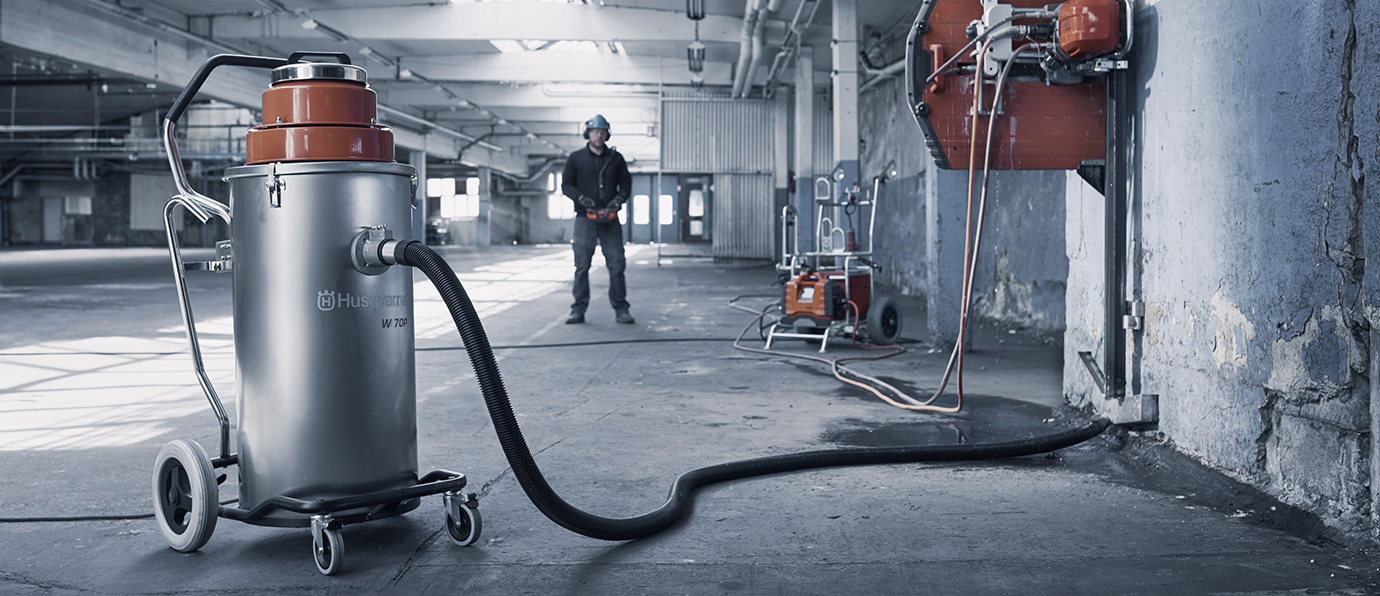 Isprzęt.pl recommends WET VACUUM cleaner WITH PUMP HUSQVARNA W70P
It is a vacuum cleaner for the most challenging tasks in its class. The advantage is that the most important components are made of stainless steel. It can handle the removal of concrete pulp, oil or coolant for machines. A powerful pump can handle the material up to 9 m up or 200 m horizontally. An additional advantage is the high-quality, puncture-proof wheels that will not leave marks on the floor.
Additional features of the vacuum cleaner that we can meet:
Cooperation with power tools - the ability to connect the vacuum cleaner to other devices and machines, so that you can clean up the waste. An example here can be a drill, a grinder, a chaser or a wood saw.
External blow function - reverse operation of the device, which involves blowing air outside, which allows you to blow different surfaces and nooks, including electronic devices.
Semi-automatic method of cleaning the filter - by creating a wave of air acting on the filter from the inside to the outside.
Filter cleanliness indicator - communicates to us about the loss of vacuum cleaner performance and the need to clean or replace the filter.
As you could read above - you can write a lot about vacuum cleaners. This is mainly due to the versatility of their application, as well as the simple principle of operation. Probably you can match the right vacuum cleaner to every home or building work. Therefore, we encourage you to contact specialists from our store. Isprzęt.pl is your best source of professional information.