Once again, welcome to our blog and today we strongly encourage you to review our articles regularly. You will find here much information, which from time to time we will complement and develop for further topics. In the previous month, if you remember, we wrote about drill motors.. You could read about their types, different applications and gave examples of equipment from our offer. However, you have to realise that these devices would be useless if not for a specialist drill. What are the drills? We invite you to read it.
drill bits are used for core drilling
Diamond drill bits are specific drills, used to make deep holes with different diameters in hard materials. Their appearance is different from the standard drills installed in the borers known to all of us. Crown drills resemble a pipe with a hollow centre terminated with abrasion-resistant diamond segments and are used for drilling through the hole. You can also meet such drills that will more resemble the shape of a pot - these are better for drilling wide but shallow holes.
Wide use of Drill bits (diamond)
Diamond drills allow drilling in a variety of materials. The hardest and the most difficult of them are concrete, even the heavily reinforced concrete. Where else can you use such drills? For drilling in granite, in natural stone and natural sandstone, in brick, in a block of blocks and asphalt. Besides, you can choose the right length of the drill and its width. Optionally, you can use extensions that extend the length of the drill. The main advantage of diamond tools is that you do not need to use a stroke and unnecessarily break the drilled material. As a result, the holes created are symmetrical and can be perfectly adapted, for example, to the installation of pipes. Also, it should be remembered that crown drills can be significantly damaged or even destroyed if they are connected to a device with a stroke.

An exemplary classification of diamond drills by one of the leading brands on the construction market

Husqvarna has divided its bits into four series: the Elite-Drill D 1400 series with the revolutionary Diagrip technology, which features the highest gold drill capacity, the Vari-Drill series offering laser-welded silver-class tools, the D600 series for glazed drilling and the Tacti Drill series of brown class for less regular use in more challenging jobs.

Choosing the right series is an individual matter, but we always encourage you to contact our specialists in this matter.
drill bits can be regenerated
Diamond drills are not the cheapest, but the tasks they face are not the simplest. Is it worth investing in more expensive, more efficient drills? We answer that yes. Why? Because it is an investment that will pay sooner or later. A better quality drill is longer work, greater efficiency and comfort of work. Another argument is that the drills can be regenerated later, that is, replace the diamond segments leaving a solid body.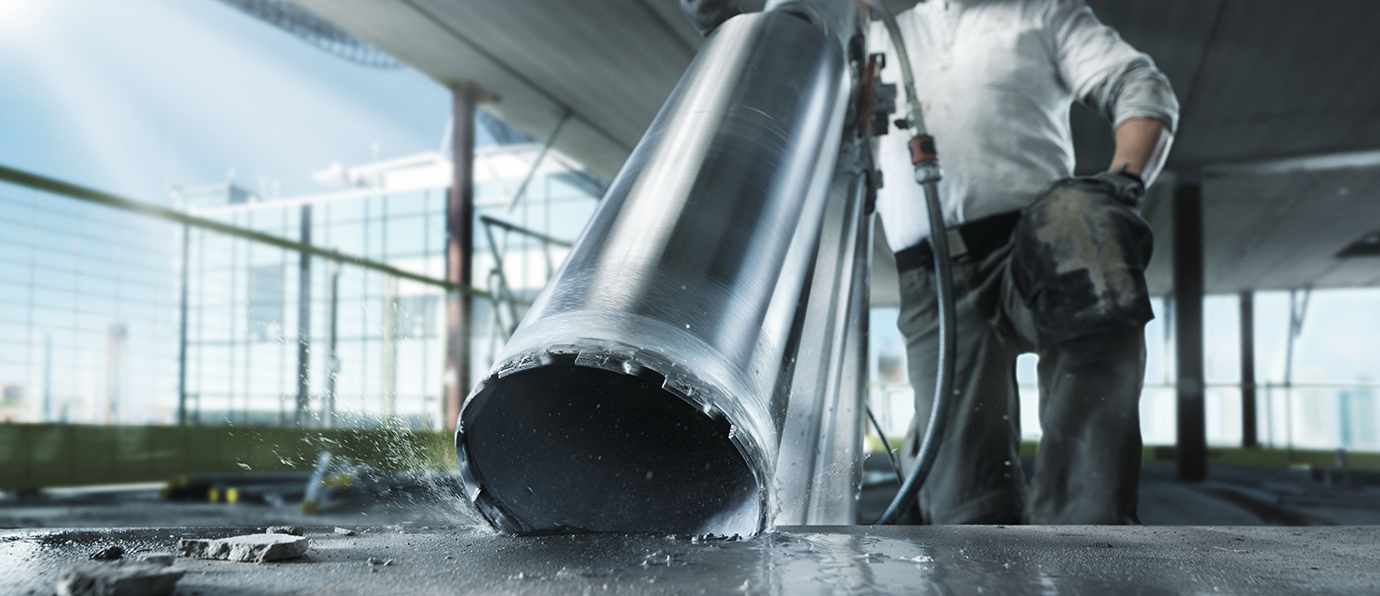 Isprzęt.pl recommends the highest grade drills
One of our bestsellers is the Husqvarna Elite-Drill D1420. It is a drill with a golden series, created for the most demanding customers. The drill bit is characterised by high resistance to wear during intensive work. The D1420 is equipped with a tip consisting of diamond segments with Diagrip technology, in which the diamonds are optimally distributed, allowing them to be evenly used. This translates into a smooth, quick cut even in heavily reinforced concrete. The drill can drill at almost half a meter with diameters ranging from 16 mm to 350 mm.

To choose the right drill bit (diamond), it is worth looking closely at the full range of our store. On the website isprzęt.pl, there are simple but accurate descriptions of products and high-resolution photos for preview. In case of questions, our clients receive professional advice, and they are sure that the purchased equipment is of the highest quality, reputable companies.

We are aware that the investment in a professional drilling rig, tripod and crown drill is reserved mainly for specialists in the industry who deal with it daily. However, for individual customers, we recommend offers for core drilling services. Thanks to the diamond technology, even minor renovation work at home, which could be associated with cumbersome forging in the wall or concrete, can be completed much faster and more precisely.
How to drill correctly?
Make sure that the drill is stably inserted into the hard material using a suitable tripod.
Adjust the appropriate drilling speed to the drilled material by setting the right gear on the drilling rig
If you do not know if the concrete is heavily reinforced, start drilling slightly more slowly and more carefully
Check that all components are securely attached to avoid vibrations that can damage the drill and even the drill itself
It is necessary to take care of the technical condition of the drilling rig and use only proven sharpened drills
It is required to ensure health and safety at work (OHS)
At the end
It is essential to realise that core drilling is not merely drilling. Drilling rigs are often machines with very high torque. In the case of drilling holes with small diameters, such as 50 mm (although this is a conventional boundary) - you can drill "out of hand" but when making large holes is not recommended. A high power drill set and a crown drill with a larger diameter (over 50 mm) is a considerable weight and even if an employee can pick it up and start working it must be remembered that the high power of the device and the hard material can lead to dangerous situations, which nobody We do not wish you.