When looking for the right construction equipment, our clients often face a difficult choice. At iSprzęt.pl we offer, among others, expensive, top-class stuff, as well as cheaper, equally suitable for less professional tasks. Of course, our specialists always try to advise reasonably, and besides, help to specify what the products must meet requirements. What is different will be needed by a large road building company, and another one-person company dealing in small finishes and renovations.

An attractive alternative, which is characterized by a different price-performance ratio, is offered by Wacker Neuson. We're talking about M-Series products here. They are solidly designed and provide high quality well known among users of Wacker Neuson machines. M-Series is equipment that can be described in three statements: "power", "reliability" and "readiness to work". Under these words, there are many advantages, including:
long service life;
low maintenance requirements;
functionality;
versatility;
security;
effectiveness.
Power generators
M-Series aggregates are economical, durable and portable devices that people with a small budget can afford. The smallest MG 2i is also the lightest product. It weighs only 21 kg, generates 1.6 kW rated power (one phase), has an eco mode (automatic load dependent rotation) and is adapted for quiet operation, and at the same time generates the minimum amount of fumes. Nevertheless, its most significant advantage is the construction itself. It is very ergonomic and suitable for transport in one hand so that the MG 2i can be used anywhere. It is intended mainly for immediate and home use. In turn, larger models of this series, from MG 3 to MG 10, are devices for use on the construction site, in industry, the trade or agriculture. They are built from a tubular frame, have additional steel covers, comfortable handles, and in more powerful models also transport wheels. Their significant advantage is also built-in top-class shock absorbers that minimize vibrations, thus extending the life span. The heart of these generators is 4-stroke gasoline engines, air-cooled. The weight of these aggregates ranges from 47 kg to 143 kg (without fuel) while generating nominal power from 2.8 kW to 8.5 kW.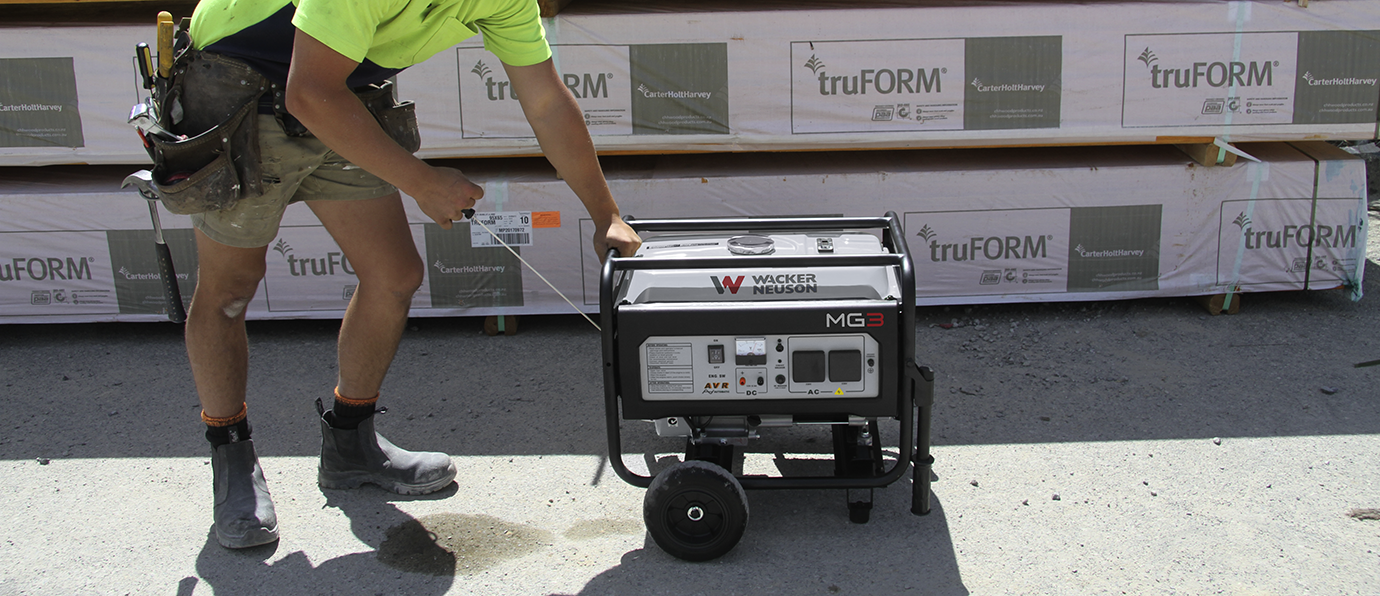 Pump Wacker Neuson MDP 3
MDP 3 is a motor pump powered by an 8 HP (Wacker Neuson) engine. The reinforced cast-iron rotor and the spiral are responsible for strength and reliability. The seal is made of silicon carbide. The whole was constructed on a durable frame with good access to the equipment and the possibility of mounting transport wheels. The pump can also handle contaminated water and sewage. The most important parameters:
Weight: 67 kg;
The diameter of suction and discharge: 80 mm;
Lifting height: 20 m;
Pump capacity: 1150 l / min;
Tank capacity 6.5 l.
Light tower Wacker Neuson ML 440
The next M-Series product is a power generator (Wacker Neuson MG 5) connected to the ML 400 lighting tower using select Wacker Neuson ML metal halide lamps. Such a tower is a perfect source of light on the construction site and wherever there is no electricity or lighting available. The right light improves safety and provides the comfort of work in late hours or poor weather conditions. A mast with four headlights can be raised to a height of 5 m. Ergonomic design on wheels has been protected against corrosion (powder coated). Also, the frame has a handle for convenient carrying (e.g. by an excavator), a full foot brake covered with non-slip material and a handle for manual transport. Besides, we can use the aggregate itself, disconnecting lamps or both. The most important parameters:
Rated power: 5 kW;
Tank capacity: 25 l;
Weight: 216 kg (without fuel);
Length of device operation cycle: 15 h;
Plate compactors
M-Series products are plate compactors. We are talking about models from MP 12 to MP 70. The smallest model MP 12 is characterized by a compact design, which can be compacted mixed soils in the narrowest spaces, even in narrow trenches. The working width is 350 x 521 mm. The handle has a vibration dampening system, which is already standard in Wacker Neuson devices. The bottom plate is made of ductile iron, thanks to which it is durable even in extreme conditions. Optionally, you can mount a water tank and sprinkler for work on asphalt and transport wheels. The whole compactor weighs 64 kg (without fuel), the centrifugal force is 12 kN, and the Loncin-G210F engine generates 4.4 kW. The same engine can be found in the MP 20 model, and the model is characterized by a higher weight (83 kg), a board width of 500 x 588 mm and a centrifugal force of 20 kN. We also recommend the MP 70 model, which is excellent for compaction of sand, stone crushed stone, granulates and segment paving stones. The centrally mounted exciter ensures even distribution of compaction force on the whole plate (460 x 610 mm). The complete weighs 76 kg, the centrifugal force is 15 kN. The MP 70 differs from previous models because it is powered by the 4.2 kW Wacker Neuson WN6 engine.
Saws
The M-Series offer also includes surface cutters. We are talking about the MFS 735 and MFS 1350 models. They are well balanced, easy to use, very manoeuvrable, and also offer an effortless, smooth and efficient cut. These devices will prove very helpful when cutting asphalt and concrete. The only issue is choosing the right shield. They can also be successfully used when laying electrical installations. A Loncin 4-stroke gasoline engine powers both models. In a smaller model, it is a 4.4 kW (212 cm³) engine and 9 kW (420 cm³) more. As for the essential parameters of both saws, it is worth to look at the table below.
| | | |
| --- | --- | --- |
|   | MFS735 | MFS735 |
| Weight (without water/fuel) | 69 kg | 94 kg |
| Cutting depth (max.) | 120 mm | 195 mm |
| Fuel tank capacity | 3,6 l | 6,5 l |
| Blade diameter | 350 mm | 500 mm |
| Water tank capacity | 20 l | 32 l |
The advantage of the Wacker Neuson M-Series is also the operator's grip, which can be adjusted without tools. Replacing the shield also will not cause significant problems. In both models, we also find a centrally placed lifting handle and bearings with increased durability.
Trowel MCT36
The last product of the M series is the MCT36 concrete trowel. It is ideally suited to work in areas below 500 m2. The machine is optimally balanced and can be easily controlled in a range of operating speeds that can be adjusted — the so-called. "Whale tail", or a handle with adjustable height will significantly simplify your work. As in other M-Series devices, also here you will find a 4.1 kW gasoline four-stroke Loncin G200F engine (196 cm³ capacity). In the holder for the operator, we also see the throttle control regulating the speed of the blades. The smart design has been equipped with a convenient carrying handle as in other equipment from Wacker Neuson. MCT36 weighs 83 kg and an excellent alternative to other devices of this type.

For exact parameters of the Wacker Neuson M-Series devices, please visit iSprzęt.pl. Our specialists are at your disposal and are happy to advise and prepare an individual offer.