Work in severe lighting conditions is certainly onerous and can be dangerous. Proper lighting of the workshop and construction site definitely increases the comfort and efficiency of work, and at the same time affects the safety of people there. Current technology allows you to illuminate even a large area with little electricity. Modern power systems, in combination with LED technology and high resistance class, create an optimal working environment even in extremely adverse weather conditions. Find out which solutions are worth considering so that the lighting in the workshop or on the construction site can meet all your expectations.
WHAT LIGHT COLOR FOR WORKSHOP AND CONSTRUCTION SITE?
When deciding to buy workshop lighting, we often do not pay attention to the emitted colour of light. Unfortunately, contrary to appearances, this is a fairly important parameter that should be treated equally with the intensity of light. However, does an ordinary home workshop require specially selected lighting? Definitely yes.
What is the colour of the light? This is the colour temperature, expressed in Kelvin (K). The higher its value, the emitted light is cooler (falls into shades of blue). On the opposite side of the scale is a warm colour, whose light takes on the colours that turn into an orange. The intermediate point is the colour temperature of approx. 4500K. View of this colour is called neutral and turns white. So what lighting will be perfect for the workshop and the construction site? We strongly recommend a neutral or cool light. This solution will help you focus better, and also, the light neutral colour does not distort the actual colours of the objects. This is particularly important during painting.
WORKSHOP LED LIGHTING - FAULTS AND BENEFITS
LED technology popularized the global market many years ago. This advanced light source has almost completely replaced the classic light bulbs. Interestingly, LED lighting has come to the fore not only in households but also in many industries. Unfortunately, LED lighting is not an ideal solution and even has its drawbacks. Let's start with the benefits of purchasing LED light for a workshop or construction site.
LEDs are famous for their very high efficiency, which directly translates into low power consumption. It is around 80-95%, while a classic light bulb can offer an efficiency of about 10%.

LEDs can glow in a given colour, without the need for additional filters or holders.

High-quality LED bulbs have a life span of up to 100,000 hours, which means that a properly used LED bulb will last even for several years. This brings significant benefits to your home or business budget.

LED bulbs do not contain environmentally hazardous substances such as mercury. Also, thanks to their longevity, they are less often thrown away.

Low power consumption is not everything; LEDs work at a much lower temperature compared to conventional incandescent bulbs. This means that you can safely use them near even wooden elements.

Significant in terms of safety of use is the fact that LED bulbs do not require a high voltage supply. In the case of individual LEDs, it is from 2 to 4 V. Even accidental contact with exposed elements does not pose a risk of electric shock.
Unfortunately, despite the constant technological development, LED lighting also has its drawbacks. We will present the four most valuable to us.
The most common disadvantage in the case of LED bulbs is a high sensitivity to overvoltages and electrostatic charges.

LEDs do not work with traditional dimmers of lighting that worked well with classic incandescent bulbs. The way out of the situation will be the use of low-voltage PWM dimmers.

LED bulbs are more expensive than the average fluorescent or classic incandescent bulbs. Ultimately, however, their purchase is more profitable due to the extended operating time.

The LED lighting is also sensitive to substantial temperature increases, e.g. in places with intense sunlight. This can even damage the LED module. However, in calm conditions, this problem should not occur.
METALOHALOGENK LAMPS ON A CONSTRUCTION SITE
An efficient alternative to LED lamps is the use of metal halide lamps. They consist of a ceramic or quartz arc tube and a glass bubble. Sometimes special coatings that disperse light and stop UV radiation are also used. Light is created as a result of an electric discharge in a mixture of mercury vapours, argon and metal halides. Metal halide lamps are characterized by high durability, excellent colour rendering and high light efficiency. Due to their properties, they are widely used as lighting for construction sites, gas stations, billboards and stadiums.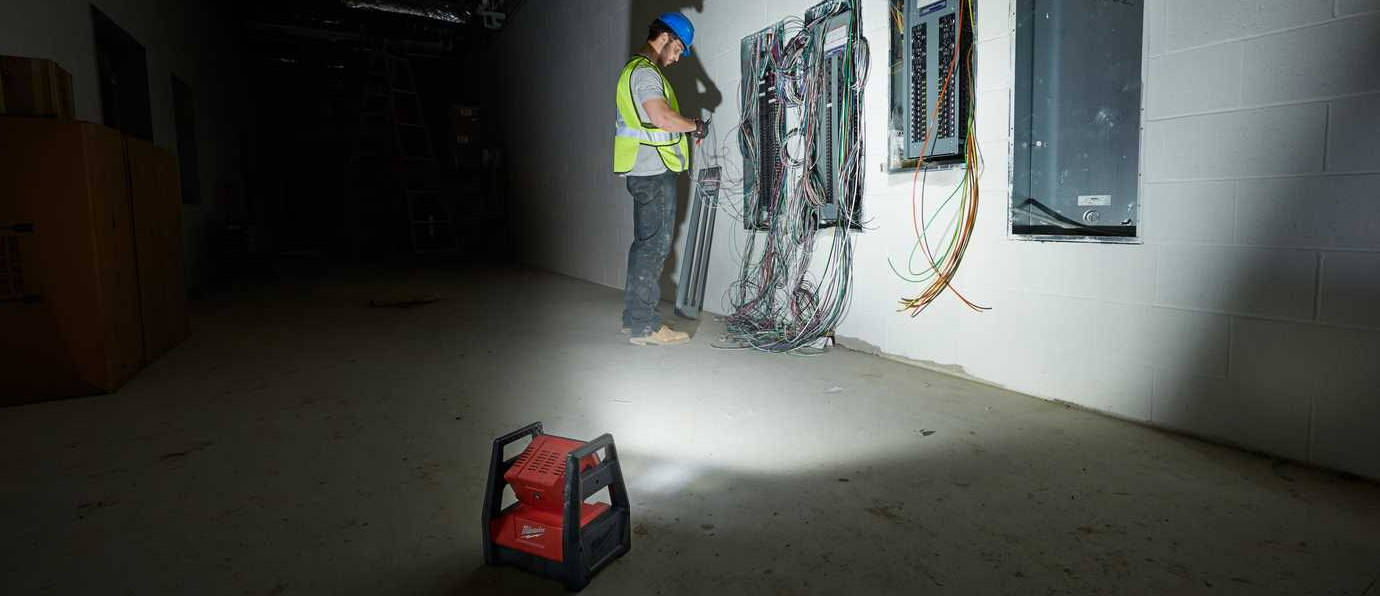 Led area light Milwaukee M18 HAL-0
ECONOMY AND EFFICIENT WORKSHOP LIGHTING
In our offer, you will find hundreds of professional power tools, both for home and industry. If you plan to equip your workshop with powerful and economical light sources, we recommend looking at Milwaukee's product range. Let's review the most popular solutions.
Tradesman Area Light
A universal solution that works not only in the home workshop but also in many other situations. The basic model of the Milwaukee M18 TAL-0 zone lamp has a working time of up to 16 hours (with a 5Ah battery). The low weight of 2.5 kg and built-in handles make it easy to move the device. The lamp is compatible with all batteries of the Milwaukee® M18 ™ series.
Another novelty in our store is the Milwaukee M18 ONESLSP-0 LED zone lamp. It guarantees a lighting time of up to 8 hours (with a 5Ah battery), and the Led Trueview ™ system provides a light output of 4400 lm. The lamp is also resistant to the penetration of dust and splashing water.
Led area light
This type of lighting belongs to the more compact and mobile. The recommended model of the Milwaukee M12 AL-0 workshop lamp has a working time of up to 15 hours (with an M12 B4 battery) and a luminous flux of 1000 lm - which corresponds to a halogen light with a power of 250 W. The lamp has an IP54 resistance class, which is protected against flooding and ingress of dust.
Handheld light
In the beginning, we recommend that you get acquainted with the Milwaukee M12 LL-0 LED suspended lamp, which has a working time of 16 hours (with an M12 B4 battery) and a light output of 400 lm. The low weight of the lamp - 0.9 kg also deserves a plus. Also, the light beam can be adjusted in the range of 180° - 360°.
It is also worth mentioning the compact suspended LED Milwaukee M18 IL-0 lamp, which, thanks to its small dimensions and weight of 1.2 kg, can be hung almost anywhere. Also, the light is resistant to splashing water and dust by the IP24 standard. Two adjustable hooks allow you to hang the lamp in a horizontal or vertical position.
STRONG AND DURABLE LIGHTING OF THE CONSTRUCTION SITE
In our offer, you will find professional lighting balloons and lighting masts from reliable brands that are perfect for lighting up a construction site. For lighting balloons, be sure to also buy the appropriate tripod and weight (for the LB 80M balloon).
The list of recommended products will start with the Wacker Neuson LB 80M lighting balloon, which is very easy and quick to set up. The balloon has a built-in metal halide lamp with a stream of 80,000 lumens and a power of 1000 W, which can illuminate 315 m².
The comprehensive solution will be the choice of the Wacker Neuson LTE4K lighting tower. The equipment is equipped with an efficient diesel engine and powerful LED lamps, placed on a mast of max. Height. 8.5 m. The full fuel tank can guarantee 200 hours of continuous operation. With optimal distribution, the tower can illuminate up to 3800 m² of space.