The offer of building vibrators is very extensive today, so before purchasing it is worth to know the differences between the various models and look at their applications. Ground compaction equipment is used primarily in paving, road and gardening, as well as in building construction. In this article, we will mainly discuss the subject of one-way compactors up to 150 kg. They are very popular due to the versatility of applications and mobility due to the optimal weight. Unidirectional means that the compactor can only move forward when in use.

One-way compactors up to 150 kg are perfect for compacting smaller stony parking lots, driveways or ballast for sidewalks, which is why they are recommended primarily for paving companies. In addition to the materials mentioned above, we will also harden other non-cohesive substrates, thanks to which these compactors are also used in garden and landscape construction. It should be said that the width of such devices rarely exceeds 500 mm. Therefore they can be successfully used in hard-to-reach places. It is also possible to use these machines for tamping asphalt paving or asphalt compaction. In the case of the first one, it is enough to mount a polyurethane plate dedicated for a given compactor, also known as an elastomer (unique rubber plate cover), and in the case of bitumen - a water tank and a sprinkler. It is worth noting that manufacturers are increasingly designing dedicated asphalt compactors, where the shape of the bottom plate is of crucial importance, as well as the presence of a water tank and a sprinkler.

We realise that some are just starting their adventure with construction, which is why we have prepared a unique website where we have divided compactors due to their weight, we have given applications and the most popular products from a given category available in our store. This page can be found at the address www.zageszczarka.pl.
One-way compactors
They are mainly contained in the weight range up to 150 kg. It is a sufficient mass for essential work. It is worth noting that the equipment in this weight range is ideal for transport and easy and safe to use.
Choosing the right compactor can cause many problems due to the different markings that manufacturers use. Often, we do not know which parameters are fundamental and should pay particular attention to them. For these people, we have created an online comparison tool for compaction equipment www.szukamzageszczarki.pl. Our website allows you to specify further parameters such as:
weight: from 47 - 139 kg;
centrifugal force: from 8 - 25 kN;
working width: 300 - 505 MM
engine  type: petrol (petrol or diesel), electric;
The system, after receiving the appropriate data, will select equipment that will meet your requirements. The product database is updated, and it is possible to choose from all famous brands available at isprzet.pl, such as Altrad Belle, Amman, Bomag, Enar, Husqvarna, Project, Wacker Neuson.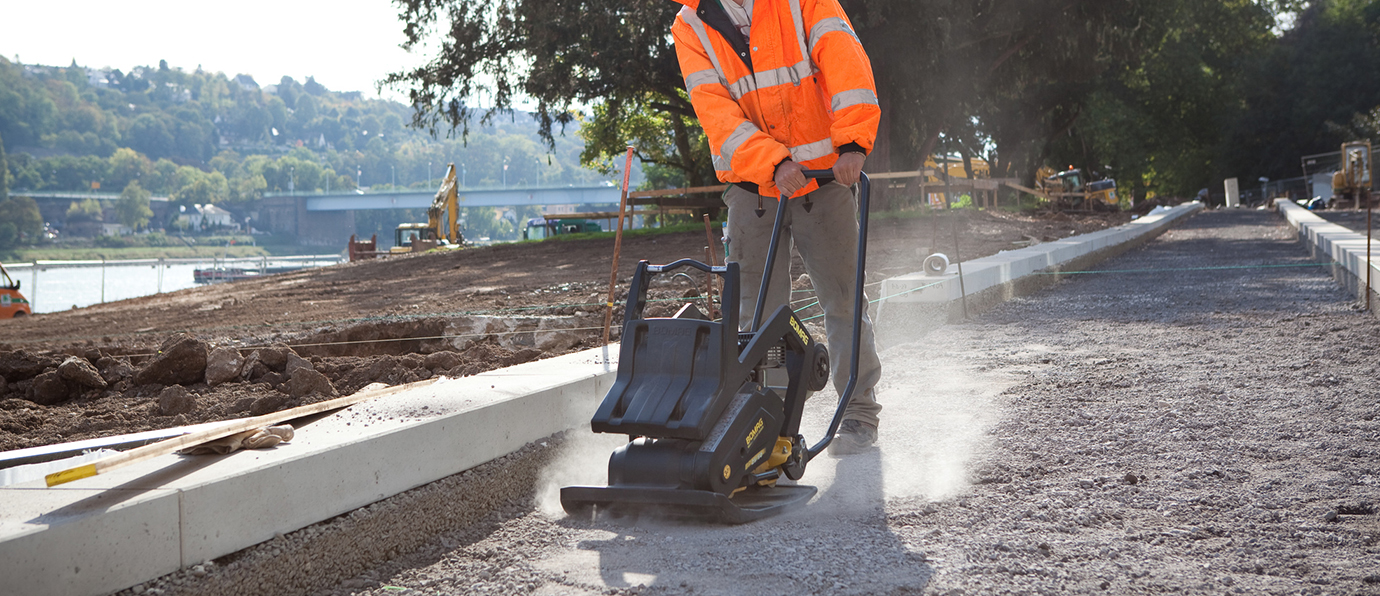 Our Bestsellers
Ammann APF 20/50 is one example of a compact one-way compactor weighing 88 kg. It stands out with the highest power among the APF series, which is provided by the Honda GX 160 petrol engine (3.7 kW). The working width is 500 mm, which is a very optimal value in this class of devices. This compactor has many advantages, among them: the possibility of easy installation of the elastomer plate or sprinkler system without tools, high manoeuvrability for the operator, a construction that allows easy and convenient transport and what Ammann boasts - the lowest vibration value transferred to the hand and arm. Every employee will also appreciate the quality of the compactor, including the self-cleaning base plate, and a durable, maintenance-free excitation system. All this makes the APF 20/50 one of the most popular models in this weight range, and which meets stringent work and safety requirements.
Another device worth attention is the Husqvarna LF100 Honda LAT. It is a compactor weighing 109 kg and a width of 500 mm driven by the same engine as in the case of the described Ammann model. Its primary purpose is soil compaction and repair of asphalt roads. An integrated, large water tank facilitates the work. The plate of this compactor has been designed so that it does not leave any traces on the asphalt. The advantages can be considered: a bright design facilitating transport, a patented, cushioned handle that reduces the level of vibration transmitted to the operator's hands, a folding handle, a plate with a shape that allows working on compaction of asphalt. The set also includes transport wheels and the water as mentioned above the tank.
Bomag BP 25/50 is a proposition of a Honda GX 160 compactor. This is an excellent example of a compactor is weighing 108 kg and a working width of 500 mm, which makes it an alternative to the machines above. It is perfect for small-surface renovation works, especially in corners or hard to reach places. In addition to this compactor, you can order sprinkler system, elastomer, service kit, convenient guide handle, transport wheels or the possibility of the unique painting. Why should you think about buying this model? It is a very optimal compactor with low weight, sound vibration dampening and a good quality plate.
Depending on the type of substrate that you will want to compact, the expected frequency of works, the scope of work, conditions of use, transport possibilities and availability of power, the choice of compactor can be very different. It should be remembered that not always the largest and most powerful machine will be the best for a given substrate, which is why manufacturers have also taken care of the development of compaction control systems, as you can read in one of the previous entries on iSprzęt.pl. For more questions, please visit the comments section or direct contact with our sellers. They have the necessary knowledge and experience, which they willingly share.