Choosing the right motor pump can give us many problems. Before buying, it is worth orientating in the types of pumps to choose the right product. In case of doubt, we encourage you to contact our specialists.

The motor pump is in short a team consisting of a rotor and an internal combustion engine that drives it. Due to the pressure difference between the inlet of the pump and the outlet, it is possible to transport liquids or sediments. Motor pumps differ in their purpose and parameters. Most often, we can meet them in the fire service, where they are used to extinguish fires, collecting and transporting water or specialised foam. Water pumps are also often used when draining flooded areas. An essential distinction between motor pumps is their division due to those for pumping clean or dirty water.

It is worth taking a closer look at Wacker Neuson's offer, which in its offer has motor pumps for various applications. The division into series indicates what kind of pump we are dealing with.
PG series - pumps for clean water that can be used to drain flooded cellars, garden ponds and pools, and, on the other hand, for irrigation, e.g. in gardening.
PT series - high-efficiency centrifugal pumps for dirty water. Ideally suited for difficult tasks and fast drainage. They can be used in construction and industry.
The PDI series - are diaphragm pumps for dirty water that can run dry and are resistant to solids with sharp edges thanks to the use of a strong diaphragm. They are used when pumping sludge dewatering of infiltration areas on construction sites. The PDI series diaphragm pump can cope well with impurities with a diameter of up to 4 cm.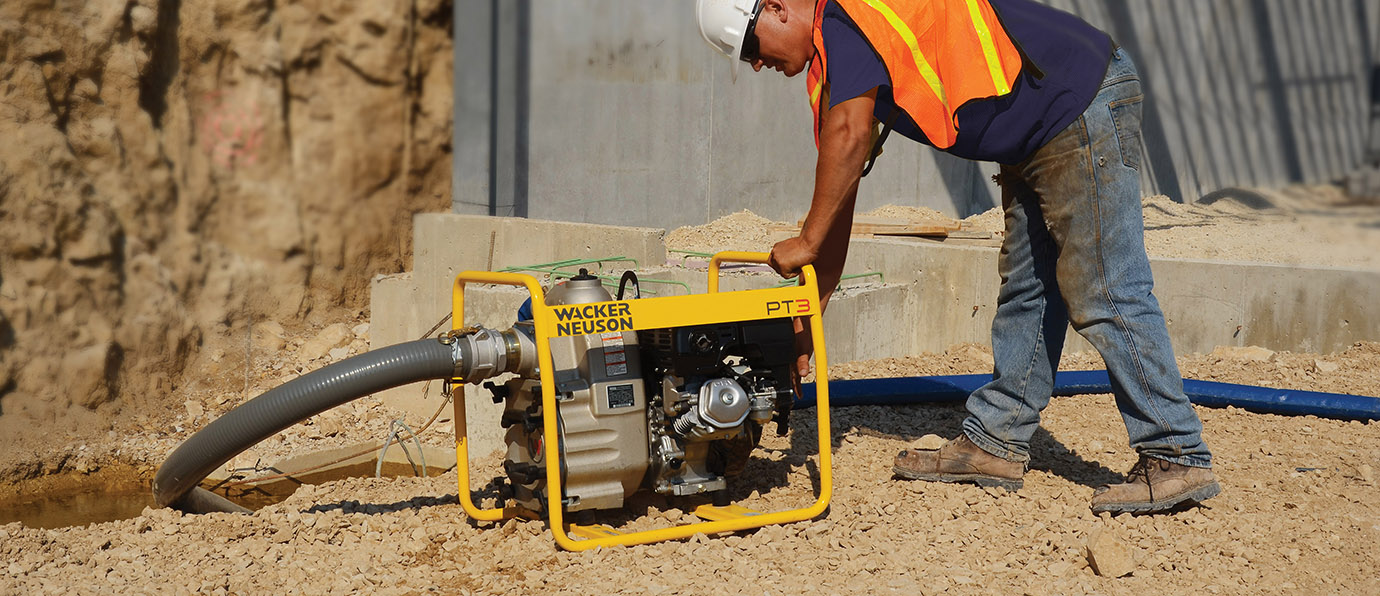 pumps for difficult tasks
Wacker Neuson PT 2A pump- it is a pump for dirty water with a gasoline engine. It can work at a maximum efficiency of 795 l/min and fuel consumption up to 1.7 l/h. It works excellent with dirt (particles) up to 25 mm. The advantage of PT 2A is versatility because it can be effectively used on various construction sites. The pump is equipped with a switch that will automatically stop the machine if the oil level is too low.

The Project PSP-250 Basic slurry pump is a pump operating on a similar principle to those of the PDI series (Wacker Neuson) mentioned above and is intended mainly for pumping highly contaminated water (sludge). It is ideally suited for pumping dense sediments, draining excavations, lowering groundwater levels. The scope of the possibilities of this motor pump makes it an indispensable element of providing services to Municipal Economy and various water and sewage companies. This equipment is mobile thanks to fixed transport wheels. The most important parameters can be distinguished: weight - 85 kg; efficiency - 250 l/min; fuel consumption - 1 l/h.

Benza Flexible for dirty water is a motor pump that deserves special attention. It is designed unconventionally, thanks to which it does not require a suction hose. A flexible shaft drives the pump module straight from the engine, and at its end, there is a suction module containing a pump impeller. Such construction minimises failures because all elements are combined into one whole. It should also be noted that the entire motor pump is made very solidly, which increases its lifespan. To start work, connect the discharge hose and start the engine.
What's more, you do not need to flood the pump with water beforehand. The efficiency of this pump is 1300 l/min, despite the use of a smaller engine than in the classical models with similar performance. Benza dedicates its product to the water industry, industry and fire brigade.
See our offer
In addition to the motor mentioned above pumps of Wacker Neuson, Benza and Project, our offer also includes motor pumps from Pramac and Enar. It is worth checking and comparing different devices among themselves to choose the best model for themselves. In case of doubt, we encourage you to contact our specialists.

It is worth noting that combustion engines power the pumps. This means that they are fully independent and do not require access to a source of electricity as opposed to submersible pumps, which you can read about on our blog.