Monday is a great day to plan new investments that will improve the safety and quality of your work. We invite you to browse through unique offers and promotions in our store.

We would also like to point out that the purpose of the isprzęt.pl brand is not only the sale of professional construction machines but also education and professional advice on the use of distributed products. Let me know in the comments or on our social profiles what information you are looking for, which devices you are particularly interested in and which you may have not yet had the opportunity to test.

Today you can read on the blog about construction vibrators and compacting freshly poured concrete. This is a topic worth delving into, finally getting into vibrators in the cement solution and water is going on here.
What are building vibrators and what are they used for?
Vibrators are devices that produce high-frequency vibrations that serve to compact concrete poured. The vibrations help to get rid of air bubbles, which causes the spread material to become more consistent, which in turn increases the strength after it dries. Often, adequate concrete compaction decides whether a given construction stage will meet strict strength requirements.

Vibrating slats or internal vibrators can be used with the action mentioned above depending on the desired effect. Vibratory bars are devices for compaction and, at the same time, for smoothing the top layer. Internal vibrators, which we will focus on in this article, are professional machines for compacting concrete with a depth of up to 18 m (or more).
The choice of the right device should depend on
sources of available power supply on the construction site (devices can be electric, pneumatic or internal combustion)
types of work (whether it will be work on concrete walls, over ceilings, or maybe on benches)
the scale of works (choose the right length of the vibrator wire, the size of the mace and the type of vibrator motor)
accuracy of compaction (we should pay attention to the range of vibrations of the device and get them to meet your needs)
the conditions under which the devices will be used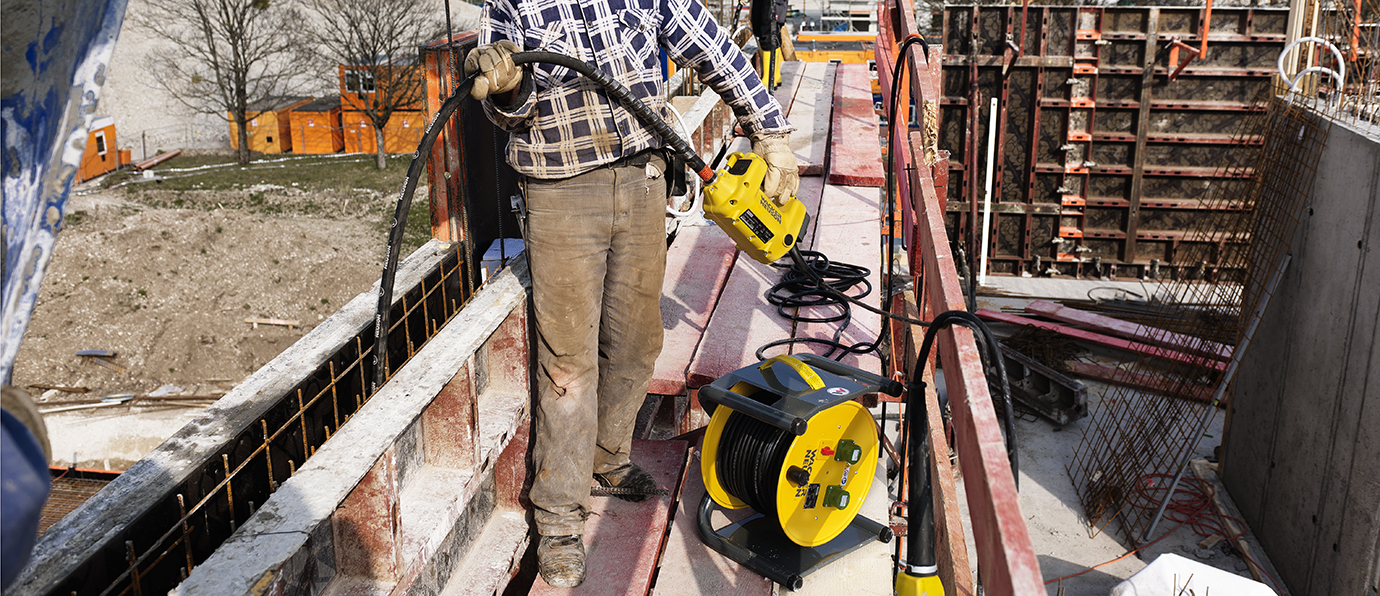 External vibrators
They are mainly used in prefabricated concrete factories, on construction sites where they are fixed to formwork worktops or during transport of loose materials. They may differ from each other by the vibration range, assembly method or type of motor that drives them. We distinguish between electric and pneumatic external vibrators. These are devices that are not in direct contact with poured concrete but are only connected (attached) to boards, compact structures (e.g. walls) or cement storage places where the generated vibrations help to move it lower.
internal vibrators
Deep cavity vibrators are very versatile devices that are the most popular on the market. The vibrating element has direct contact with the compacted material.
Pneumatic vibrators - these are vibrators shaken by a suitable motor driven by compressed air. Therefore, a properly efficient air compressor (compressor) is needed for proper operation of the vibrator. Pneumatics is one of the types of drives used in construction, but in the case of this range of devices is not very popular.
Mechanical (modular) vibrators - sets of separate modules (parts) connected to create a complete set to create vibrations. The standard set is a drive motor, a boom and a flexible shaft. These parts can be combined, at will, by changing the length of the roller or the thickness of the mace. We need to remember to use parts that match each other. In this matter, the team of isprzęt.pl will always be happy to suggest and check what should be chosen for the chosen set to fit the whole. We distinguish modular vibrators with an electric or combustion engine.
High-frequency internal vibrators with built - in inverter are ready for operation right after connecting the device to the socket. It should also be mentioned about vibrators without a built-in converter, for which a high-frequency converter is required, which should be purchased separately. A separately purchased professional inverter can handle several vibrators and thus increase work efficiency, and at the same time reduce costs, because the purchase of additional vibrators without a converter is much cheaper.
What the converter is?
The high-frequency converter is a device that allows you to change the frequency of the current. There are two types of converters: electronic, which change the frequency using electronic circuits and mechanical ones, which have a motor with a winding.
Internal vibrator WACKER NEUSON IEC 45/230/5/15
It is a universal high-frequency internal vibrator with a built-in inverter. To operate this vibrator no additional high-frequency converter is needed. A simple operating manual requires only connecting the vibrator to the socket so that you can start working after a while. This device is very efficient and can work with many generators, even in cases of variable input voltages.
Advantages
fully sealed electronic components
anti-shock switch
specially hardened on the front of the vibrator's bobbins
no need to purchase an expensive frequency converter
We are glad that you are with us!
Thank you that we can create an intellectual community with you and with passion. Next week in our series from our series. We encourage you to visit our website and contact our specialists. We will also be happy to hear suggestions for our business to improve the quality of our services continually.