We find out every day how vital footwear is. We will choose some shoes for running, others for mountains, and others for a walk around the city. We do not do this only because of their appearance. Their properties are also important. Aesthetics is, of course, an essential element, but we want above all that our footwear be comfortable, adapted to current needs, durable and resistant to weather conditions and to minimise the risk of twisting the ankle (e.g. on a mountain trail) or other injuries.
It is similar in the case of protective footwear, which is necessary, among others, for work: on a construction site, on a farm, in a fire service or other demanding occupations. One of the values of iSprzęt.pl is your safety at work, so we encourage you to read the general information on safety footwear so that your work will be even more comfortable.
Safety shoes
Safety shoes are designed to protect the feet, ankles and calves from external factors that can cause serious injuries such as pricking, cuts, crushing, frostbite and other damages that negatively affect the health of the worker. It is not difficult to imagine possible threats on the construction site or during firefighting. These can be protruding nails, extreme temperatures, spilt chemicals, or just wet, slippery ground. It is essential to distinguish protective footwear from work footwear, which is used only due to technological, sanitary and hygienic requirements and the need to protect private footwear.
Protective footwear can be divided for structural reasons: shoes, boots, knee-length boots, boots with a prolonged upper. Another criterion is destiny. Here we can distinguish:
footwear protecting against chemical agents;
footwear protecting against biological agents;
footwear protecting against mechanical factors;
footwear protecting against thermal elements;
footwear protecting against electric shock;
footwear protecting against weather conditions;
footwear intended for use in explosive atmospheres;
antistatic footwear protecting against the ESD effect.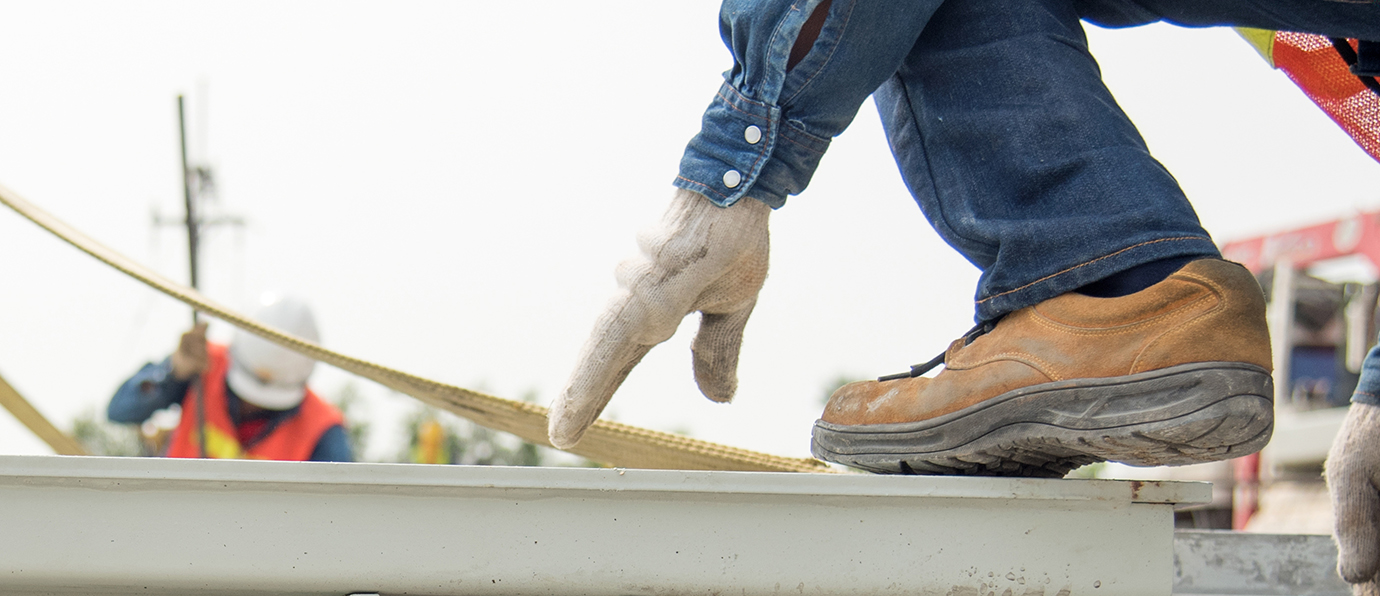 From 30 June 2013, all products must be certified in accordance. The standard of safe footwear EN ISO 20345: 2011 describes the basic requirements of safety footwear.
The structure of the lower rear part must not contain any openings outside the holes resulting from sewing and must be resistant to abrasion;
The product must contain metallic or textile inserts to prevent puncture (with the 1100 N test there must be no evidence of perforation);
The depth of grooves in the sole must exceed 2.5 mm for category S1 / S2 or S3.
In the case of resistance to various substances such as oil, acids or high temperatures, the product must have appropriate markings on the bottom of the soles by the requirements.
Categories of safety shoes

SB - basic requirements (Footwear equipped with impact protectors with a power of 200 J)
S1 - basic elements plus built-up heel, antistatic properties, energy absorption in the heel part, resistance to oil;
S1P - requirements applicable in class S1, and additionally puncture resistance;
S2 - requirements applicable in class S1, and resistance to puncture and water absorption;
S3 - binding conditions in class S2, and puncture resistance and sole with tread.
Markings of additional footwear properties
| | |
| --- | --- |
| Symbol | Meaning |
| P | Resistance to puncture |
| A | Antistatic footwear |
| C | Electrically conductive footwear |
| I | Insulating footwear |
| HI | Insulating footwear |
| CI | Insulation of the bottom from the cold |
| E | Shoes that absorb energy in the heel part |
| WR/WP | Water resistance |
| WRU | Water permeability and water absorption |
| HRO | Resistance of bottoms to contact with hot ground |
| CR | Cut resistance |
| M | Protection of the metatarsus |
| AN | Ankle protection |
| FO | Resistance of soles to diesel oil |
| SRA | Slip resistance on a ceramic substrate coated with sodium lauryl sulfate (SLS) |
| SRB | Slip resistance on a substrate made of glycerol-coated steel |
| SRC | Slip resistance on both substrates |
When preparing for spring orders, do not forget about security rules. Your feet and legs are exposed to many injuries while working in severe conditions, which is why they deserve the best protection. Take a look at iSprzęt.pl and look through all the necessary health and safety products. Take care of yourself. Safe work!